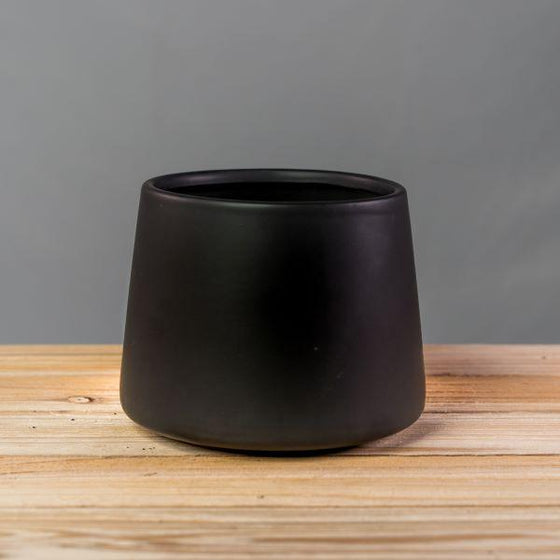 'Sophie' Tapered Matte Ceramic Planter For Sale
This tapered ceramic vase is a beautiful, classy home for your houseplants. It features a sleek, modern style that will complement a wide variety of interior design styles. Available in black or white, both feature a chic matte finish. Fits 4-inch grower pots. Ideal for houseplants or floral centerpieces.
Grower's pots, or nursery pots, are a fantastic option for safely transporting new plants to their new homes. But they're not always the most aesthetically pleasing pots, and they need trays underneath to catch draining water. This is why we recommend ordering your plant with a decorative pot - you can simply place the plant in its nursery pot directly into the decorative pot.
Your plant can stay nice and snug in its familiar pot while it adjusts to the new environment in your home, you can re-pot your plant into any decorative pot you like, and the decorative pot is much more effective in catching excess water. Mix and match, change styles with the seasons, and keep your new plant happy. Everybody wins!
The Tapered Ceramic pots are a sleek modern take on a decorative pot. Minimalist in style, the slight taper inward gives the pot character and guides the eye up towards the main attraction, your new plant.
Visit our Potted Plants Collection to purchase a plant with a pot!
---
Frequently Asked questions
How do I use a ceramic pot when it has no drainage holes?
What is the difference between a terra cotta pot and a ceramic pot?
---
Other Products you may be interested in
---
Customer Reviews