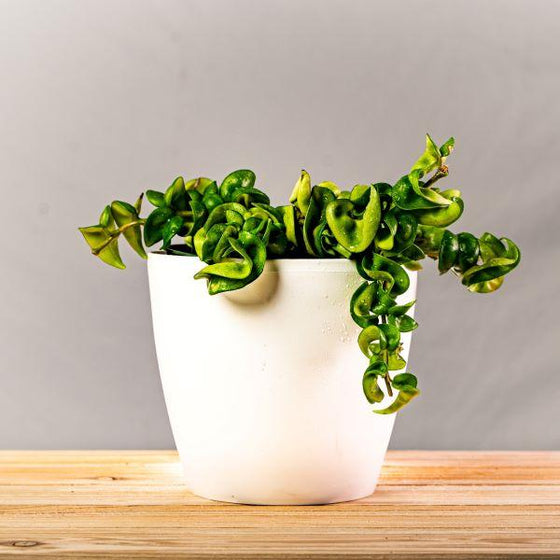 Images Depicted Range in Maturity & Container Size
Pots Not Included Unless Otherwise Stated
Hoya Hindu Rope Plants for Sale Online
The Hindu Rope plant, or Hoya Carnosa 'Compacta', is a popular houseplant that produces twisted, waxy leaves that emerge on cascading rope-like vines. This Hoya's unique foliage and trailing growth make it perfect for a hanging basket.
Also referred to as the 'Indian Rope Plant,' the Hindu Hoya is also loved for its gorgeous clusters of pink, fragrant, star-shaped flowers. Though it may be tempting, do not remove the spurs at the end of the vines because that is where the blooms will form. It may take some time for your Hindu Rope plant to bloom, but trust us when we say the wait is so worth it!
Native to India, these flowering succulent vines are slow growing and prefer to dry between waterings. Hoya plants tend to be fairly easy to care for, given you provide them with the proper care. Place your Hindu Rope in bright, indirect light conditions and watch it thrive! Hindu Rope Hoya also enjoys moderate humidity levels.
Some additional care tips we have for this funky little houseplant include placing your plant into a pot with drainage holes and using a well-draining potting mix. Good drainage and airy potting soil are key to protecting your plant from root rot. Your Hoya will also benefit from the application of a well-balanced fertilizer in spring and summer.
It is important to note that Hoya Carnosa plants like to be a bit root bound. So, where your typical indoor plant wants to be repotted nearly every growing season, your Hoya likes to be left alone. Patience is key in growing a happy Hoya! Repotting the plant may only be needed once every year or two. If patient, your vining wax plant can grow to be about 2 inches thick and up to 20 feet long!
---
Growzone: 9-11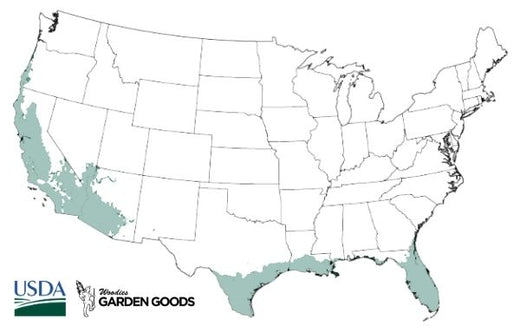 | | |
| --- | --- |
| Hardiness Zone: | 9-11 |
| Mature Height: | 11 to 18 Inches |
| Mature Width: | 8 to 12 Inches |
| Classification: | Succulent |
| Sunlight: | Fluorescent to bright indirect |
| Habit: | Cascading |
| Flower Color: | Pink and white |
| Foliage: | Green and wax-like |
| Soil Condition: | Likes to dry out some between watering |
| Uses: | Attractive plant to be featured or in the background of any room in the house, does well with minimal care |
---
How to Care for Hindu Rope Plant
Be sure to read our planting instructions to ensure a healthy and happy plant for years to come!

What are the watering requirements of Indian Rope Hoya?
The Hindu Rope Plant should be watered relatively infrequently, as the plants like to dry out some between watering. The easiest way to tell if a plant needs to be watered is by the weight of the container.

If the container is very heavy and the foliage is upright, chances are good the plant doesn't need water, whereas a light container and limp foliage means the plant needs some water. Sometimes, water pours out of the container without being retained by the soil. Soaking the dry soil in a small dish or saucer can be a useful way to solve this problem.

When should I fertilize my Hindu Rope Plant?
Indoor houseplant fertilizers fall into two groups: water soluble (liquid quick release), and granular, slow release fertilizers. Jack's Classic Indoor plant food works well as a powder, quick release fertilizer that is mixed with water to quickly provide nutrients to a plant that has been in a container for an extended time.

On the other hand Osmocote Indoor/Outdoor is an option as a granular, slow release fertilizer that can be applied while potting and planting. Any type of fertilizer offers nutrients that help plants with the transition to a new environment.

What is the best growing soil for Hoya Carnosa Plant?
The best soil for Hindu Rope Plant is a well balanced mix of peat moss, perlite and vermiculite that dries some between watering but takes a long time to compact. Typically, any reputable potting mix will work well and includes those ingredients. Adding a granular, slow release fertilizer while planting is a good way to help the plant thrive in the transplanting transition however if the soil you've chosen already has fertilizer incorporated into it there will be no need to add additional fertilizer.

What is the best light for Hindu Rope Hoya Plants?
Hoya can be grown successfully in low, medium, or bright light. It tolerates low to medium light but won't typically bloom in these conditions. Usually, with flowering houseplants, the more sunlight the plant gets, the more flowers it will produce.
---
---
Other Products you may be interested in
---
Customer Reviews