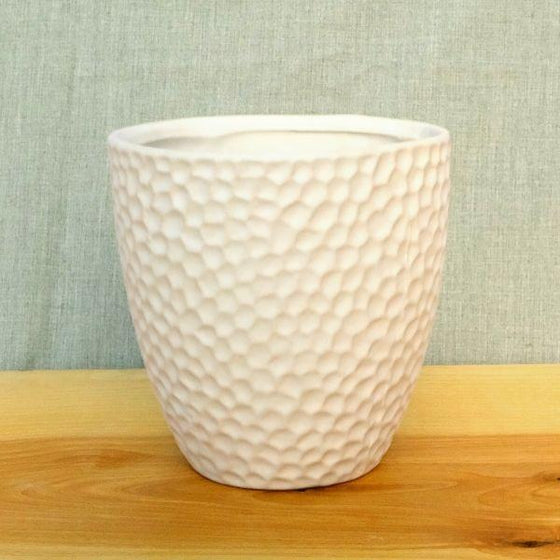 'Mia' Dimpled Ceramic Pot For Sale
This ceramic pot brings both texture and elegance to your home with small indents decorating a matte white ceramic finish. Fits 4-inch grower pots. Ideal for houseplants or floral centerpieces.
Visit our Potted Plants Collection to purchase a plant with your pot!
---
Additional Information
This dimpled ceramic pot brings texture to an otherwise simple surface. This creates just the right amount of visual interest to look perfect on your shelf without distracting from the main event - your plant!
Grower's pots, or nursery pots, are optimal for safely transporting plants to their forever homes. But, they're not always the most aesthetic options, and they need trays underneath to catch draining water. This is why we recommend ordering your plant with a decorative pot - you can simply place the plant in its nursery pot directly into the decorative pot. Note: for a pot this tall, some plants might need a small something to bring them up off the bottom of the pot, such as a few pebbles or florists' green floral foam.
Your plant can stay nice and snug in its familiar grower's pot while you put your plant into any decorative pot you like. Mix and match, change styles with your decor and keep your new plant happy. Everybody wins!
---
Frequently Asked questions
How do I use a ceramic pot when it has no drainage holes?
What if this pot is too tall for my plant?
---
Other Products you may be interested in
---
Customer Reviews