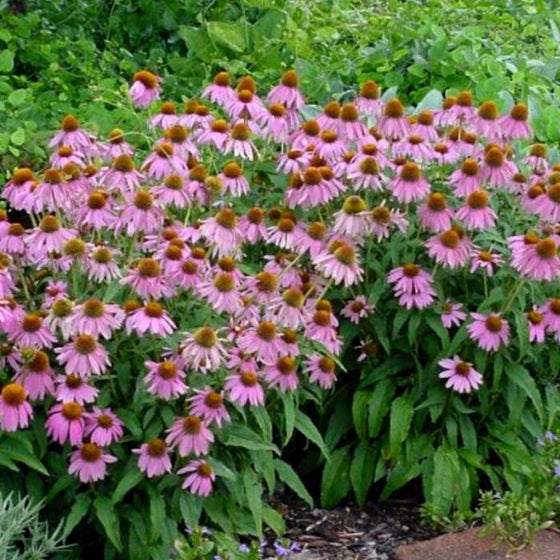 Images Depict Mature Plants
Dwarf Coneflower for Sale Online
Dwarf Coneflower or Echinacea Kim's Knee High plants are easy-to-grow North American native plants that bloom heavily from summer to fall. They are of vital importance to pollinators such as Honeybees and butterflies to name a few. Echinacea Kims Knee High is perfect for just about any size Garden.
Echinacea Kims Knee High is a compact or dwarf version of the familiar species plant. It is noted for its short habit and long summer bloom. It typically begins blooming when its rigid stems reach 15 inches tall (knee-high). If not cut back, plants may eventually reach 24 inches in height by the end of the summer. This is a daisy-like coneflower that features drooping, clear rose-pink to purple-pink rays and large, pin cushion-like, coppery-orange to dark bronze central cones. Coarsely-toothed, dark green leaves (to 6 inches long).
Echinacea Kims Knee High is a selection of Kim Hawks of Niche Gardens, Chapel Hill, North Carolina. Echinacea purpurea, commonly called purple coneflower, is a coarse, rough-hairy, herbaceous perennial that is native to moist prairies, meadows, and open woods of the central to southeastern United States (Ohio to Michigan to Iowa south to Louisiana and Georgia). It typically grows to 2 to 4 feet tall.
Showy daisy-like purple coneflowers (to 5 inches diameter) bloom throughout summer atop stiff stems clad with coarse, ovate to broad-lanceolate, dark green leaves. Good fresh cut or dried flower. The dead flower stems will remain erect well into the winter, and if flower heads are not removed, the blackened cones may be visited by goldfinches or other birds that feed on the seeds. Genus name of Echinacea comes from the Greek word echinos meaning hedgehog or sea-urchin in reference to the spiny center cone found on most flowers in the genus. Specific epithet means purple.
---
| | |
| --- | --- |
| Hardiness Zone: | 4-9 |
| Mature Height: | 2 to 3 feet |
| Mature Width: | 18 to 24 Inches |
| Sunlight: | Full sun |
| Water Requirements: | Average |
| Selling Points: | Native, long blooming, butterflies and pollinators, songbirds, fragrant |
Growzone: 4-9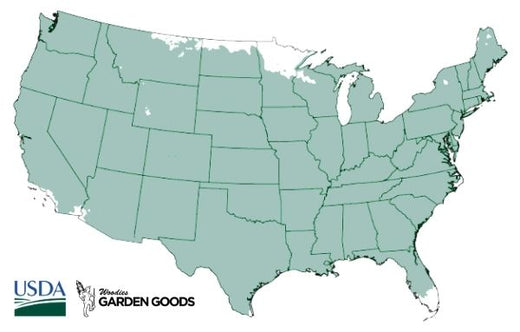 Other Products you may be interested in
---
Customer Reviews