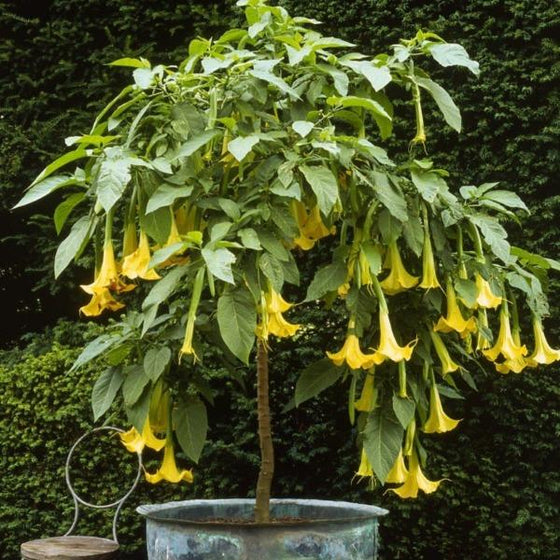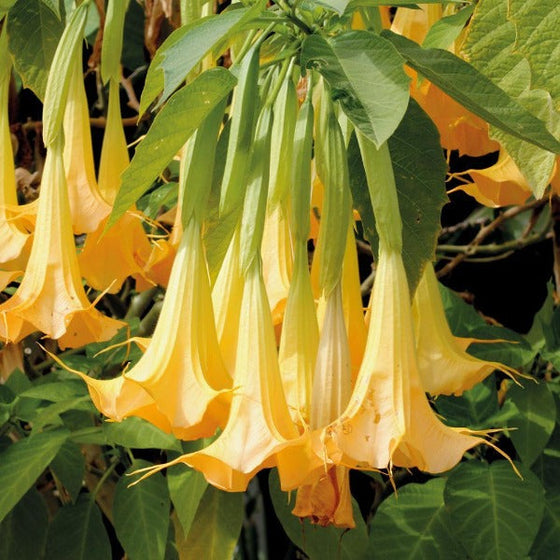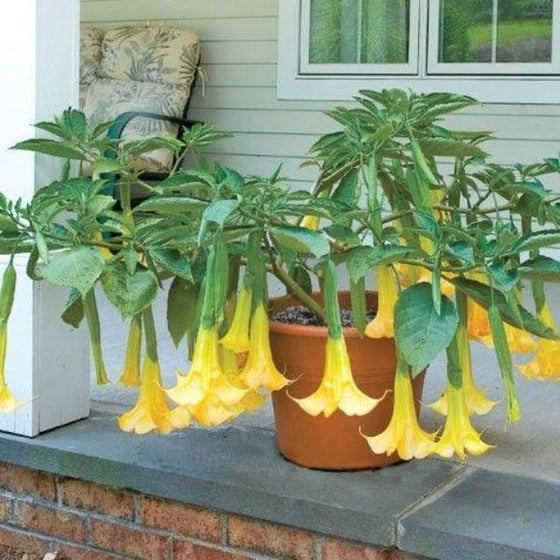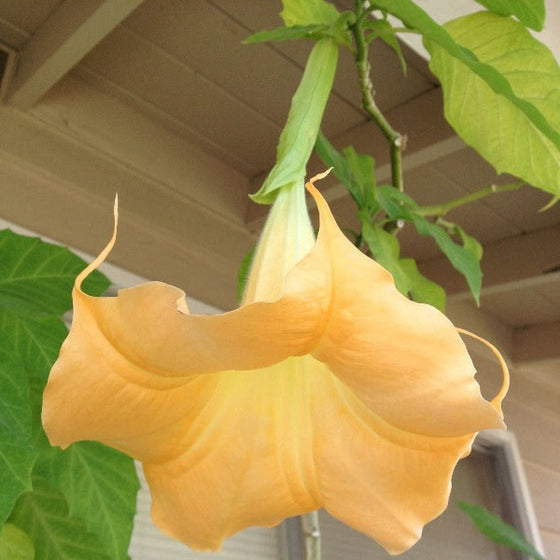 Images Depict Mature Plants
Angels Trumpet (Brugmansia) Plants for Sale Online
Brugmansia plants earn their common name, Angels Trumpet, from their iconic trumpet-shaped flowers. The yellow, white, or pink flowers face downwards and provide the most heavenly fragrance. Their foliage is comprised of handsome dark green spear-shaped leaves. They can grow up to 20 feet tall when grown in the ground in tropical zones, but they can reach up to 12 feet when grown in containers.
Native to South America, Angel Trumpet Trees do best with lots of sun, lots of water, and a healthy fertilizer routine. They can be grown indoors as house plants as long as they have enough bright light and water, but they might not produce as many flowers. Brugmansia are great candidates for container gardens as long as you bring them indoors before temperatures drop below 50 degrees Fahrenheit.
---
| | |
| --- | --- |
| Hardiness Zone: | 9-11 |
| Mature Height: | 20 feet in ground, up to 12 feet in containers |
| Mature Width: | 8 to 12 feet wide in ground, 4 to 5 feet wide in containers |
| Classification: | Tropical |
| Sunlight: | Full sun |
| Habit: | Upright |
| Flower: | Yellow, fragrant, faces downward |
| Foliage: | Green |
| Soil Condition: | Moist, well-drained soil |
| Water Requirements: | Keep soil evenly moist, dry soil can induce dormancy |
| Uses: | Great for sunny gardens in southern grow zones, and container gardens if brought indoors during cold seasons, houseplant in bright indirect light |
Growzone: 9-11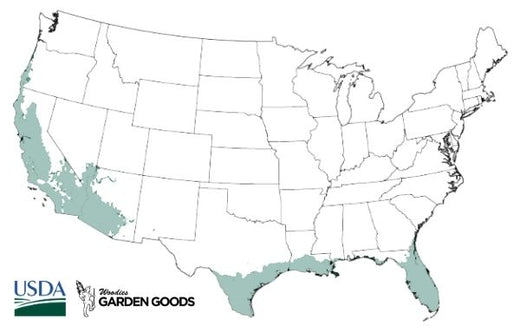 How to Care for Angels Trumpet Plants
Be sure to read our planting instructions to ensure a healthy and happy plant for years to come!

What type of light is best for Brugmansia?
When planted outside or grown in containers, Angel Trumpets plants like lots of sunlight. However, too much direct, hot sun could scorch the leaves. We recommend that you place them in such a way that they receive morning sun and afternoon shade. When planting indoors, they will need bright indirect light, and you may supplement this with a grow light for part of the day in order to meet your Brugmansia's light requirements.

How do I fertilize Angels Trumpet Plant?
Angel Trumpet Plants benefit most from a healthy, regular fertilizer routine. While you may use a slow-release granular formula, a liquid formula will make it easier to ensure your Brugmansia is getting enough nutrients. We recommend water soluble fertilizers such as Jack's All Purpose Houseplant Fertilizer, used regularly at the recommended amount per month.

How much water does an Angels Trumpet Plant need?
Angel Trumpet Plants require a good amount of water, especially when planted in containers. It is best to keep the soil evenly moist and make sure it has lots of drainage. We recommend you water your plant anytime the top one to two inches feel dry to the touch. If you let the soil stay dry for too long, it could induce dormancy in your Brugmansia (which can be a useful way to over winter your Angel Trumpet Tree, if brought inside to a cool dry area).

How do I propagate Brugmansia Angels Trumpet?
Angels Trumpet plants can be easily propagated by placing cuttings into clean water. Make sure the ends stay fully submerged until healthy roots have appeared, then place them into nutrient rich potting soil when ready. If the water turns brown in color, simply replace the water with new clean water. We recommend you use gloves when pruning Brugmansia or when handling cuttings, as all parts are considered toxic.
---
Other Products you may be interested in
---
Customer Reviews