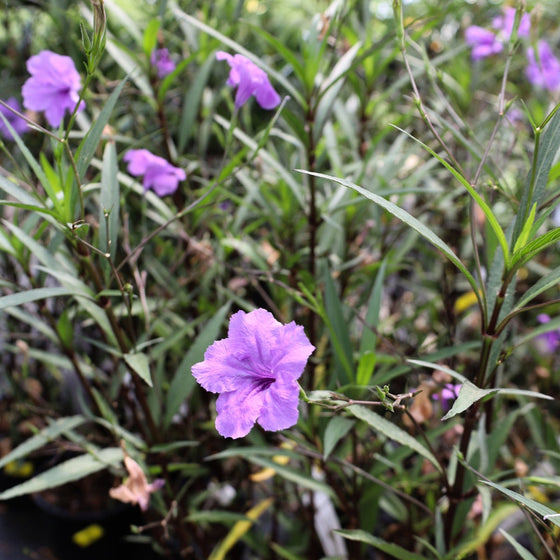 Images Depict Mature Plants
Mexican Petunia for Sale Online 
Mexican Petunia is most commonly known as an annual but has quickly become a popular houseplant. This plant is known for its vibrant violet-blue blooms and dark-green, slender foliage. Native to Mexico and western South Africa, this plant loves warm locations outside and inside. Mexican Petunia is the one for you if you are looking for a tropical, flowering houseplant!
When used indoors, Mexican Petunia thrive in a warm spots with lots of sunlight. Because these houseplants flower, you must keep them in plenty of sunlight to allow their beautiful flowers to bloom. Don't forget that these plants can be fast-growing and may require a more frequent repotting schedule than most houseplants.
Pest-free
Easy to care
Fast-growing
Prefers marshy-soil
---
Growzone: 8-11
| | |
| --- | --- |
| Hardiness Zone: | 8-11 |
| Mature Height: | 12 to 36 Inches |
| Mature Width: | 24 to 36 Inches |
| Classification: | Houseplant |
| Sunlight: | Bright, indirect light, direct light |
| Habit: | Compact |
| Flower Color: | Violet-blue |
| Foliage: | Dark-green and slender |
| Soil Condition: | Moist, well-drained soil |
| Water Requirements: | Likes to stay slightly moist |
---
How to Care for Mexican Petunia
Before you purchase a Mexican Petunia plant, be sure to read the recommended care instructions to ensure your plant stays happy and healthy.

How do I water Mexican Petunia?
We recommend watering Mexican Petunia immediately after repotting or planting it. As mentioned, this is a tropical plant, so it's crucial to keep the soil consistently moist. Also, be sure they are in a pot with excellent drainage holes. If your plant is not in well-draining soil, it may get root rot disease. This plant disease causes severe damage to the root system of your plant. However, well-draining potting soil will allow you to water regularly without the worry of too much water sitting at the base of your plant.

What type of sunlight is best for Mexican Petunia?
We recommend you keep your Mexican Petunia in an area that receives bright, indirect to direct sunlight. These plants are native to warm areas of the world and to survive and thrive as houseplants, they must be kept in a warm and sunny spot in your home. Not to mention, plenty of exposure to the sun throughout the day will enhance its vivid purple hue.

Do I Need to Prune My Mexican Petunia?
Mexican Petunia houseplants do not require any pruning; however, pulling off dead flowers and leaves will keep them looking fresh and vibrant. If your plant has a disease or pests (extremely uncommon because Mexican Petunia plants are disease and pest-resistant), be sure to carefully remove any part of the plant that has diseases or pests. When doing this, be sure to use clean and sterile pruning sheers and wash them after the process. Another reason to prune your Mexican Petunia houseplant is if it is growing too fast. You can prune it to the desired shape you prefer.

How do I fertilize Mexican Petunia?
We recommend fertilizing your plant in the springtime for the best results. A 10-10-10 mixed fertilizer will work just fine, although Mexican Petunia doesn't need fertilizer for continued growth.
---
Other Products you may be interested in
---
Customer Reviews