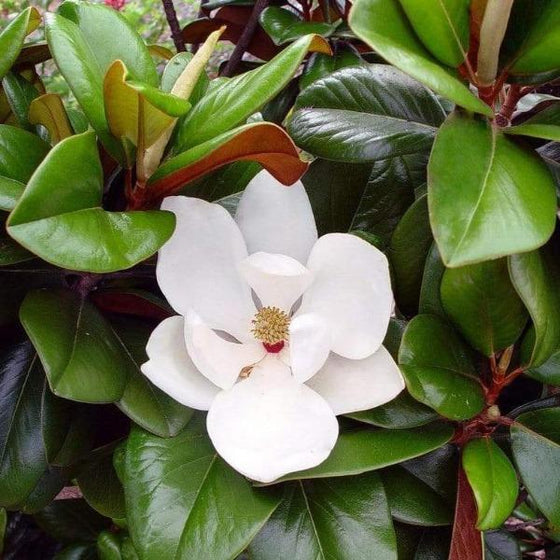 Images Depict Mature Plants
Teddy Bear Magnolia Trees for Sale Online
The Teddy Bear Magnolia (Magnolia grandiflora 'Southern Charm') is a very compact, upright grower that produces large fragrant white flowers in the early summer that are accented by its glossy, dark green foliage.
The lustrous green leaves of the Magnolia Teddy Bear boast reddish-brown undersides and are beautiful both on the tree and dried for arrangements. These high-end evergreen trees grow best in full sun and planted in a well-drained soil blend. The Teddy Bear yields the best growth in hardiness zones 7-9, which is the majority of the western and southern parts of the US. This is how the tree gained its nickname "Teddy Bear Southern Charm."
The Teddy Bear Magnolia is quite similar to the Little Gem Magnolia, however they do have their differences. The Southern Charm Magnolias are more compact trees with smaller canopies. Moreover, this Magnolia cultivar produces sturdier more vertical branches. Also, while many strains of Magnolia are known to reach incredible heights, the Teddy grows to a max height of about 20 feet tall.
If you're looking for that classic Southern Magnolia look, without taking up too much square footage, this smaller tree is perfect for you!
---
Growzone: 7-9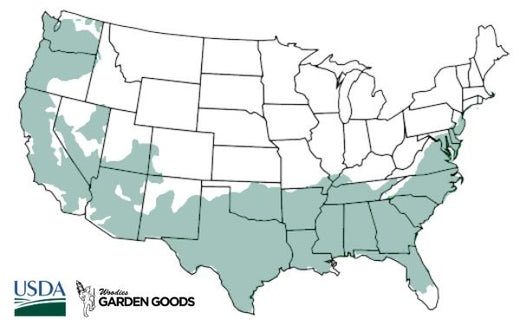 | | |
| --- | --- |
| Hardiness Zone: | 7-9 |
| Mature Height: | 16 to 20 Feet |
| Mature Width: | 10 to 12 Feet |
| Classification: | Broad leaved evergreen tree, summer flowering |
| Sunlight: | Full sun |
| Habit: | Compact |
| Foliage: | Green |
| Flower Color: | White, very fragrant |
| Pruning Season: | No pruning needed |
| Soil Condition: | Any well drained soil |
| Water Requirements: | Water well until established |
| Uses: | Tolerates moist soil and full sun. Full sun brings out the best fall color. Will adapt to drier sites |
---
How to Care for Teddy Bear Magnolia
Before you purchase a Teddy Bear Southern Magnolia, be sure to read the recommended care instructions to keep your plant happy and healthy.

How do you plant a Teddy Bear Magnolia Tree?
When you receive your tree in the mail, remove it from the box, but do not immediately plant it. Place it in a partially shaded area and let it acclimate to its new surroundings. The tree just spent a couple of days in a dark box so placing it directly into the full sun may stun the plant. When the time comes, take the tree out of its container and loosen the roots with your hands. Place the tree into a hole that is twice as wide, but no deeper than the container it came in. As you are backfilling the hole with a mix of the original soil and compost or topsoil, let your hose slowly drip into the hole, mixing it all around to create a slurry. If you want your tree to have success, this is a great start.

How should I mulch a Teddy Bear Southern Magnolia?
Mulching is an integral part in maintaining the health of your magnolia. Mulching retains moisture, protects roots, deters weed growth, and provides the tree with nutrients. In this way, we recommend using an organic mulch such as cedar mulch, as this will be high quality and will give the tree much-needed nutrients to the roots as it decomposes. To mulch a Magnolia Tree, cover the surrounding area with a 3-inch layer of mulch but leave a gap between the trunk and the mulch to prevent rot.

How often should I water Magnolia Southern Charm?
After planting your tree, give it a slow deep watering to encourage the roots to settle and begin to grow. While the Magnolia Tree is establishing, water once a week. This may take a couple of years. Once the root system has matured, the tree really only requires watering once a month.

What type of fertilizer is best for Dwarf Southern Magnolias?
Although slow-release fertilizers are a great option, a balanced, organic fertilizer such as Espoma Bio-Tone will work just as good. Wait until after the first few growing seasons to apply fertilizer. Once the roots have established, apply fertilizer monthly from spring to fall. Be sure to stop fertilizing at least 8 weeks before the first frost. Since this is a southern magnolia, it is more susceptible to cold months so this is especially important. After a few years, you can space out the feedings to about twice a year.
---
Frequently Asked questions
How fast do Teddy Bear Magnolias Grow?
How far apart should I plant my Teddy Bear Magnolia Tree?
---
General questions
How do we measure heights on Trees and Shrubs?
What‌ ‌do‌ ‌the‌ ‌pot‌ ‌sizes‌ ‌mean?‌ ‌
---
---
Other Products you may be interested in
---
Customer Reviews