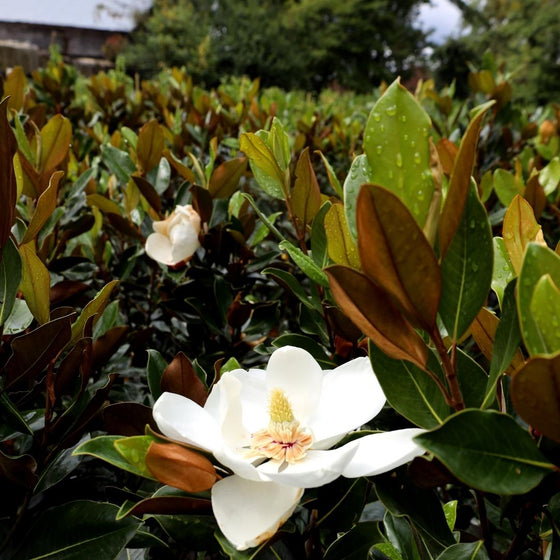 Images Depict Mature Plants
Magnolia Little Gem Trees for Sale Online
Little Gem Magnolia is an evergreen dwarf tree or shrub known for its fragrant white flowers, glossy green leaves, and compact shape.  
Unlike its larger southern magnolia cousins, which can grow to 50 feet plus in height, Little Gem Magnolia is considered a relatively small tree. These evergreen trees reach an average mature size of around 20 feet tall and 8 to 10 feet wide. The tree's moderate growth rate and small stature make it the perfect choice for smaller yards and secluded landscapes.
Botanically referred to as 'Magnolia Grandiflora Little Gem,' Little Gem Magnolia grows in an upright habit and thrives in full sun and partial shade. Although moderately drought tolerant, Little Gems prefer moist, sandy, well-drained soil. 
This classic Gem Magnolia Tree features fragrant flowers with robust, creamy white petals that contrast beautifully with the lustrous dark green foliage. The flowering trees tree heavily bloom from mid-spring to summer months of the year. Cone-shaped fruit nestles in the center of the large flowers, featuring individual red-coated seeds. Nature lovers will enjoy seeing the birds and wildlife that visit this tree for its ornate fruit.
Little Gem Magnolia is guaranteed to add southern charm to any landscape. These elegant specimens are often planted along fences and walls or used as a screen or hedge.
---
Growzone: 7-9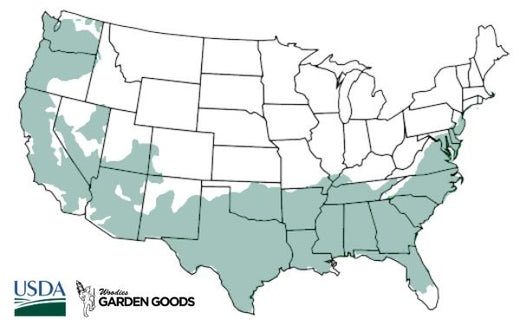 | | |
| --- | --- |
| Hardiness Zone: | 7-9 |
| Mature Height: | 15 to 20 Feet |
| Mature Width: | 8 to 10 Feet |
| Classification: | Broad leaved evergreen tree, spring flowering |
| Sunlight: | Full sun |
| Habit: | Dwarf narrow form |
| Foliage: | Dark green topside with cinnamon colored underside |
| Flower Color: | White, fragrant flowers in late spring |
| Pruning season: | No pruning needed |
| Soil Condition: | Any well-drained soil |
| Water Requirements: | Water well until established |
| Uses: | Tolerates moist soil. Will adapt to drier sites |
---
How to Care for Little Gem Magnolia
Be sure to read our planting instructions to ensure a healthy and happy plant for years to come!

How do I water Magnolia grandiflora?
After back filling and lightly compacting the 50/50 mix of existing soil and compost, give the Little Gem Magnolia a deep watering. This is not to be rushed. A general rule of thumb is to count to 5 for every one gallon of pot size. For example, a one gallon pot would be watered until you count to 5; a three gallon pot would be 15; and so on.

Check the plant daily for the first week or so and then every other day there after. Water using the counting method for the first few weeks. Gator Bags are a good investment that will help minimize the watering chore, due to the slow release of the water into the root-zone of the plant. Soaker hoses can also be used to water when planting a long hedge.

How do I mulch Little Gem Magnolia?
We highly recommend that you mulch your Little Gem Magnolia with either a ground hardwood mulch or a ground cypress mulch depending on your local availability. Any type of mulch will do, but cypress or hardwood mulch will be of a higher quality and provide better nutrition overall as they breakdown.

Mulching helps to keep weeds away which will compete with your new investment for water and nutrients. A 2 to 3 inch layer of mulch is sufficient, but remember not to cover any part of the stem of the plant with mulch. It's better to leave a one inch gap of space between the mulch and the stem or trunk of the plant.

How do I fertilize Little Gem Magnolia?
Evergreen trees such as Little Gem Magnolia grow best if they are fertilized lightly in the spring once frost has passed with a well-balanced, extended-release, fertilizer such as Espoma Tree-tone. Fertilize Little Gem Magnolia again 6 to 8 weeks later to encourage denser foliage or faster growth of young trees. We recommend Bio-Tone fertilizer when planting.

Either chemical fertilizers or organic matter can be used successfully with Little Gem Magnolia. Don't fertilize Little Gem Magnolia after August. "Fertilizer burn" can occur when too much fertilizer is applied, resulting in a drying out of the roots and damage or even death of the Little Gem Magnolia.

How do I prune Little Gem Magnolia?
It is important to always use sharp tools when pruning Little Gem Magnolia or any plant for that matter. Knives, hand cutters, saws, and shears should be sharpened if necessary before pruning any plant. A sharp cut will heal quicker than a jagged cut, which will also minimize the likelihood of disease investing a cut during pruning. Its general purpose is to maintain or restore vigor to the plant.

Large Little Gem Magnolia that have been severely pruned have the advantage of a large root system that has excessive capacity, and its roots are capable of supplying all of its energies to a smaller number of branches and foliage. This enables the plant to increase its vigor, and become healthier.
---
General questions
How do we measure heights on Trees and Shrubs?
Why are trees sold in 1-foot increments?
---
---
Other Products you may be interested in
---
Customer Reviews