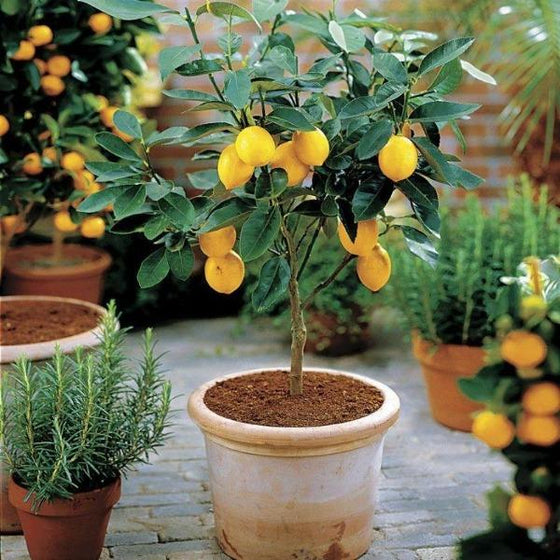 Images Depicted Range in Maturity & Container Size
Pots Not Included Unless Otherwise Stated
Meyer Lemon Trees for Sale Online
Meyer Lemon (citrus Limon 'Improved Meyer') is a prolific fruit producer with fragrant white blooms. The Improved Meyer Lemon Tree made our Trendiest House Plants of 2020 list. The fragrant flowers and bright yellow citrus fruits make the Meyer Lemon Tree a must-have house plant and popular addition to your home decor!
As Meyer Lemon Trees mature, they will bear more quantities of fruit. The fruits are green when growing, but after several months and some tender love and care, they turn a vivid yellow when ripe. Make sure your fruit is ripe before picking. You know it is time when the fruit is yellow and soft to the touch.
NOTE: Does not ship to Arizona (AZ), California (CA), or Texas (TX) due to Phytosanitary rules and regulations.
---
Growzone: 8-11
| | |
| --- | --- |
| Hardiness Zone: | 8-11 |
| Mature Height: | 8 to 10 Feet |
| Mature Width: | 3 to 5 Feet |
| Sunlight: | Full sun |
| Water Requirements: | Allow to dry out between waterings |
| Flowers: | White, fragrant |
| Foliage: | Green |
| Habit: | Rounded |
| Details: | Easily grown, very fragrant |
---
How to Care for Meyer Lemon Tree
Be sure to read our planting instructions to ensure a healthy and happy plant for years to come!

How do I water my Meyer Lemon Trees?
Container-grown lemon trees need more water than those planted outside. In the spring, water two to three times a week. In the summer, as temperatures rise, your lemon tree may need to be watered daily. Keep the soil moist but not soggy. A good indication of when you should water is to check the top 2 to 3 inches of soil. If it is dry to the touch, your lemon tree needs watering. Houses generally don't have the humidity lemon trees need to grow and bear fruit. Mist or spray your lemon tree several times a week.

How do I fertilize my Meyer Lemon Trees?
We recommend feeding your indoor citrus plants with Espoma Citrus-tone. It is best to fertilize your plants by sprinkling one teaspoon of fertilizer on the soil surface per every 4 inches of pot diameter. Apply double for pots over 12 inches. Be sure to mix the fertilizer into the top layer of soil by using a fork to gently stir the fertilizer into the top 2 inches of soil evenly. With frequent watering of potted plants, nutrients may be lost, and more frequent applications may be required. Feed every 60 days in late winter to fall.

What type of soil is best for my Improved Lemon Trees?
Meyer Lemon Trees thrive best in lightweight and well-draining soil conditions. However, they are not too picky when it comes to most soil mixes. We recommend using Espoma Cactus Mix to provide an optimal base for your Meyer Lemon Tree to grow beautifully for years to come.

How to prune a Meyer Lemon Tree?
Regularly pruning citrus trees and shrubs is necessary to encourage outward growth for better fruit production. Disinfect your pruning tools with a solution of 10-percent bleach, which contains one part bleach and nine parts water. Bypass pruners work well for clipping small branches less than 1/2 inch in diameter. Cut diseased, broken, and dead branches off the tree as they develop throughout the year. Eliminate any rubbing or crossing branches to encourage an outward growing habit with an open center; so sunlight reaches all the branches.
---
Frequently Asked questions
How do I plant a Lemon Tree in the ground?
How do I plant a Meyer Lemon Indoors?
How is a Meyer Lemon Different from a Regular Lemon?
---
---
Other Products you may be interested in
---
Customer Reviews