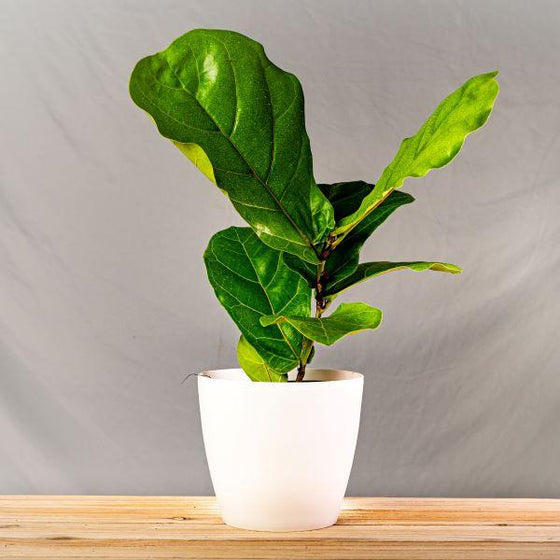 Images Depicted Range in Maturity & Container Size
Pots Not Included Unless Otherwise Stated
Fiddle Leaf Fig Bushes for Sale Online
Fiddle Leaf Fig bushes are so trendy, it's called the 'it' plant – and the "it" has nothing to do with technology and everything to do with style.
Native to Western Africa, the Ficus lyrata, also known as a Fiddle Leaf Fig is sought after for its big, fiddle-shaped drop leaves and ability to take a prominent place in the décor of a big space. Put it in a well-lit room and let it grow. This is the bush form which typically has two to three plants per pot.
Placing this big leaf indoor plant inside the house or apartment does not necessarily mean it will be difficult to maintain.
Fiddle Leaf Fig is well suited for growing indoors because it does not become excessively large and at the same time remains noticeable. Fiddle Leaf Bush form is grown with multiple "plants" per pot (typically 2 to 3 stems).
---
Growzone: 9-11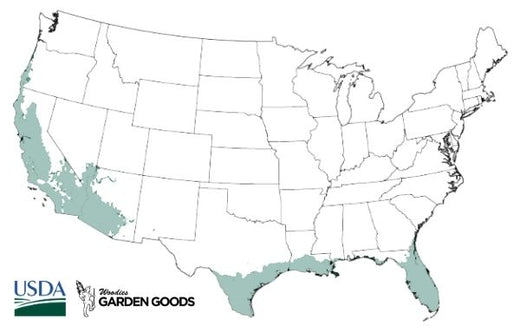 | | |
| --- | --- |
| Hardiness Zone: | 9-11 |
| Mature Height: | 6 to 12 Feet if left un-pruned |
| Mature Width: | 6 to 8 Feet |
| Sunlight: | Indirect sunlight |
| Indoor Temperature: | 60 to 70 Fahrenheit |
| Humidity Level: | Prefers a humid environment, mist occasionally |
| Water Requirements: | Allow to dry out between watering |
---
How to Care for Fiddle Leaf Fig Bushes
Be sure to read our planting instructions to ensure a healthy and happy plant for years to come!

How do I plant a Fiddle Leaf Fig?
If you live in a northern area where you must plant your Fiddle Leaf Fig plants in a container, we suggest first that you select the right size pot with adequate drainage holes. This tropical rainforest plant typically wants to grow in about a 12 inches diameter pot or a large plastic pot such as the 14 inches Brunello Planter that is part of our Crescent Collection of Resin Planters. These are ideal because it allows the moisture level of the Fiddle Leaf Fig Bush to be maintained at a constant level between watering. This is very important for the proper growth of Fiddle Leaf Fig Bush. We suggest putting a layer of stones or gravel approximately 1 to 1.5 inches thick at the bottom inside of the container you choose. This will allow for proper drainage and assure the drainage holes in the pot do not become blocked over time. Use a potting soil mix that is lightweight and drains well.

How Often Should I Water My Fiddle Leaf Fig Bush?
Develop a watering schedule so the roots maintain even moisture letting them dry out slightly between waterings. Elevate pots on stones in a saucer to keep them above standing drainage water. If the top soil is dry but the pot still feels heavy, try and check to see if the soil is moist at the bottom of the pot, you may need to improve drainage. Brown spots or a wilting that perks up within 24 hours after watering indicates the roots got too dry. Adjust the watering schedule accordingly. Deeper infrequent watering promotes deeper growth of root systems and strengthens your tree. In general, it is probably best to water in the morning, but if plants are dry or wilted it is better to water them right away.

What kind of fertilizer should I use for a Fiddle Leaf Fig Bush?
Bio-tone starter fertilizer is a great starter fertilizer that provides plants with mycorrhizae fungus. It is a naturally occurring beneficial fungus that colonizes on the new growing roots of plants. It creates a barrier between the roots of the plant and fungi and pathogens that can cause root rot. We love this product and use it on all plants we install at our own homes. Bio-tone is a gardener's best friend and can help guarantee your success. Water in the Fiddle Leaf Fig Bush thoroughly. Once the roots have settled, we prefer using Jack's Classic Houseplant fertilizer. Jack's classic fertilizer is specially blended for houseplants such as a Fiddle Leaf Fig Bush. it is mixed with water and applied to the plant during watering.

When should I prune my Leaf Fig Ficus Lyrata?
Your Fiddle Leaf Fig Bush will look fuller with occasional pruning to shape leggy branches, and can be shaped as desired. Pruning is fine at any time of year, except in the winter for your Fiddle Leaf Fig Bush. Some Fiddle leaf figs may develop erratic juvenile growth from time to time. If so, prune for shape and balance. Don't be afraid to completely prune off an erratic branch if it is too irregular or crossing another branch. Other healthy branches will replace it.
---
Frequently Asked questions
How to train my Fiddle Leaf Fig bush into tree?
---
General questions
How do we measure heights on Houseplants?
---
---
Other Products you may be interested in
---
Customer Reviews