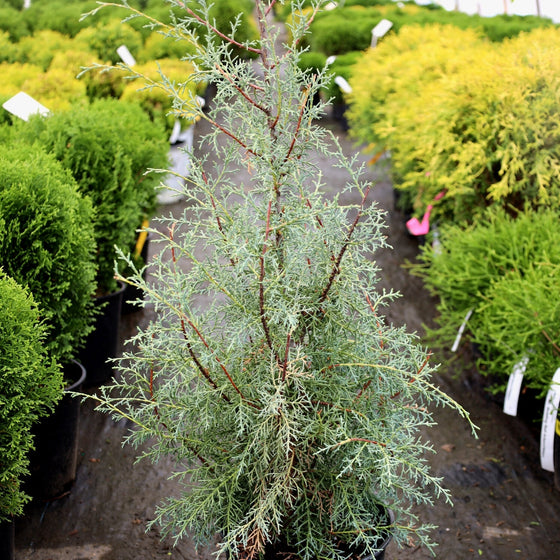 Images Depict Mature Plants
Carolina Sapphire Arizona Cypress Trees for Sale Online
Carolina Sapphire Cypress Trees are fast-growing evergreen trees. Carolina Sapphire gains width quicker than Thuja Green Giant trees and is a much better choice for the deep south heat. Like Leyland Cypress Trees, Carolina Sapphire Cypress Trees are drought-tolerant and establish quickly, but are often faster growing and perform better in more marginal soils than Leyland Cypress Trees.
The Arizona Cypress is a native of interior Mexico extending into the southwestern United States, where it is the only native Cypress. Carolina Sapphire Cypress was developed at Clemson University in 1968. It is a relatively new cultivar of Arizona Cypress. This evergreen tree grows in a compact form with lacy blue-green foliage and has a festive Christmas tree shape.
---
Growzone: 6-9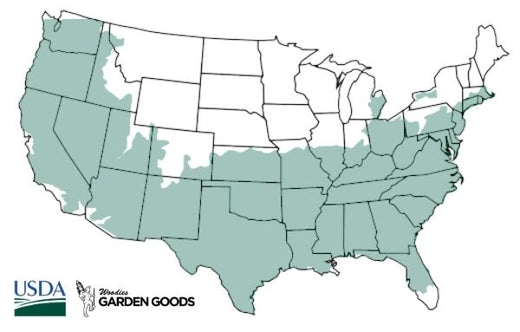 | | |
| --- | --- |
| Hardiness Zone: | 6-9 |
| Mature Height: | 30 to 40 Feet |
| Mature Width: | 15 to 20 Feet |
| Sunlight: | Full Sun |
| Foliage Color: | Blue-Gray |
| Habit: | Upright pyramidal |
| Soil Condition: | Average to Sandy Soil |
| Uses: | Privacy screen |
---
How to Care for Carolina Sapphire Cypress
After purchasing your Carolina Sapphire Arizona Cypress, be sure to read the recommended care instructions to ensure your plant stays happy and healthy for years to come.

How do I plant Carolina Sapphire Cypress Trees?
Never plant Carolina Sapphire Cypress Trees deeper than how deep they were in their original pot. We always say that before you mulch, you should still see the soil from the original pot. Planting too deep can cause rotting of the stem and death to the tree. Carolina Sapphire Cypress Trees are very drought tolerant. However, they grow very slow without adequate water during the initial establishment period. Staking young trees is recommended to minimize the stress on the stem from winds blowing the tree. When tying trees to stakes, remember the tree will continue to grow. Loosely tie the tree with several twist ties to allow for growth. When planting a potted tree, remember the only water source the tree has, is its small root ball, and all the water the tree uses must come from them until new roots can grow into the surrounding soil. New trees should be watered twice weekly (Minimum), under hot drier conditions, possibly more.

What type of fertilize do I use for Carolina Sapphire Cypress Trees?
We recommend planting your Carolina Sapphire Cypress Trees using Bio-tone starter fertilizer by Espoma. Mix the recommended amount of Bio-tone into the backfill soil and water generously when backfilled. The "good" fungus in Bio-tone colonizes the growing roots of your newly planted plant and does not allow the disease-causing fungus to attack the new roots. It has also shown promise in stimulating the growth of the new roots, which means a quicker establishment for your plant. After establishment and during the following years, we recommend Holly-tone used at the recommended rates. It is also organic and slow-release, which will feed your Carolina Sapphire Cypress Trees the proper amount of nutrients over some time rather than all at once, which can burn the root tips and have the opposite effect of slowing down plant growth. It will help maintain the acid level in the soil that Carolina Sapphire Cypress needs to thrive.

How often do I water Caroline Sapphire Cypress Trees?
After backfilling and lightly compacting the 50/50 mix of existing soil and compost, give the Carolina Sapphire Cypress Trees a deep watering. Most of the water you put on the plant at first will run away from the plant until the soil is soaked. A general rule of thumb is to count to 5 for every one gallon of pot size. For example, water your one-gallon pot to one count of five and your three-gallon container to three counts of five, and so on. Check the plant daily for the first week or so and every other day. Soaker Hoses can also be used to water when planting a long hedge.

How do I shear Carolina Sapphire Cypress Trees?
Shearing is generally not needed unless you will be using Carolina Sapphire Cypress Trees as a formal hedge. Start shearing when the tree reaches 3 or 4 feet in height, cutting only the sides, remove no more than 3 or 4 inches of growth. Removing this will cause the tree to grow thicker. If you want the tree to grow tall, don't cut the top leader, only shape the sides. The best time to shear is after a new growth spurt finishes and the new growth begins to mature. Growth will go from a smooth, greasy texture to a rougher snakeskin look. Shearing twice a year is sufficient but only recommended if needed. To keep your trees at a particular height requires cutting the central leader and then shearing all outside branches. Pruning can help make Carolina Sapphire Cypress Trees bushier. We recommend that you disinfect your shears before you begin and even after each plant to prevent disease spread. You can prune dead or diseased limbs any time of the year. To encourage thick bushy trees, simply trim back the limbs that have outstretched the rest of the tree.
---
Frequently Asked questions
How Fast Do Carolina Sapphire Cypress Grow?
What insects are attracted to a Carolina Sapphire Cypress Tree?
What is the History of my Carolina Sapphire Arizona Cypress?
---
Other Products you may be interested in
---
Customer Reviews