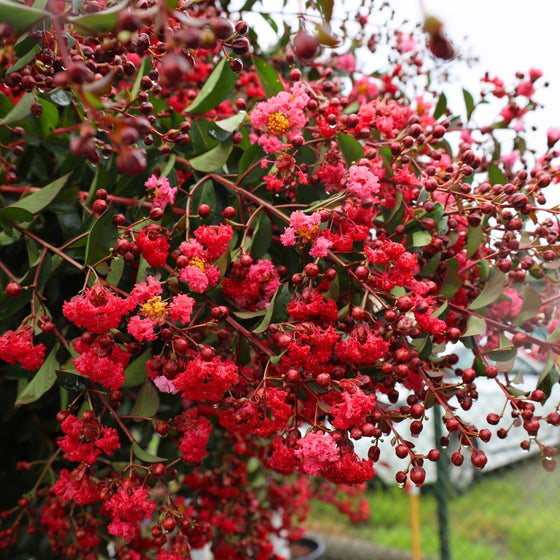 Images Depict Mature Plants
Red Rocket Crape Myrtle Trees for Sale Online
The Red Rocket Crape Myrtle (Lagerstroemia indica 'Whit IV' Red Rocket) blooms in vibrant clusters of ruffled, cherry-red flowers, nearly covering this multi-stemmed tree all summer long. The dark green foliage turns rich bronze-red in fall for great autumn interest. Red Rocket Crape Myrtle is arguably the fastest-growing Crape Myrtle Tree and is sure to impress. 
In 1998 in association with the National Arboretum, Dr. Carl Whitcomb developed a series of Crape Myrtles that brought us the Crape Myrtle Red Rocket. These elevated versions of a summer classic can better withstand winter conditions, allowing the growing zones to expand to 6-9. Similarly, newer cultivars are more resistant to mildew, leaving your tree beautiful all year long. For other enhanced Crape Myrtles, could you read our blog Today's Crape Myrtles?
The Crape Myrtle Red Rocket has a very broad and upright growing habit dominated by leaves rounded at the base and grows up to 2 inches long. Each flower cluster can grow up to 2 feet long and produce hundreds of true red blooms. In the fall, their green foliage turns orange-red before falling away for winter. In the same way, its summer bark is almost grey and peels away in the fall to reveal a smooth cinnamon-brown undercoat that shines in the colder months.
Red Rocket Crape Myrtle trees are adaptable to a wide range of soil types but flourish when planted in well-drained soils. Their disease resistance makes them a straightforward tree to care for and perfect for new gardeners.
---
Growzone: 6-9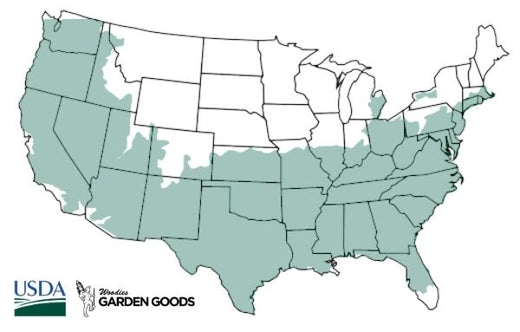 | | |
| --- | --- |
| Hardiness Zone: | 6-9 |
| Mature Height: | 15 to 20 feet |
| Mature Width: | 15 feet |
| Classification: | Tree form large |
| Sunlight: | Full sun |
| Habit: | Deciduous, densely branched, multi-stemmed habit |
| Flower Color: | Ruby Red flowers in mid to late summer through the first frost |
| Foliage: | New growth emerges a rich glossy green, changing to a equally enjoyable ruby red in the fall |
| Soil Condition: | Any well-draining soil |
| Uses: | Extremely attractive when used as a focal point in the mixed border, mass planting, or a specimen planting |
| Water Requirements: | Once established, minimal watering is needed |
---
How to Care for Red Rocket Crape Myrtle
Before you buy a Red Rocket Crape Myrtle, make sure to read about the care instructions that are required and recommended to keep this plant healthy and flourishing.

How do I plant my Crepe Myrtle Tree?
Red Rocket Crape Myrtles prefer full sun, so choose a location to plant your tree that will receive at least 6 hours of sun a day without competition from other trees. Dig a hole that is just as deep, but twice as wide as the container your tree comes in. After placing your tree in the hole, fill in the space with the soil you removed, but make sure you can still see the soil the tree came in. Covering up the roots around the trunk can cause limbs to grow from below the ground, also known as suckers. These have to be removed as the plant grows. After planting, give your tree a good watering to allow the roots to settle.

How do I fertilize Red Crape Myrtles?
With Crepe Myrtles, over-fertilization will promote heavy leaf growth at the expense of your blooms. So, you should restrict fertilization to once a year in the spring and opt for an all-purpose fertilizer. In addition, adding a layer of organic, pine bark mulch will help the soil retain moisture and will protect the roots from winter conditions. With both fertilizer and mulch, leave a gap between the product and the tree's trunk to prevent rot and disease.

How often do I water Red Rocket Crepe Myrtles?
Until your plant is fully established, it is important to water it regularly to maintain constant moisture. Water weekly, or however needed, just test the ground around your tree to see if it is moist; if not, water it. Your tree can take up to a year to establish, but once it has an extensive root system, it is drought tolerant and can live off rainfall alone. If you live in an area that receives little to no rain, water your Red Rocket Crape Myrtle every other week.

How do I prune Red Crape Myrtles?
Red Rocket Crape Myrtles bloom on new wood. In order to optimize your bloom growth, be sure to prune in the late winter or early spring. Focus your attention on branches that were damaged by winter weather, overcrowded, or diseased. Throughout the year, you can remove dead, dying, or diseased plants at any point. However, less is more when it comes to this plant. We do not recommend that you prune your tree to limit its growth to a smaller space. In these instances, it is best to shop for a smaller, dwarf, or mid-sized Crape Myrtle that will better fit your available space.
---
---
Other Products you may be interested in
---
Customer Reviews