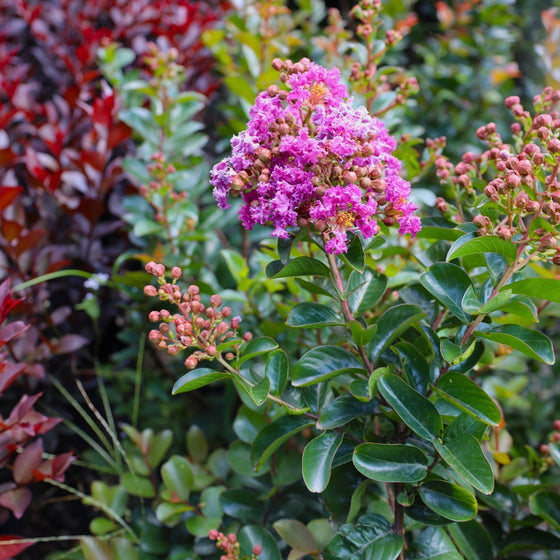 Images Depict Mature Plants
Purple Magic Crape Myrtle Trees for Sale Online
Purple Magic Crape Myrtle is a semi-dwarf form of crape myrtle that blooms in early summer with Dark Purple blooms. Purple Magic is a specimen plant and grows into a rounded shrub, with a dense, full shape which makes it perfect for smaller gardens.
Its foliage emerges reddish in color and eventually matures to rich dark glossy green, nicely setting off the dark flowers. It will bloom again in late summer if the first flush of flowers are deadheaded. Purple Magic Crape Myrtle grows best in well-drained soils, and thrives when planted in full sun.
In the mid-1960s, the National Arboretum embarked on a crape myrtle breeding program that continues today, forty-five years later. It was begun by the late Donald Egolf, a research horticulturist whose goal was to produce disease-resistant, cold-hardy crape myrtles.
Crape Myrtle is native from the Himalayas through southern China, southeast Asia and Japan, but has naturalized in the U.S. from Virginia to Arkansas south to Texas and Florida. An additional common name is Lilac of the South in reference to its popularity in southern gardens (USDA Zones 7-9).
In the wild, flowers are typically rose to red. Cultivated varieties have expanded the flower color range to include white, pink, mauve, lavender and purple.
Purple Magic Crape Myrtle has excellent resistance to leaf spot and powdery mildew and is perfect to add a shot of summer color in a foundation planting or as an informal hedge.
---
Growzone: 7-10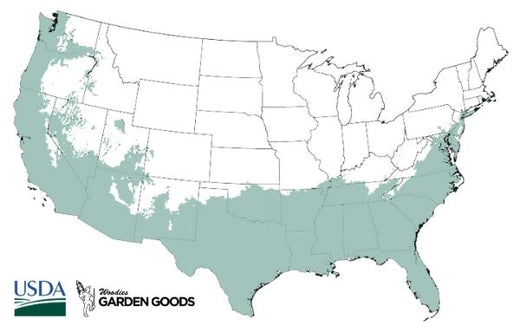 | | |
| --- | --- |
| Hardiness Zone: | 7-10 |
| Mature Height: | 8 to 10 Feet |
| Mature Width: | 6 to 10 Feet |
| Classification: | Semi-dwarf shrub form |
| Sunlight: | Full sun |
| Habit: | Deciduous, densely branched, multi-stemmed summer through the first frost. |
| Flower Color: | Dark purple flowers in mid to late summer through the first frost |
| Foliage: | New growth emerges a rich reddish color, changing to an equally vibrant orange-red in the fall |
| Soil Condition: | Any well drained soil |
| Water Requirements: | Water well until established |
| Uses: | Extremely attractive when used as a focal point in the mixed border, mass planting, or a specimen planting . Small enough for a large containers on the patio. |
---
How to Care for Purple Magic Crape Myrtle
Once you buy a Purple Magic Crape Myrtle Tree, make sure to read about the recommended care instructions to keep this plant healthy and thriving.

How do I water Purple Magic Crape Myrtles?
After backfilling and lightly compacting the 50/50 mix of existing soil and compost, give the Purple Magic Crape Myrtle a deep watering. A general rule of thumb is to count to 5 for every one gallon of pot size. For example, a one gallon pot would be watered until you count to 5; a three gallon pot would be 15; and so on.

Check the plant daily for the first week or so and then every other day there after. Water using the counting method for the first few weeks. Gator bag Jr. can be used to help aid in this process and also provide plants with a good soaking due to the slow release of the water into the root-zone of the plant. Soaker Hoses can also be used to water when planting a long hedge.

How Do I Mulch Purple Magic Crape Myrtles?
We highly recommend that you mulch your Purple Magic Crape Myrtle with either a ground hardwood mulch or a ground cypress mulch depending on your local availability. Any type of mulch will do, but cypress or hardwood mulch will be of a higher quality and provide better nutrition overall as they break down.

Mulching helps to keep weeds away which will compete with your new investment for water and nutrients. A 2 to 3 inch layer of mulch is sufficient, but avoid covering any part of the stem of the plant with mulch. It's better to leave a one inch gap of space between the mulch and the stem or trunk of the plant.

How do I fertilize Purple Magic Crape Myrtles?
We recommend feeding your Purple Magic Crape Myrtle in the very early spring and again in mid fall after all new growth has hardened off. Bio-tone starter fertilizer is the best product to use at the time of planting. Crape myrtles tend to use more nitrogen than some other plant families. Our ideal fertilizer schedule for you to use is as follows.

Use an early spring fertilizer with a product such as Espoma Tree-tone at the recommended rate; this will give the plant a boost of nitrogen that will be needed for healthy foliage and stem growth. Follow this up with an early summer application of Espoma Flower-Tone, this will provide the necessary nutrients to promote a flush of beautiful flowers. Espoma products are easy to use, just sprinkle around the base of the plant and water it in. Slow-release fertilizer can help prevent rapid sucker growth that is vulnerable to diseases and insects.

How do I prune Purple Magic Crape Myrtles?
Depending on the variety, crape myrtles can have different shapes and sizes. The mid-sized varieties such as Purple Magic Crape Myrtle are generally bred to have lots of branches, and they tend to look shrub-like. A mid-sized tree would only need pruning if they are growing unevenly.

Medium varieties such as Purple Magic Crape Myrtle tend to develop sucker growth, or small shoots at the base of the trunk. These may be pruned off if desired, and the entire plant may be pruned according to your tastes. For varieties that bloom before mid-July, deadheading (or cutting off spent blossoms) can often result in a second blooming.
---
---
Other Products you may be interested in
---
Customer Reviews