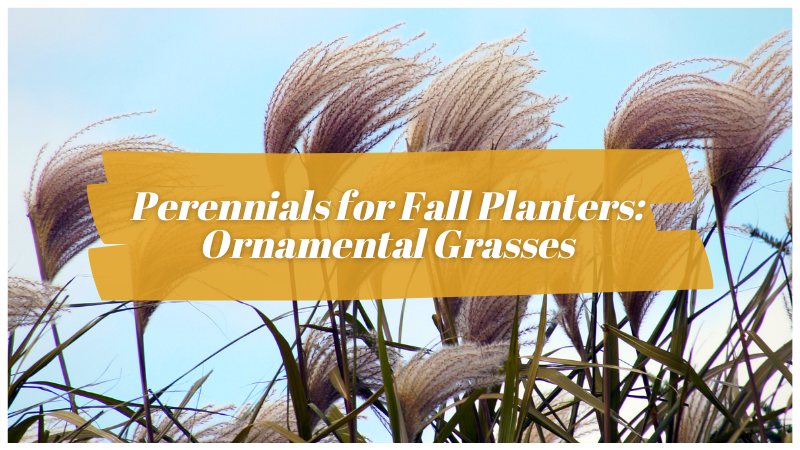 Perennials for Fall Planters: Ornamental Grasses
Fall planting doesn't only apply to fast growing trees, but perennials too! While there's many perennial options you can plant in the fall to enjoy next spring, there's a few ornamental grasses that thrive in containers. No need to wait for early spring to arrive when you can add interest to your lawn or fall garden now!
So what's the deal with ornamental grasses and fall containers? Well, the concept is fairly new to the gardening world, but growing quickly in trend. Traditional ornamental grasses provide visual height to your landscape, but also require little effort on your end. If you're new to gardening, this is a match made in heaven! 
Ornamental grasses provide all the thrills when planted in containers with other flowering plants. Ornamental grasses provide the height, while other flowering perennials provide depth and volume to your fall planter.
Adding in fall-flowering perennial plants Mums, Ornamental Kale, Aster October Skies, Dianthus Kahori, and Sedum Autumn Joy not only provide pops of color, but texture too. Looking for design inspiration for your fall planter? Learn how to create a fall planter in the video here.
True ornamental grasses derive from the Poaceae botanical family and feature cereal grain, pasture and prairie grasses, and bamboo-like foliage. Grasses typically fall into two types of categories: warm-season and cool-season. While both can be planted in the fall, warm-season grasses take a while to establish roots and grow in full mid-summer while cool-season grasses grow in early spring and brown out closer to the fall season.
Our garden experts have rounded up a few of our fall planter ornamental grass favorites ready to shop from America's Online Garden Center. See what makes these grasses unique and choose the best option for your outdoor space!
Pennisetum Hameln or Dwarf Fountain Grass is a compact ornamental grass featuring arching dark green foliage and attractive tan-white flower seed heads that persist through winter. Known for its drastic color change, this plant's foliage turns a vivid copper-bronze color during the fall season. This drought-resistant plant can be used for mass or container planting.
Dwarf Fountain Grass grows best when planted in full sun and nutrient rich soil. Classified as a warm-season grass, the plant can reach heights of 3 feet tall.
Calamagrostis Karl Foerster or Feather Reed Grass is known for its tall, elegant, feathery stalks that emerge reddish-brown in summer. This ornamental grass thrives in wet soils, yet tolerates dry conditions. Use this easy-to-grow plant for garden borders, mass planting, or potted in planters for patio privacy.
This cool-season grass grows best in rich, moist soil and blooms well in partial to full sun. It is an adaptable plant that reportedly does well in heavy clay soils, unlike many other kinds of ornamental grasses.
Miscanthus gracillimus is an attractive clump-forming ornamental grass with fine-textured, silver-green blades. In the fall they turn golden-bronze. An excellent specimen for adding texture to shrub borders and perennial beds.  In larger gardens, we recommend massing Miscanthus gracillimus as a privacy screen.
Maiden Grass is one of the more later blooming grasses known for its drought and salt tolerant capabilities. Birds will enjoy visiting this plant which makes it perfect for nature lovers!
Native to Japan, Aureola Japanese Forest Grass is moderate growing ornamental grass known for its arching bright green variegated leaves and golden stripes. Grown best in partial to full sun, Hakonechloa macra has a compact nature perfect for container planting and hanging baskets. Deer and disease-resistant, Japanese Forest Grass thrives best when planted in full to partial shade. Aureola Japanese Forest Grass grows best in rich well drained garden soil.
Little Zebra Grass is perfect for smaller planters for its compact-nature, but also has striking foliage. Miscanthus Little Zebra makes a compact mound of green foliage with prominent, yellow horizontal banding that holds up well in the heat of the summer and throughout the late summer and early fall.
Tiny flowers emerge gray-purple with the plumes having an overall wine-purple hue. As seeds begin to form, the flower/seed plumes fade to creamy tan, often providing some winter interest. Foliage fades to tan after frost. We recommend growing Little Zebra in average, medium moisture, well-drained soil and in full sun to part shade. 
Miscanthus Adagio is a dwarf grass cultivar and one of the shortest of the many Miscanthus cultivars available for sale today. Miscanthus Adagio produces hundreds of showy plumes emerge bronze-pink and fade to white. Adagio is an upright-growth habit, warm season, clump-forming ornamental grass which features extremely narrow, silver-gray blades that become a mix of orange, gold, and burgundy in fall. Spectacular when planted in mass or in a fall container, this garden plant tolerates a range of soil conditions and grows best in full to partial sun.
Cortaderia pumila is one of the most cold-hardy varieties of pampas grass. This particular selection is shorter and more compact than others. However, it bears the same showy plumes which are creamy-white and silky to the touch. When you're ready, harvest the plumes which make perfect for dried flower arrangements. Dwarf Pampas Grass thrives in hot, full sun exposures and is especially useful as a specimen grass.This variety is very drought resistant once established, and is winter hardy to USDA Zones 7 to 11. 
Dwarf Pampas Grass was planted around the world in Victorian times, and today is considered to be one of the most popular of the ornamental grasses. It was first introduced into the U. S. in 1848, and for many years now has been grown as an ornamental plant in certain southern and western parts of the U.S.
Native to North America, this ornamental switchgrass cultivar features some of the best burgundy-red foliage of the many panicum cultivars currently available in commerce. Shenandoah Switch Grass' foliage emerges bluish-green, but rapidly turns burgundy-red (by late June) to form a compact, narrow, 3 feet tall clump of foliage. To add a bit of excitement, finely-textured, reddish-pink flower panicles emerge in the summer and hover over the foliage like an airy cloud. Panicles turn beige as the seeds mature in fall with the seed plumes persisting well into winter, which makes it perfect for fall planters.
Shop all your fall garden design needs at Garden Goods Direct! For more information on how to care for your ornamental grass plant, visit each plant's product page!