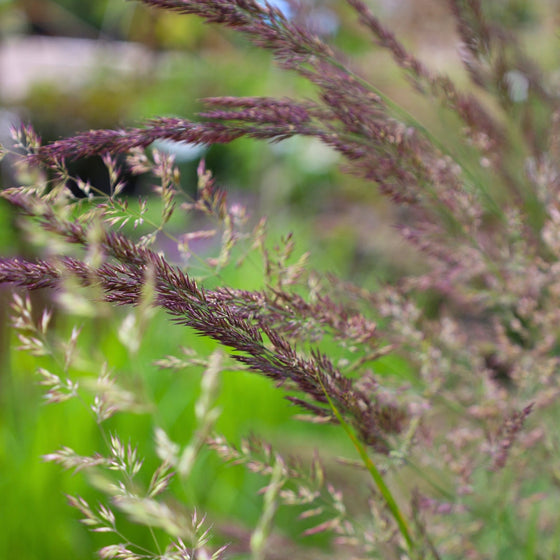 Images Depict Mature Plants
Karl Foerster Feather Reed Grass for Sale Online
Karl Foerster Feather Reed Grass, also known as Calamagrostis Karl Foerster, is a visually stunning deciduous plant known for its clumping ornamental foliage.
In the spring, flower heads pop out of the green leaves and look like a grain plant. These reddish-brown feathery plumes gradually turn golden throughout the fall season. These are beautiful as cut and dried flowers and last well after the frost sets in.
This cool-season grass grows best in rich, moist soil and blooms well in partial to full sun. It is an adaptable plant that reportedly does well in heavy clay soils, unlike many other kinds of ornamental grasses.
---
Growzone: 4-9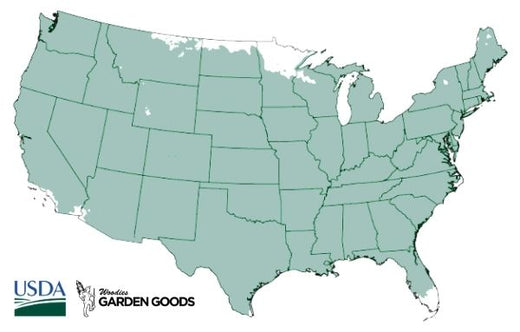 | | |
| --- | --- |
| Mature Height: | 2 to 6 Feet |
| Mature Width: | 2 Feet |
| Sunlight: | Full sun |
| Water Requirements: | Average |
| Selling Points: | Deer resistant, attracts birds, winter interest |
---
How to Care for Karl Foerster Feather Reed Grass
Before you buy a Feather Reed Grass plant, make sure to read about the recommended care instructions to keep this plant healthy and thriving.

How do I water Feather Reed Grass?
This perennial thrives in rich, moist soil and should be regularly watered. We recommend watering your plant once a week, but mature grass is rather drought-tolerant. Allow the top 3 inches of soil to dry before watering again. If you're planting Karl Foerster Feather Reed Grass in extreme heat, water your plant more frequently.

How do I fertilize Feather Reed Grass?
Karl Foerster Feather Reed Grass thrives in low-fertilized soil. We recommend sparingly fertilizing this ornamental plant in early spring with a slow-releasing fertilizer.

How do I prune Feather Reed Grass?
We recommend that you prune Feather Reed Grass in the late winter to encourage increased blooms during the spring growing season. Cut clumps to the ground just before the new spring shoots appear. Use grass shears or a hedge trimmer to remove the old stems at least 3 inches from the ground to upkeep attractive appearance.

What type of soil is best for Feather Reed Grass?
We recommend planting your ornamental grass Feather Reed Grass in rich, moist soil for the best results. Although, this specific ornamental grass can grow in heavy clay soil. This plant naturally grows near ponds so it's important to keep that same environment.
---
Additional Information
2001 Perennial Plant of the Year
Karl Foerster is the most popular of the hybrid feather reed grasses sold today and quickly grows 3 to 5 feet tall and 2 feet wide.
The cultivar name honors Karl Foerster, German nurseryman, who reportedly discovered this plant in the Hamburg Botanical Garden in the 1930s and subsequently introduced it into commerce in 1950.
We recommend planting Feather Reed Grass around landscape borders, in mass planting or urban gardens. This plant also looks great on green roofs and planted around water gardens, pools, or ponds. Plant this ornamental grass in a planter for patios or front porches. No need to worry about wildlife - while this plant attracts birds, it is deer resistant. They can be propogated by division, and make a great choice to add height, dimension, movement and privacy to yur garden all year long.
---
Frequently Asked questions
Can you grow Feather Reed Grass in pots?
Is Feather Reed Grass safe for dogs?
Is Karl Foerster Feather Reed Grass Native?
What to plant with Feather Reed Grass?
How fast does Feather Reed Grass grow?
---
Other Products you may be interested in
---
Customer Reviews