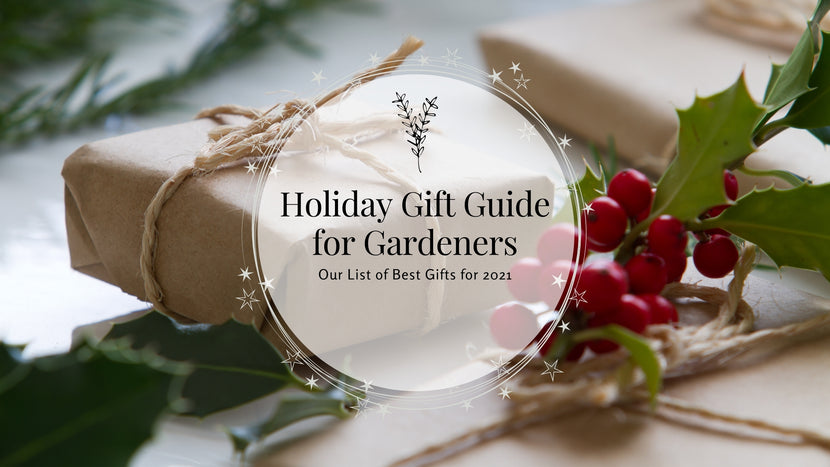 Holiday Gift Guide for Gardeners
While cut flowers are nice, a living plant will last much longer, and plants make perfect Christmas gifts for loved ones who enjoy them as much as we do. Here is our 2021 holiday list of gifts ideas for gardeners! We think the garden lover in your life will really appreciate these special treats just for them.
Terrariums
We are excited for our terrarium kits! These have everything you need to start a terrarium – simply add your favorite plants. Consider adding a Fittonia or an Echeveria succulent. Both of these plants thrive in terrarium homes! With a terrarium, the gardener in your life can enjoy their favorite hobby indoors during the cold winter months, too! These also make a wonderful educational gift for young, budding gardeners learning how to take care of plants. 
Houseplants
Because these plants can survive inside, houseplants make for spectacular holiday gifts! Houseplants come in all shapes, sizes, and color variations.
You can still give plants to those who are not confident in their green thumbs. Some plants that are considered to be easy for beginners include spider plants, parlor palm, neon pothos, Chinese money plants, and the fashionable Monstera deliciosa!
For the indoor plant enthusiasts in your life, adding a pop of pink to their greenery is a trendy look for 2021 (Check out more of our favorite trending pink houseplants)
When it comes to highly fragrant houseplants, few are as beautiful as Rosemary topiaries and Stephanotis.
Shrubs and Flowering Bushes
Shrubs that bloom in winter can still make a great gift. Any seasoned gardener will know that as long as the ground is not frozen, all plants prefer to be in the ground than in a nursery pot. If you can still dig, you can still plant!
How about a flowering bush that will bloom from the winter into next spring? A Camellia Hana Jiman will fit that bill, as well as Mediterranean Winter Heather or Hellebore flowers.
Gardening Tools
 If you're looking for a unique gift for the outdoor gardener, here are some must-haves tools that will make their gardens thrive.
A Felco pruning set is a top notch tool that will make pruning season this winter as easy as can be.
Watering tools such as the Dewitt Dew Right watering bags or soil soaker hose take the work out of the watering chore, so your gardeners can sit back, relax and enjoy their gardens. Let technology do the work for them!
Pottery
If you don't know which plant to get someone, you can always get them a place to put their plants! Pottery is an excellent choice for all plant lovers, especially ones who want to garden but live in more urban places and need to get creative.
Our Ecoforms pottery line is made of biodegradable rice hulls. They last up to 5 years as outdoor planters, and 10 years indoors, and they come in a range of beautiful colors inspired by nature.
We are also fans of the environmentally-conscious way that the Crescent lines of resin pots are made. The resin is built with a flexible structure; it is less likely to crack in extreme temperature changes, and they also come in a variety of flattering colors and finishes.
Gift Cards
For those that are undecided, we have the perfect gift for them as well. Woodie's Garden Goods Direct Gift Cards make gifting easy and they never expire. This way your favorite gardeners can go and pick out everything they know they need when they're ready to use them, like spring perennials and shrubs, grass seed, and Espoma fertilizers. These gift cards are a perfect stocking stuffer.
We hope that you have a wonderful holiday season! We'll see you in the garden.