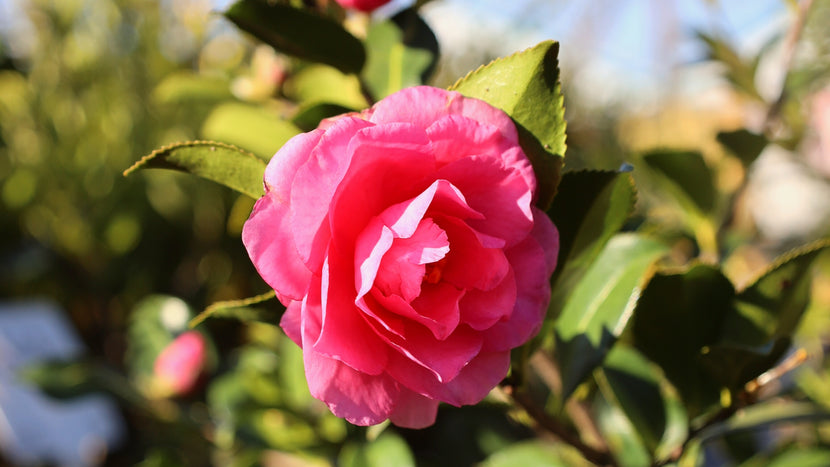 Winter Interest Shrubs That Brighten Your Landscape
A winter landscape has a beauty unique to the season itself. As most of your garden takes a long winter's nap, these shrubs add a welcoming element with brightly colored berries, evergreen textured foliage, and a pop of color to contrast the otherwise dormant landscape.
Winter interest shrubs can be divided up into four categories: Evergreen Shrubs, Winter Flowering Shrubs, Shrubs with Colorful Bark, and Shrubs with Winter Berries. Deciding which winter interest shrub is best for you is a matter of personal choice, but hopefully, we can clear up some of the confusion behind this underused group of plants to bring you the winter landscape of your dreams!
Evergreen Shrubs With Winter Interest
First, we will dive into a few of our favorite evergreen shrubs that work to provide winter interest. Evergreen plants are great because while many plants are headed into dormancy, their foliage is still vibrant and full of life in the frigid months of winter.
Shamrock Holly Shrubs are at the top of our list, for their compact habit and bright, glistening foliage make them a standout in any yard! This dwarf, evergreen shrub makes an excellent hedge or border plant. The dense twiggy habit displays an abundance of blackberries throughout winter. Be sure to add the male Ilex glabra 'Nordic' to ensure berry production.
For a more classic and manicured look to your winter landscape, consider opting for the lustrous and classic American Boxwood! This popular evergreen shrub is tolerant of a range of growing conditions and is an absolute staple for foundation plantings!
If you want an edgier, less mainstream landscape then bring the party to your yard with the Olive Martini Elaeagnus! This stunning shrub produces vibrant-colored evergreen foliage that is edged in gold! Sometimes called Silverberry, it creates a striking display on a sunny border or when used as a privacy screen/buffer.
Last on our list of evergreen shrubs to provide immeasurable winter interest is the Blue Pacific Juniper. This shrub is a versatile, sprawling ground cover that tolerates hot, dry locations in full sun. Blue Pacific cascades over retaining walls and adds a beautiful blue color to the winter landscape!
Flowering Shrubs for Winter Interest
Next on our list of landscape plants to wow you this winter are the flowering favorites!
A popular and iconic flowering shrub is Mahonia Winter Sun. Mahonia is a beautiful, evergreen shrub that becomes a dramatic focal point for the winter garden due to its bright burst of yellow flowers, usually bursting to life at the beginning of January.
We can't talk about flowering favorites without discussing Camellias! Camellias are a large group of winter interest plants and are divided up into late fall through winter-flowering and late winter through early spring flowering varieties.
One of the most well-known of the Camellia Winter Blooming shrubs is Camellia Winter's Joy. Producing vibrant pink flowers from September through to late January, Camellia Winter's Joy is sure to bring you extended happiness throughout the season.
Shrubs with Colorful Bark
Beyond the blooms is the bark! There is a range of plants that after their leaves are shed, the real show of color begins.
First on this list of shrubs with colorful bark is the Yellow Twig Dogwood. In the winter landscape, the yellow buds of this Dogwood shrub stand out, especially when grown against a dark-colored background or when displayed in a snowy landscape.
As a sister to the Yellow Twig Dogwood, the Red Twig Dogwood is another winner due to its fiery red stems in the winter. In the summer, the flowers give way to beautiful porcelain blueberries that are adored by birds. When the days begin to shorten and the temperatures begin to fall, delicate tones of red and purple are displayed in the leaves before they drop. Not to mention this show-stopping shrub is deer resistant!
Next on the list of shrubs with colorful bark is the Midwinter Fire Dogwood. The Midwinter Fire Dogwood shrub is an all-year-round show stopper. In the spring it has interesting foliage that is a warm blend of pale yellow to a faint red, giving it a unique look. In the winter, the bark is a fiery kaleidoscope of yellow to red shades.
Shrubs with Winter Berries
Last but certainly not least on the list of shrubs to provide you with winter interest is shrubs with berries! Beyond bringing fun pops of color to a yard, shrubs with berries also work to feed local wildlife and benefit your ecosystem!
One of the best winter berry-producing shrubs is Sparkleberry Holly, also referred to as the Winterberry Holly. This striking shrub has bright red berries that appear in early fall and persist through winter. New foliage emerges a showy red in the spring.
Next on our list of berry-producing shrubs to provide winter interest is the Blue Princess Holly. This royal shrub has plentiful, bright red berries atop vibrant purple stems. This goes well with the dense, blue-green foliage. Partner with a male Blue Prince Holly pollinizer for a prolific berry set. This makes an excellent hedge or foundation shrub.
Another berry-producing shrub to love is the Viburnum Blue Muffin! The Blue Muffin is one of the most versatile Viburnums available today. It's more compact than other Arrowwood viburnums, and it fits easily into even the smallest of residential landscapes.  It then produces hundreds of intense blue berries in late summer through early winter. The berries not only add interest to the winter landscape but attract songbirds to the garden.
Shop Garden Goods Direct For Winter Interest Shrubs
Above is just a small list of winter-interest shrubs. If you need help making choices or just want to discuss other plants available, you can contact one of our plant specialists and we'll be happy to help out.
Shrubs can be planted at just about any time of the year. One of the best times to plant shrubs is in the fall through early spring. Planting in the fall allows the shrubs to establish a healthy root system during the colder months without the need for regular watering.
Until Next Time, stay warm and enjoy the winter landscape.
- Woodie