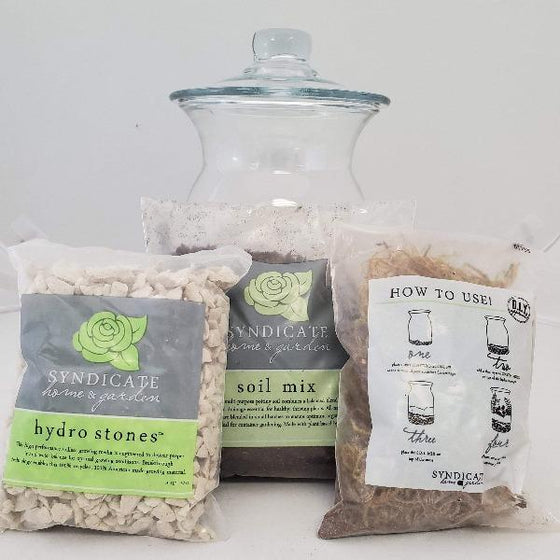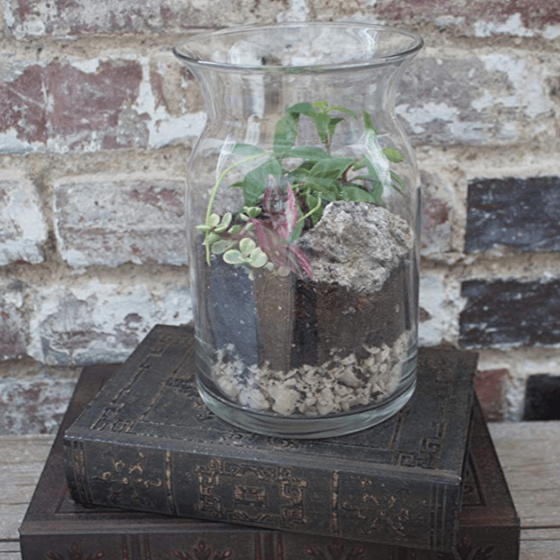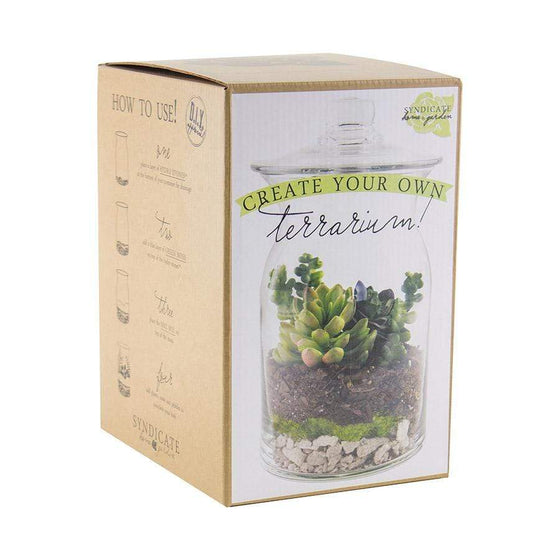 Images Depict Mature Plants
Create Your Own Terrarium Kits for Sale Online
Be a part of the trend sweeping across the nation! Create Your Own Terrarium with this easy to use kit that includes a glass container with lid, hydro stones for drainage, green moss, and soil mix. Making a terrarium is a lot of fun for birthday parties, an activity for a rainy day, or even as a gift for someone who has every other gardening accessory. All you need to add to make it truly your own creation is to add plants, moss, and some decorations. You could even turn it into a fairy garden with small winged friends or the addition of some amiable gnomes. Let your creative side emerge!
This kit makes it easy to have fun. The Create Your Own Terrarium Kit takes the work out of sourcing material for a terrarium by providing the glassware, soil, moss, and hydro stones all in one easy, convenient package. All you have to add is your own personality, showcased by the different plants or figurines you choose to include. The Create Your Own Terrarium Kit make an excellent gift either in the box or once completed. They work well as a thank you for teachers, gardeners, or coworkers that need an addition to their desk.
Generally what makes a plant suited to a terrarium is its appreciation for high humidity and ability to thrive in confined spaces. The plants listed on our page may need to be cut back occasionally but generally stay more compact than other tropical plants or houseplants. The Create Your Own Terrarium Kit really gets your creative juices flowing - just pick out some plants that match your personality and get to planting!
This boxed kit includes an 8-inch glass vessel and lid, a bag of soil mix, a bag of moss, and a bag of hydrostones.
---
Customer Reviews