Images Depicted Range in Maturity & Container Size
Pots Not Included Unless Otherwise Stated
Futura Superba Snake Plants for Sale Online
Futura Superba Snake Plant is a Low light, drought-tolerant house plant that cleans the air indoors of toxins. Easy to grow and an excellent houseplant for beginners. The sides of each blade sport a bright yellow color, sure to brighten a corner in your bedroom or office. Sanseveria was part of the NASA clean air study and found effective in improving indoor air quality by removing benzene, formaldehyde, trichloroethylene, xylene, and toluene. In Feng Shui, the plant is considered a good luck plant.
---
Growzone: 9-11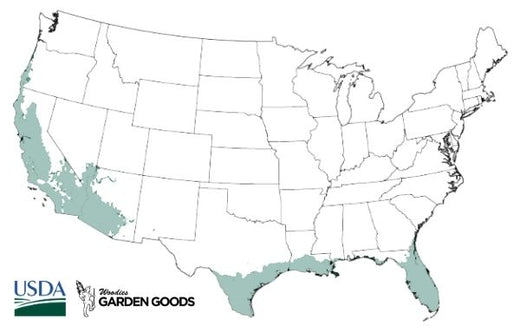 | | |
| --- | --- |
| Hardiness Zone: | 9-11 |
| Mature Height: | 12 to 18 Inches |
| Mature Width: | 10 to 12 Inches |
| Classification: | Colorful foliage |
| Sunlight: | Fluorescent light to bright, indirect |
| Habit: | Upright |
| Foliage: | Green center with yellow edges |
| Soil Condition: | Well draining, cactus or succulent mix (part sand) |
| Water Requirement: | Likes to go dry |
| Uses: | Does well in narrow spaces and in low light conditions |
---
How to Care for Sansevieria Futura Superba
Be sure to read our planting instructions to ensure a healthy and happy plant for years to come!

What type of soil should I use for Futura Superba Snake Plants?
Futura Superba Snake Plants need well-draining soil and prefer to have dry conditions. Regular potting mix with sand mixed in works well for plants potted in containers; otherwise, a cactus potting mix would work. The cactus potting mix already has sand and other ingredients to encourage drainage.

When should I fertilize my Futura Superba Snake Plant?
Any all-purpose foliage fertilizer will work for Futura Superba Snake Plant. Jack's Classic Indoor plant food works well as a powder, quick-release fertilizer. When this fertilizer mixes with water, it quickly provides nutrients to a plant that has been in a container for an extended time. Osmocote Indoor/Outdoor is an option as a granular, slow-release fertilizer that can be applied while potting and planting. Any fertilizer offers nutrients that help plants transition to a new environment.

When should I water Futura Superba Snake Plants?
Futura Superba Snake Plants like to dry out almost completely between watering. Be careful not to overwater your snake plant because this could cause root rot disease. This disease is caused by the plant's roots sitting in standing water for an extended period. On the other side, plants that receive too much water too often will not survive. If unsure, do not water. Snake Plants can go weeks before being watered again.

How Much Sunlight Does My Snake Plant Need?
Futura Superba thrives best in bright to moderate indirect light. These snake plants can also grow great under fluorescent lamp lighting. Always make sure you are keeping your plant out of direct sunlight because it will burn your plant's leaves. In the summer, you can bring your plant out on your porch or a balcony to enjoy the summer weather. Do this at a gradual speed to ensure you don't put your plant in shock.
---
---
Other Products you may be interested in
---
Customer Reviews