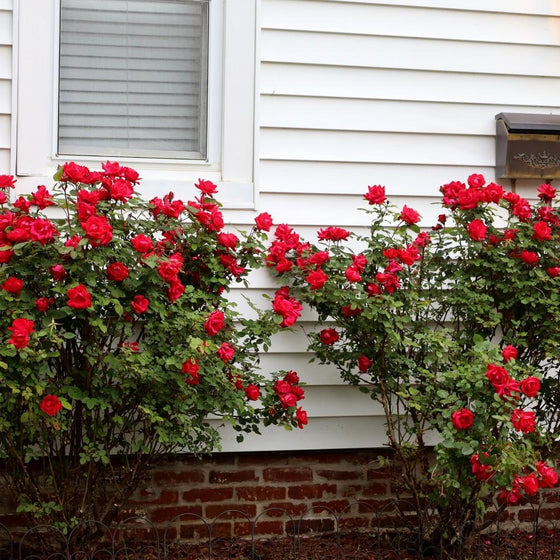 Images Depict Mature Plants
Red Drift Rose Bushes for Sale Online
The Red Drift Rose (Rosa 'Meigalpio') produces the most petite flowers of the Drift Rose Family. These miniature roses bloom a deep red that never fades despite extreme heat and sun. Setting the backdrop for these roses is the glossy, serrated, deep green foliage.
With a growing season of May to October, the red flowers will brighten up your yard all summer long, and hold their bloom while other plants fall away in autumn. The vibrant color and compact shape make the Red Drift Roses famous, but it's their winter hardiness and disease resistance that makes them reliable. 
The drift groundcover roses can spread up to 3 feet wide and 2 feet tall. For optimal growth, we recommend pruning your shrub in early spring. They enjoy good air circulation, so planting these shrubs a few feet apart from one another is preferred. Make sure that your planting location receives full sun and at least 6 hours of sun a day. Shady areas will hinder the number of blooms and overall growth.
Thesee deciduous shrubs work great in a variety of planting styles. Most commonly, the Red Drift shrubs are used as ground cover, or placed in front of borders for some added interest to a yard. The plant's ground hugging nature, compact size and spreading habit makes it the ideal shrub for filling empty spaces without being too overwhelming.
As an added bonus, these shrubs work great for making beautiful cut flower arrangements!
---
Growzone: 4-11
| | |
| --- | --- |
| Hardiness Zone: | 4-11 |
| Mature Height: | 1.5 to 2 feet |
| Mature Width: | 2 to 3 feet |
| Classification: | Broad leaved deciduous groundcover rose |
| Sunlight: | Full sun for best blooms |
| Habit: | mounding |
| Foliage: | Dark green |
| Flower Color: | Red |
| Pruning Season: | Prune in late winter |
| Soil Condition: | Any well drained soil |
| Water Requirements: | Water well until established |
| Uses: | Extremely attractive when used as in the mixed border, mass planting, or on a hillside |
---
How to Care for Red Drift® Rose
Be sure to read our planting instructions to ensure a healthy and happy plant for years to come!

How do I plant my petite rose bush?
As mentioned earlier, it is imperative to pick a spot that receives lots of sun throughout the day, and where the soil is well-draining. Dig a hole that is wider, but not any deeper than the container your Red Drift Rose shrub came in. Place your plant in the hole, cover with the original soil from the hole and give it a good watering. These roses have a tight-knit root system, making them good for preventing erosion, but extending their period of establishment. It can take several years for your shrub to reach the point of full establishment. During this time, be sure to give extra care and attention to your plant.

How often do I water my Red Roses?
While these roses love moisture in the roots, excess water can increase the likelihood of disease. Plant your bush in well-draining soil and water weekly for optimal moisture. If possible, it is best to water your roses in the morning before the sun fully rises. In very hot climates, or when planting your rose bush in pot or container, water more frequently. To help retain the soils moisture, add a 3-inch layer of organic mulch, leaving a gap between the trunk and mulch. Apply in spring, and once again in the fall to maintain the thickness of the mulch layer.

What kind of fertilizer do I use for a Red Drift Rose Shrub?
For abundant flower growth, fertilize your rose bush with a well-balanced fertilizer that promotes blooms. Too much nitrogen will boost the growth of the foliage, at the expense of your blooms. Apply your fertilizer once a year, in early spring, but use sparingly. To prevent root rot and disease, do not apply fertilizer too close to the trunk of your shrub.

How do you prune Rose Bushes?
Red Drift Rose is ground-cover rose that should be pruned in the late winter to encourage new growth and compact growth. We recommend that your prune in early spring, but after there is no threat of frost. The Drift Rose blooms on new wood, so no need to worry about removing flower beds when pruning. If you want to shape your plant, do not cut off more than a third of your plant and do not prune before the root system is fully established. Straying from this will threaten the growth and prosperity of your Red Drift Rose bush.
---
General questions
What do the pot sizes mean?
---
---
Other Products you may be interested in
---
Customer Reviews