How to Grow Roses

Plant Guide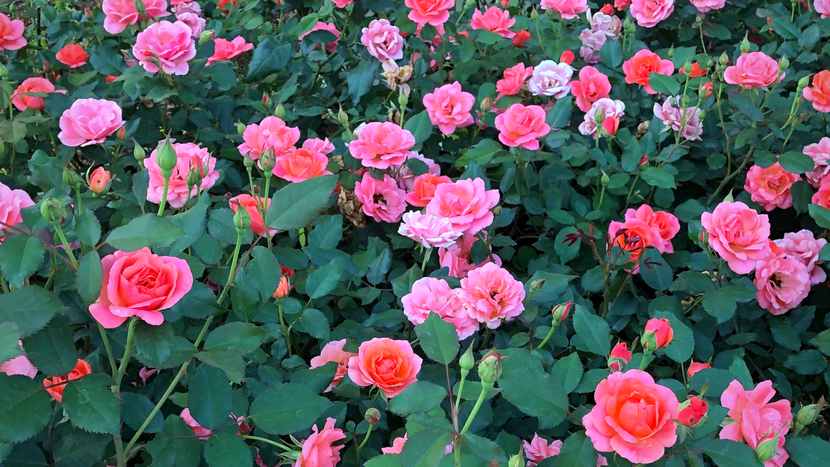 Known for their timeless beauty, these flowering plants are a perfect low-maintenance addition to your garden and are widely beloved by gardeners of all levels across the country. One of their main attractions is the long-lasting color that they bring to your garden. They come in yellow, pink, white, orange, and red and bloom from spring to fall. The bright blooms are contrasted by the dark green foliage.
Roses can be a beautiful addition to interior design if you cut the flowers when the petals are starting to open. To keep your roses fresh, place them in a water vase, and change this water daily. Be sure to remove leaf stems that will rest below the waterline.
Selecting the Right Rose for Your Garden
Container roses are easy to plant and establish quickly. In contrast, bare-root plants need to be soaked in water before planting and need extra water while establishing. All plants sold at Garden Goods Direct will come in containers, making planting nearly effortless.
There are so many beautiful varieties of roses to choose from, so you may be tempted to plant a variety of roses in your garden, but this may look a bit unorganized. Roses are outstanding when the same variety is mass planted for a uniform look.
Please see below for the rose varieties offered at garden goods direct:
Ground Rules
Light
Roses require full to partial sun for optimal blooms. Six to eight hours of full sun is idealt. In hotter climates, protect the blooms from the hot, direct afternoon sun. In colder climates, it is important to prepare the plants for winter chills. One way to do this is to plant your Rose Bush next to a fence for added protection.
Sunny Knockout Roses and Red Knockout Roses can bloom with only 3 to 4 hours of sunlight.
Water
Water occasionally to keep the soil evenly moist. Some roses can survive from just rainwater, given it is not a drought season. Otherwise, water your plants once or twice a week, or more often in hotter climates.
Overwatering shows the same symptoms as underwatering. Flowers may wilt, leaves will turn yellow, and the production of new flower buds will diminish from the lack of oxygen in the root zone.
Soil
Rose bushes require evenly moist and well-drained soil. They do not like to sit in especially wet soil, as this can lead to root rot.
Food
Roses are heavy feeders and enjoy an addition of organic matter or fertilizer to the soil in spring and again in the early summer. It is best to wait until the rose has fully established itself before fertilizing; we recommend waiting a season or two. Do not fertilize within 6 weeks of the first frost as this can produce soft growth which is damaged by frosts.
Roses thrive in nutrient-rich soil. One trick is to add coffee grounds to the soil surrounding the plant. Further, this will add some acidity, which roses also love. It is important to note, however, that new coffee grounds are highly acidic, while used grounds are mainly neutral and better suited for the garden.
Temperature
While most varieties thrive in hardiness zones 5-9, newer cultivars, such as the Knockout Family of Roses, can tolerate zone 3.
Toxicity
Although roses are not extremely toxic to you or your furry friends, they are known to have thorns along the stems that can be a risk for injury.
If thorns are a serious cause for concern, the Drift Rose Collection has less pronounced, or no thorns.
Mulch
Maintain 2 to 3 inches of mulch in your flower bed to retain moisture and regulate soil temperature. Keep the mulch line about 2 inches from the base of your plant to prevent stem rot.
Planting Process
Carefully unbox the plant and place it outdoors in a shaded area, water thoroughly while still in a nursery pot.
Choose a location based on light requirements, soil type, and mature size.
Prepare the soil: dig a hole twice as wide as the root ball but not deeper. The plant's crown should be ground level. The easiest way to illustrate this is to say that after planting you should still be able to see the roses original soil.
Place your rose bush in the center and backfill with a 50/50 combination of your existing soil and topsoil or organic compost.Remember, you should still be able to see the soil line of the original pot when you are finished planting
Water deeply 3 times a week while roots are being established. Thereafter, water to keep soil moist and according to your climate conditions. After a few weeks begin to cut back on the frequency of your watering.
Lightly feed with chemical or organic fertilizer once or twice in early spring. Do not fertilize after August when your plant begins to prepare for dormancy.
When you first receive your rose bush, carefully unbox it and place it in a sunny part of your yard. Your plant has just gone through some shipment shock so it will take a day or two to acclimate to the sunlight again. Make sure you monitor watering carefully while it is still in its nursery pot and before planting so the soil does not dry out completely.
Hopefully, you have already chosen a rose based on your specific planting needs so the next step is to prepare the planting site. Dig a hole twice the size of the container but no deeper. This will give the roots room to spread out.
Place your shrub in the center of the planting hole and backfill with a combination of your existing soil and topsoil, depending on your soil condition. While filling in the soil, allow your soaker hose to trickle into the hole, creating a slurry. This will help the roots to settle and trigger progression. In order to prevent stem rot and allow for air circulation to the plant, the top of the existing soil from your rootball should still be visible after backfilling.
Generally, you should water your new plant 2 or 3 times a week during its growing season. In the peak of summer, a slow and steady trickle is ideal so the water permeates deeper, enabling the root system to grow stronger. A Treegator watering back is the perfect, no hassle way to continuously water your rose bush in the summer.
When is the best time to plant Roses?
How do you prune Rose Bushes?
How do you prevent powdery mildew and blackspot from forming on Rose Bushes?
Types of Roses for Sale at Garden Goods Direct
| Common Name | Resistance | Characteristics | Uses | Types |
| --- | --- | --- | --- | --- |
| Knockout Roses | Drought tolerantDisease/pest resistantCold hardy | Self-cleaningSignificant thornsNon-fragrant with the exception of the Sunny Knock Out which has a classic rose fragrance | Mass plant to create a border or hedgepairs nicely with larger shrubs, like boxwoods | Sunny, Peachy, Coral, Pink, Pink Double, Red Double, Petite |
| Drift Roses | Drought tolerantDisease/pest resistantCold hardySimilar to groundcover roses | Self-cleaningLess pronounced thornsSome are fragrant | Ideal for smaller gardens or plantersworks as a ground-cover | Apricot, Coral, Peach, Pink, Popcorn, Red, Sweet, Lemon |
| Oso Easy Roses | Drought tolerantDisease/pest resistantCold hardy | Very low maintenancesome varieties are thornlessfragrant | Perfect for a small garden or acting as a ground-cover | Italian Ice, Lemon Zest, Mango Salsa, Paprika, Double Red, Cherry Pie |