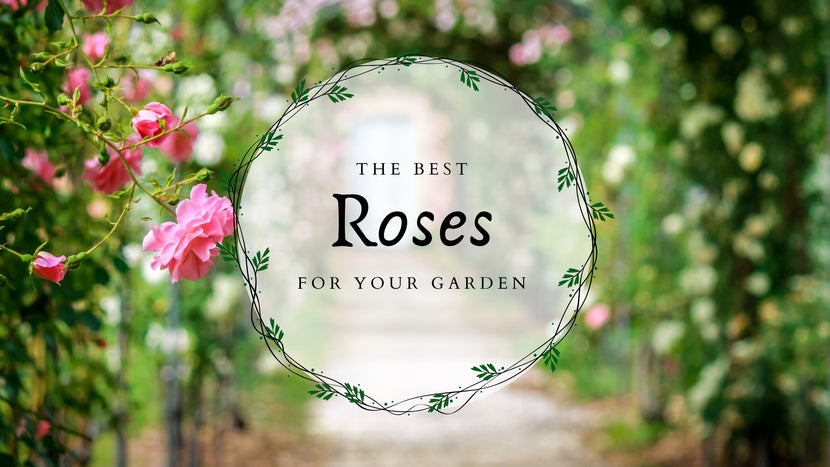 Choosing the Best Roses for Your Garden
Roses are proven to be a perfect match for any garden! Not only are they beautiful, but also low-maintenance and consistent bloomers. If you're new to gardening, it can be intimidating when reviewing all the options. No need to worry - Garden Goods Direct has plenty of resources to give you a green peace of mind.
Rose Bushes come in many varieties and each group has distinct characteristics that will give you the proper insight to help them thrive. Depending on the space in your garden, you can choose from shrub and climbing options. Whether it's a Knockout, Drift, or Oso Easy rose - we guarantee you'll be confident in your selection with the proper knowledge. So... let's get to it!
Knockout Roses
Knockout roses are wildly popular and have been for a while. Known to be a low maintenance prolific bloomer, you'll find these beauties in most landscapes. While they are easy-to-grow and maintain, they do grow bigger each year and can get up to 6 feet tall and wide and are better suited to larger garden beds. They also have pronounced thorns which can make pruning painful.
Coral Knock-Out Rose Bushes bloom from spring through fall with masses of attractive coral colored flowers. The color only gets more intense when the temperatures cool off in the fall.
Pink Knockout Rose is a compact mounding shrub rose that is best noted for its ability to bloom in as little as 3 hours per day of direct sun with excellent disease resistance. Mildly fragrant, single pink roses bloom in clusters from May to frost. Its striking pink flowers are followed by orange-red tips during the summer months.
This class rose-shaped shrub features pretty peach blooms from early spring to the first frost. Peachy Knock Out Rose has superior drought tolerance once established, and the toughness and disease resistance for which the family is known. This shrub's vibrant color will perk up any landscape!
Sunny Knockout Rose feature single, fragrant, creamy yellow roses that bloom in clusters from May to frost. It is best noted for its ability to bloom in as little as 3 hours per day of direct sun with excellent disease resistance.
Drift Roses
Although newer than Knockout roses, Drift roses are quickly becoming a gardener's favorite. Drift roses also bloom nonstop and don't need to be sprayed for diseases. But, they are much smaller, growing only 18" tall and about 3 feet wide. Drift roses are often referred to as ground cover roses, making them great for landscape beds and containers, or as a cascade over a wall or bank. Drift roses have a more traditional 'rose' shape and some of them are even fragrant, such as Coral Drift and Sweet Drift.
Peach Drift Rose is one of the most floriferous dwarf shrubs available. Soft peach blooms cover the plant from mid-spring to the first hard freeze of late fall. Peach Drift Rose pairs well with perennials in any landscape!
Lemon Drift Rose Bushes continuously flower from late spring through early fall and have a very busy and round habit. Its color starts out yellow and fades to cream white. The overall impression is yellow and creamy; reminiscent of the morning sun!
This shrub features clusters of clear pink double flowers sitting atop dark green glossy foliage. Abundant, continuous flowering and exceptional disease resistance makes this a perfect choice for use along pathways, hillsides or at the front of a border!
Apricot Drift Rose Bushes produce double apricot-colored flowers that begin blooming in spring and display a season-long show of color. It is just as tough and disease resistant as others in the series. Best suited for small gardens or along paths and walkways.
Oso Easy Roses
This low maintenance rose blooms prolifically from early summer to frost with some varieties having a single flower and others a semi-double flower. Color variations range from pink, red, yellow and orange.  Touted as being "so easy" to grow, the roses in the Oso Easy series are becoming known for being disease resistant and not susceptible to black spot or powdery mildew.  In the past few years growing Oso Easy's in our nursery we have had no issues with disease.  These roses are self-cleaning and require little to no pruning.  As with any other rose the Oso's are best grown in full sun and benefit from good air circulation.  They prefer well drained and slightly acidic soil with medium moisture.
Similar to the world-renowned 'Peace' rose in its coloration, Oso easy Italian Ice Rose has orange buds open to soft yellow flowers melting into pink blushed margins. The beautiful flowers are semi-double, with 24-30 petals per bloom. This self-cleaning rose (no deadheading) has excellent disease-resistance.
Mango Salsa Rose Bushes produces an unbelievable amount of continuous blooms that appear in shades of ruby-red grapefruit, summer sunsets, and those fancy tropical drinks with umbrellas in them. These compact plants are small enough to plant near walkways and other tight spots.
Paprika Roses start out as a beautiful orange and fade to coral with a golden center. Oso Easy Paprika Roses bloom from Summer to frost. They are very cold, hardy, carefree and disease resistant. Its low, mounded shape makes it an ideal selection for any size landscape!
This newest selection from the Oso Easy collection produces an abundance of large, cherry-red single flowers with bright yellow centers. Pruning is rarely necessary with this rose. The leaves are glossy and highly disease resistant and do not need spraying. Cherry Pie Rose is very hardy and looks amazing when planted in massed or along walkways!
There are so many more options so shop America's best online selection of roses for your home and garden now!