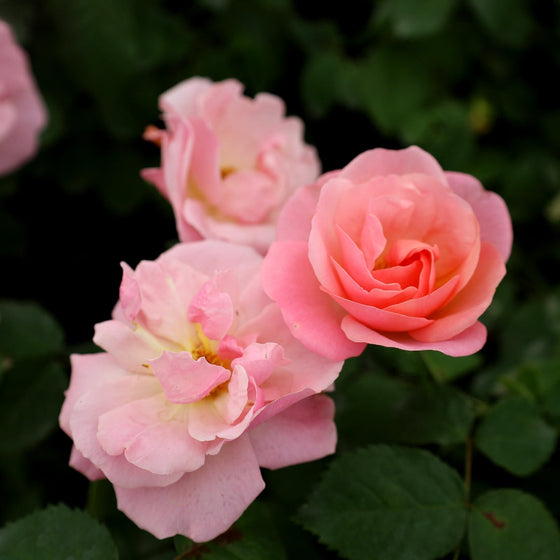 Images Depict Mature Plants
Peachy Knock Out Rose Bushes for Sale Online
Classic rose-shaped flowers bloom in a pretty peach from early spring to the first frost. Peachy Knock Out Rose has superior drought tolerance once established, it has the toughness and disease resistance for which the family is known. A vibrant color that perks up any landscape. The color only gets more intense when the temperatures cool off in the Fall.
---
Growzone: 4-10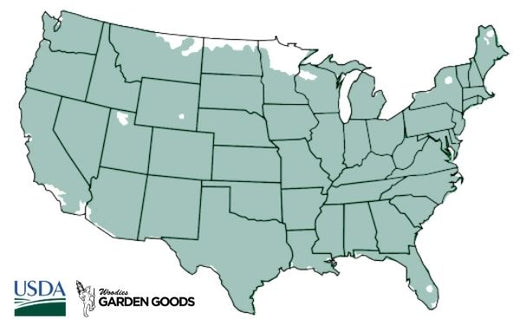 | | |
| --- | --- |
| Hardiness Zone: | 4-10 |
| Mature Height: | 3 to 4 Feet |
| Mature Width: | 3 to 4 Feet |
| Classification: | Broad leaved deciduous shrub rose |
| Sunlight: | Full sun for best blooms |
| Habit: | Upright, rounded, densely branched |
| Foliage: | Dark green, red new growth |
| Flower Color: | Light peach |
| Pruning Season: | Prune in late winter |
| Soil Condition: | Any well drained soil |
| Water Requirements: | Water well until established |
| Uses: | Extremely attractive when used as a focal point in the mixed border, mass planting, or a specimen planting |
---
How to Care for Peachy Knock Out® Rose
Be sure to read our planting instructions to ensure a healthy and happy plant for years to come!

How often do I water my Peachy Knock Out Rose?
Water your Peachy Knock Out Rose bush multiple times a week until the root system is established, which takes about a year. After that, water weekly but avoid overhead watering, as the midday sun can burn wet petals. Instead, apply you water to the base of the plant. A quick test to determine if your shrub needs a drink: stick your finger a few inches into the soil surrounding your plant. If it's dry, give it a good watering. Finally, to keep moisture in and the roots cool, apply a layer of organic mulch around the trunk of your rose bush.

How do I fertilize Knockout Rose Shrubs?
This low maintenance plant does not generally need fertilizer to thrive. However, if you opt for fertilizer, choose a well-balanced formula that is meant for blooming plants. But use sparingly as overzealous use of fertilizer will create more foliage, at the expense of your beautiful blooms. Do not start fertilization until your blooms have gone through one whole bloom cycle, and apply in the spring. Waiting until late summer will promote new growth that will not have enough time to develop and will likely die in the cold weather. Finally, to prevent root burn and rot, make sure the soil is moist before applying, and do not apply the fertilizer too close to the trunk of the bush.

How do I plant a Peachy Knockout Rose Bush?
We suggest when planting your newly purchased Peachy Knock Out Rose plants that you dig a hole twice as wide as the root system but not deeper. The most common cause of plant death after transplanting is planting the new plant to deep. A good rule is that you should still be able to see the soil the plant was grown in after back-filling the hole. Depending on the quality of your existing soil you may need to add a locally sourced compost or topsoil to the back-fill soil. We do not recommend using straight topsoil or compost as a back-fill soil because more times than not these products will retain entirely to much moisture and will cause the root system to rot. Adding compost or topsoil will help the young feeder roots of Peachy Knock Out Rose to spread through the loose, nutrient rich soil, much easier than if you used solely the existing soil which more times than not will be hard and compacted.

When is the best time to Prune a Peachy Knock Out Rose Bush?
If you want to control the growth of the Pink Knock Out Rose Bush, cut it back to 12 inches in late winter or early spring. Don't worry though, by the end of the growing season, the plant will triple in size and produce glorious blooms! You can also remove small or damaged branches to allow more airflow through the plants and prevent powdery mildew.
---
General questions
What do the pot sizes mean?
---
---
Other Products you may be interested in
---
Customer Reviews