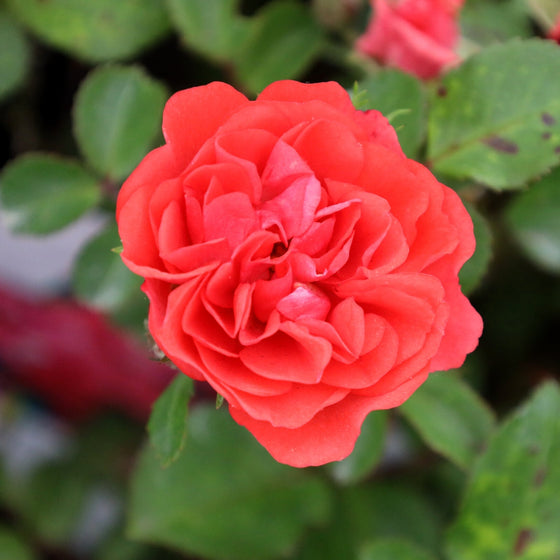 Images Depict Mature Plants
Coral Drift Rose Bushes for Sale Online
Coral Drift Rose Bushes (Rose Rosa Meidrifora) feature bright coral orange blooms that exude passion and warmth. These popular groundcover shrubs make for a beautiful garden addition and breath life and beauty through the seasons.
Loved for their long bloom times, the winter hardy Coral Drift shrubs maintain their bloom from early spring until hard frost. A hybrid cross between full-sized traditional drift groundcover roses and miniature roses, Coral Drift Roses have excellent disease resistance , and are extremely low maintenance.
Ideal care for these blooming beauties includes full sun and regular watering. Ideal for growing zones 4-11, the Coral Drift Rose plants grow best in rich, fertile well-drained soils. Additionally, your rose bush will benefit from the application of a slow-release fertilizer in spring and summer.
The deciduous shrubs' compact and low spreading form makes for a perfect companion plant to other trees and shrubs. The Coral Drifts are perfectly suited for use along paths and walkways or in small gardens. With vibrant coral colored flowers that catch your eye and dark green foliage that gives your garden some life, Coral Drift Roses are the perfect choice for a wide variety of garden projects.
---
Growzone: 4-11
| | |
| --- | --- |
| Hardiness Zone: | 4-11 |
| Mature Height: | 1.5 to 2 Feet |
| Mature Width: | 2 to 3 Feet |
| Classification: | Broad leaved deciduous ground-cover rose |
| Sunlight: | Full sun for best blooms |
| Habit: | mounding |
| Foliage: | Dark green |
| Flower Color: | Coral-orange |
| Pruning Season: | Prune in late winter |
| Soil Condition: | Any well drained soil |
| Water Requirements | Water well until established |
| Uses: | Extremely attractive when used as in the mixed border, mass planting, or on a hillside |
---
How to Care for Coral Drift® Rose
Be sure to read our planting instructions to ensure a healthy and happy plant for years to come!

How do I plant Coral Drift Roses?
We suggest when planting your newly purchased Coral Drift Rose Bushes that you dig a hole twice as wide as the root system but not deeper. The most common cause of plant death after transplanting is planting the new plant to deep. Depending on the quality of your existing soil you may need to add a locally sourced compost or topsoil to the back-fill soil. We do not recommend using straight topsoil or compost as a back-fill soil because more times than not these products will retain entirely to much moisture and will cause the root system to rot. Adding compost or topsoil will help the young feeder roots of Coral Drift Rose Bushes to spread through the loose, nutrient rich soil, much easier than if you used solely the existing soil which more times than not will be hard and compacted.

How do I water Coral Drift Rose Bushes?
After back filling and lightly compacting the 50/50 mix of existing soil and compost give the Coral Drift Rose a good, deep watering. This is not to be rushed. Most of the water you put on the plant at first will run away from the plant until the soil is soaked. A general rule of thumb is to count to 5 for every one gallon of pot size. For example, a one gallon pot would be watered until you count to 5; a three gallon pot would be 15; and so on. Check the plant daily for the first week or so and then every other day there after. Water using the counting method for the first few weeks. You'll want to water the bushes regularly after planting until they've been well established. We like to tell folks that when watering Roses it's best not to water the foliage of the plant. Water at the base of the plant near the soil line only. Although Coral Drift are generally resistant to black spots, there are other foliage diseases that can affect roses in general that are favored by wet foliage conditions. Gator bag Jr. can be used to help aid in this process and also provide plants with a good soaking due to the slow release of the water into the root-zone of the plant. Soaker Hoses can also be used to water when planting a long hedge.

How do I fertilize Coral Drift Rose Bushes?
Groundcover roses such as Coral Drift Rose grow best if they are fertilized once or twice in the summer. You should fertilize your roses monthly from springtime to fall. Drift Roses favor nutrient rich soil and ample fertilization. Try using some Epson salt as well. This will help boost the levels of magnesium in the soil which promotes increased flower production. When selecting a fertilizer for your Coral Drift Rose Bush, use a rose fertilizer blended specifically for roses such as Espoma Rose Tone for example. Either chemical fertilizers or organic matter can be used successfully. Since an organic method of applying manure and/or compost around the roots produces excellent results and also improves the condition of the soil, this would be an excellent first line of attack. Organic additions to the soil can also be combined with a shot of chemical fertilizer for maximum effect. If chemical fertilizers are used on your Coral Drift Bush, applying a slow-release, balanced fertilizer once a year is probably the simplest solution. A less expensive, fast release fertilizer such as a 10-10-10 will work just as well if applied twice during the summer. If you are looking for a fertilizing routine tailored to your specific conditions, a soil sample should be taken and the fertilizer and trace elements matched to the needs of your soil. Don't fertilize Coral Drift Rose after August. Fall is the time for roses to begin preparing for dormancy. Fertilizing at this time may stimulate new growth that will be too tender to withstand the winter. In the South, a late summer into September application would be about right. More northern areas may wish to stop fertilizing in late August. If a liquid fertilizer is used for Coral Drift Rose, it should be applied every month for both plants in pots and in the ground. Never fertilize a plant with a chemical fertilizer if the plant looks sick or wilted. If a plant is struggling due to a disease or root problems, the fertilizer will only add stress to it's life. Try to cure the problem before adding fertilizer.

How do I mulch my Coral Drift Rose Bush?
We highly recommend that you mulch your Coral Drift Bushes with either a ground hardwood mulch or a ground cypress mulch depending on your local availability. Any type of mulch will do, but cypress or hardwood mulch will be of a higher quality and provide better nutrition overall as they breakdown. Mulching helps to keep weeds away that will compete with your new investment for water and nutrients. A 2 to 3-inch layer of mulch is sufficient, but remember to take care not to cover any part of the stem of the plant with mulch. It's better to leave a one-inch gap of space between the mulch and the stem or trunk of the plant.
---
General questions
What do the pot sizes mean?
---
---
Other Products you may be interested in
---
Customer Reviews