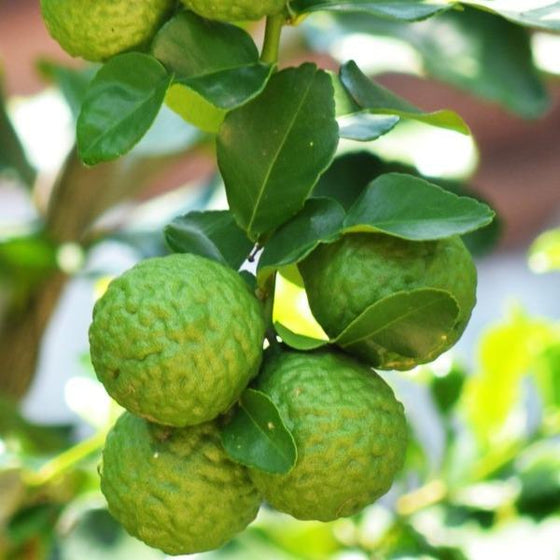 Images Depict Mature Plants
Kieffer Lime Trees for Sale Online
Kieffer Lime Trees, known as Makrut Lime Trees or Thai Lime Trees, have a uniquely wrinkled green rind that is impossible to miss. They almost look to have the same folds as a brain. The leaves from this tree are a significant part of Asian cuisine since it is native to southern China, tropical Southeast Asia, and many other parts of the tree. The essential oils from this lime are also used in perfume.
Now you can grow Kieffer Lime Trees at home and enjoy your unique little limes for home cuisine. If you live in grow zones eight or further north, we recommend that you grow this tree in a container and bring it inside in the winter months. Or, keep it inside in a sunny corner for a lovely, fragrant, tropical ornamental tree. Kaffir limes are the perfect tree for those looking to live more sustainably.
Read the product information below for more details on properly growing your Lime Tree indoors and outdoors.
NOTE: Does not ship to Arizona (AZ), California (CA), or Texas (TX) due to Phytosanitary rules and regulations.
---
Growzone: 9-11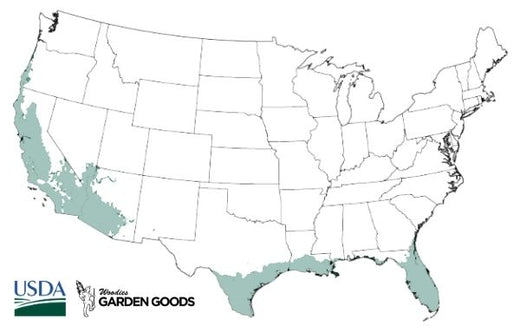 | | |
| --- | --- |
| Hardiness Zone: | 9-11 |
| Mature Height: | 6 to 10 Feet tall |
| Mature Width: | 6 to 8 Feet wide |
| Sunlight: | Full sun, partial sun |
| Water Requirements: | Likes to stay evenly moist, let top inch dry out between waterings |
| Foliage: | Green, fragrant; used in cooking; distinct shape looks like two leaves attached end to end |
| Fruit: | Green, thick bumpy rind, green flesh; tart lime flavor |
| Habit: | Dwarf, rounded |
| Details: | Deep green fruit, very fragrant, produces authentic makrut limes; great in containers, best indoors or on patios |
---
How to Care for Kieffer Lime Tree
Before you buy a Kieffer Lime Trees, make sure to read about the care instructions that are recommended to keep this plant healthy and thriving.

How do I plant a Kieffer Lime Trees?
Kieffer Lime Trees are tropical trees, first and foremost, so make sure you plant them where they will be able to get the sunlight and water that they need to thrive. If you live in zones 9 or warmer they can be planted in the ground outside, otherwise they should be in containers so that they can come inside in cold weather - anything below 50 degrees F since these are not cold hardy plants at all. When planting in a container, choose one with drainage holes and a drip tray to catch excess water. Choose a container that is 2 to 3 inches wider than the container it arrived in. (You have the choice to leave it in its nursery container for the first year or two and simply use a decorative pot outside of the growers' pot). Position your tree's root ball in a way where the top of the soil it arrived in will still be visible at the top of the container, and then backfill the container with a well balanced potting soil - something that has both organic matter like vermiculite and materials to create drainage like perlite. This is when you could use a good fertilizer that is formulated for citrus trees, like Espoma Citrus-tone. Once the pot is full and the tree is supported in position, water the soil slowly until excess water comes out into the drip tray. Let all of the excess water drain and then empty the tray. You should not need to repot your Thai Lime Tree until it is root bound, or every two years or so.

How do I water my Kieffer Lime Trees?
Kieffer Lime Trees are tropical trees and prefer to stay evenly moist in a humid environment. However, they are also susceptible to root rot and cannot sit in water for long periods of time. It is best to make sure your soil has both water retention from organic matter and lots of drainage. Mixing some cactus mix, orchid mix or perlite into your potting soil can help create better drainage. Water thoroughly and slowly, until excess water starts to come out into the drip tray below. Discard all excess water after it has fully drained, and then wait to water again until the top 1 to 2 inches are completely dry to the touch. When in doubt, it's OK to wait an extra day or two in order to ensure you are not over watering. Misting the leaves of your Kaffir Lime Tree can help add humidity.

How much sun does a Kieffer Lime Tree need?
Kieffer Lime Trees prefer lots of sun, they should receive at least 8 hours of full sun or bright indirect sunlight if indoors. These are perfect next to a window in your living room or kitchen when inside.

Do I need to prune my Kieffer Lime Trees?
Pruning Kieffer Lime Trees will help encourage healthy growth, improve airflow through the branches, and can even help encourage bigger, healthier fruits to ripen. We recommend that you use sterilized pruning tools and remove all dead, diseased or broken limbs as soon as you notice them. Then, prune away up to a quarter of the remaining limbs in order to shape and balance your tree. The best time to do this is in late winter to early spring, before flowers start to bud.
---
Frequently Asked questions
Why are my Kieffer Lime Trees Yellow?
---
---
Other Products you may be interested in
---
Customer Reviews