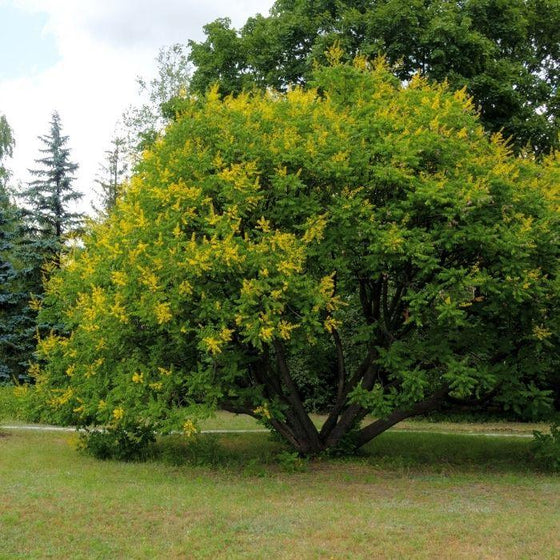 Images Depict Mature Plants
Golden Rain Trees for Sale Online
The Golden Rain Tree (Koelreuteria paniculata) is native to Asia and is historically planted near temples and places of remembrance. This tree brings with it a sense of beauty and grace, earning its name from the yellow flowers that fall from the tall boughs in late summer after their bloom cycle.
The Golden Rain Tree features a neat, rounded habit and well-behaved roots (meaning it won't try and break your water pipes). They grow quite large at maturity, reaching over 30 feet in height and width, but can live in containers as well. They prefer full sun and thrive in zones 6 through 9. You can plant them in zone 5 but we recommend protecting them from windy areas or extreme temperatures if possible, and they may not grow as tall that far north. The trees are considered urban-friendly, tolerating a variety of conditions. The lovely small yellow flowers are a favorite of bees as well.
Another name earned by the Golden Rain Tree is the Chinese Lantern Tree, for its adorable paper lantern-shaped seed pods. This is a beautiful summer-blooming tree, sure to bring an air of elegance wherever it grows.
---
Growzone: 5-9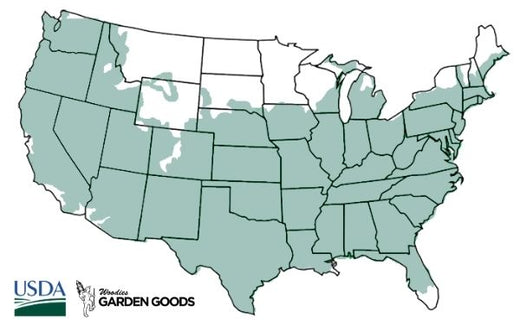 | | |
| --- | --- |
| Hardiness Zone: | 5-9 |
| Mature Height: | 20 to 30 Feet tall (less in colder zones or containers) |
| Mature width: | 25 to 35 Feet wide (less in colder zones or containers) |
| Classification: | Deciduous tree, summer flowering |
| Sunlight: | Full sun |
| Habit: | Upright habit, rounded canopy |
| Foliage: | Green |
| Flower Color: | Yellow |
| Pruning Season: | Prune in late winter to early spring before growth begins |
| Soil Condition: | Any well drained soil (tolerant of many soil conditions) |
| Water Requirement: | Water well until established |
| Uses: | Ornamental flowering tree, specimen lining streets and walkways, bee-friendly, can grow in patio containers |
---
How to Care for Golden Rain Tree
When purchasing your Golden Rain Tree, make sure to read the recommended care instructions for a healthy and thriving tree.

How do I plant my Golden Rain Tree?
Dig a hole 2 to 3 times as wide as the container your tree arrives in, but no deeper. When the tree is properly positioned you should still be able to see the soil it came in to ensure you have not planted it too deeply. Amend the soil at the bottom of the hole with a high quality starter fertilizer and some organic matter to help create drainage, such as peat moss. Top soil or compost is also a good idea to add at this point, but it should be mixed with the native soil. Then, position your tree's root ball and backfill the hole with the 50/50 mix of local soil with organic matter and compost. Pat gently and firmly, and cover the area with 2 to 3 inches of organic mulch, leaving a 1 to 2 inch space around the trunk of the tree. Water very thoroughly - a deep watering is best when first planting a new Golden Rain Tree. If you do use a tree staking kit, protect the trunk from the wires with a piece of cut garden hose or other barrier so the wire doesn't cut the soft wood.

How much water does a Golden Rain Tree need?
Golden Rain Trees need good, deep waterings during their first 4 to 6 months, while they are settling in and growing their young root system. Wait until the top 3 inches of soil feel dry to the touch - press your finger into the soil all the way to the biggest knuckle, if little to no soil sticks to your finger it it time to water. Then, water for a minimum of 5 seconds per gallon size per tree. If it arrived in a 3 gallon pot, water for 15 to 30 seconds, if in a 5 gallon then 25 to 45, etc. Infrequent waterings are better, so when in doubt wait a little longer, unless you live in a very hot climate or it is a hot summer season. This will typically be about once a week, depending on how quickly the soil drains in your area. After the first 4 to 6 months, you should only need to water in extremely hot weather or unnaturally dry seasons.

How should I fertilize a Chinese Lantern tree?
We recommend first testing the soil where you plan to plant your tree, and add any amendments needed before planting. This will help the young tree thrive in a balanced environment while it is establishing its root system. After its first season, it will be much more tolerant to variation in soil condition and should only need a balanced fertilizer once a year. Choose an organic fertilizer balanced for trees (like Espoma Tree-tone) and mix it into the drip line around the tree in early spring, before any new growth has begun.

How much sun does a Golden Rain Tree need?
Golden Rain Trees need full sun in order to thrive, especially in cooler grow zones. Position your new tree so that it is at least 15 - 20 feet away from any buildings or walls, and chose a spot where it will receive at least 6 to 8 hours of direct sunlight. Since this tree has a very open growth habit with its branches and smaller leaves, it provides light shade.
---
Frequently Asked questions
How should I mulch my Golden Rain Tree?
Do I need to prune my Golden Rain Tree?
---
Other Products you may be interested in
---
Customer Reviews