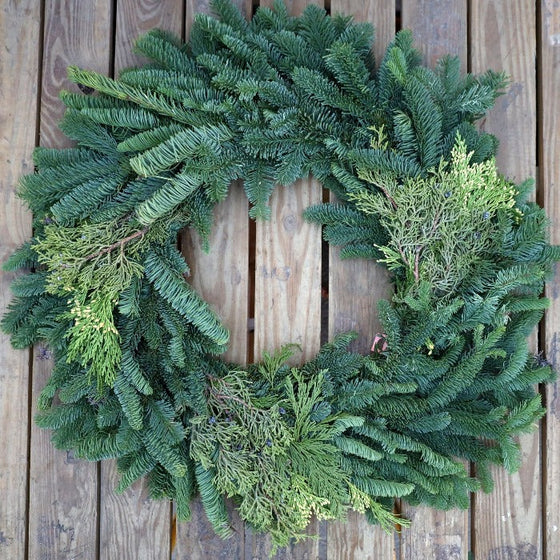 Mixed Douglas Fir and Cedar Wreaths for Sale Online
Our wreaths are freshly made to order with carefully selected premium Cedar and Douglas tips. They are thick and full and are suitable for hanging indoors or outdoors. The 26 inch is most suitable for the average size door. Aside from the traditional Christmas Tree, the Wreath may be the most recognized symbol of the holidays. This traditional medium for crafting a fresh wreath that fills the home with the forest-fresh scent of the beloved Douglas Fir spun together with soft Cedar tips.
Our Holiday shop is a very popular tradition with our customers and therefore items sell out quickly.
Cedar and Douglas Fir wreaths are prized for their display of natural color and the fresh scent of Christmas. They are handcrafted by our wreath makers in the Blue Ridge Mountains each season.
Wreaths are a versatile décor item. They are used in offices, hospital waiting rooms, schools, and homes. They adorn both outdoor windows and front doors, as well as interior locations throughout your home or office. Small wreaths can be placed on office doors, door handles, and other locations. Larger wreaths are better used as a centerpiece either on the wall above the mantel or centered in large windows of your home.
To create a different pop of green color, you can even add twigs and small leaves or berries from other trees and evergreens throughout your wreaths. Children love the opportunity to collect items from nature and attach them to create their own festive wreaths.
Mixed Wreaths Make A Great Gift
At Christmas time, it only makes sense to combine two of the most symbolic icons together, wreaths and gifts. Who wouldn't love to display the beautiful colors of the holiday season upon their door during this festive time? Christmas wreaths come in many styles and designs. There are traditional wreaths with velvet red bows adorning noble fir branches speckled with berries to the more regal choice such as gold satin bows atop pine boughs embellished with juniper berries.
So why doesn't everyone have a Christmas wreath hanging on the door as part of their Christmas decorations? Many people simply don't realize how much a Christmas wreath can illuminate an entranceway and provide festivity and cheer to visitors both old and new. As well, it can be hard to find the time to do the extra things that make the holiday season so special. Wouldn't it be wonderful to share such a rich holiday tradition with your friends and relatives when selecting their Christmas gifts this year? And while you're deciding which Christmas Forest wreath to send their way, shorten your holiday to-do list by purchasing one for your door too.
Douglas and Cedar Wreath Tradition & History
Since evergreens are green year-round, they were the obvious choice for decorations during the winter months. The word 'wreath' is derived from an English word meaning to twist, such as in a circle. Some believe that initially wreaths were hung on doors in Ancient Rome to represent victory.
In Christianity, the Christmas wreath was used to symbolize Christ. The circular shape, with no beginning or end, represents eternity or life never-ending. The wreaths were typically decorated with four candles, three on the exterior, and one in the middle. The middle candle was lit on Christmas Eve to symbolize the arrival of the Light of the World – Jesus Christ. A tradition began in the early 19th century to lay evergreens shaped into wreaths or crosses on graves to honor the dead. Family members would bring them home to use as part of their Christmas decorations during the holiday season.
---
---
Other Products you may be interested in
---
Customer Reviews