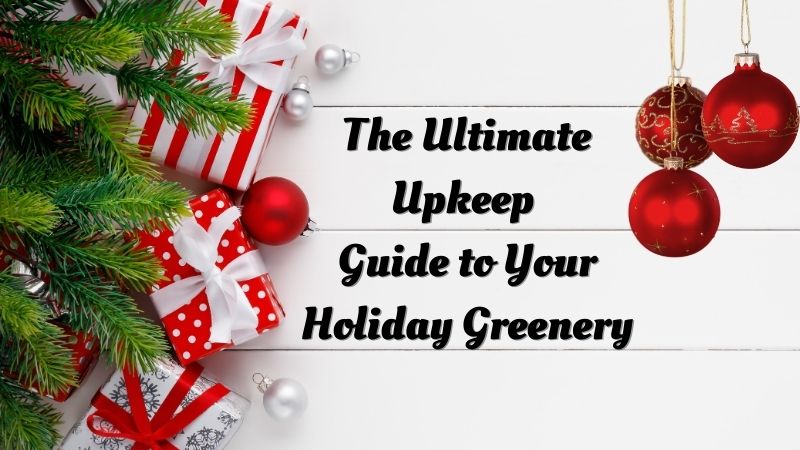 The Ultimate Upkeep Guide to Your Holiday Greenery
'Tis the season where we embrace the holiday spirit by decking the halls with fresh cut trees, wreaths, and garlands. There's nothing quite like the aroma of natural pine to invigorate the senses, bringing back fond memories of seasons past. Caring for your holiday greenery is easier than you thought. We've put together this fresh cut care guide to keep your holiday trees, wreaths, garlands, and house plants lively and vibrant throughout the entire season.
Tree Care
Tip #1: Carefully decide the placement of your tree. Fresh cut trees should not be placed near heating vents, fireplaces, or other potentially dangerous household fixtures, as trees become highly flammable when they age. This also means that they should not receive direct and bright sunlight.
Tip #2: Be sure to cut ¼ inch off the trunk if you are purchasing your tree that has been previously cut. This is essential for your tree to absorb water, which will keep it fresh longer. If your tree is already pretty fresh from the lot, you can disregard this tip.
Tip #3: To ensure that your fresh cut tree remains lively, always keep it in water. Your stand must be able to withstand at least a gallon of water. Make sure the bottom of the tree's trunk is fully submerged. Consider purchasing a watering elf to assist with monitoring the water levels.
Tip #4: Before decorating your tree with lights and ornaments. Keep a close eye on the type of lights you are using. For safety purposes, there should not be any exposed wiring or missing bulbs. This is a huge fire hazard especially if you aren't consistently monitoring the dryness of your tree.
Tip #5: Have fun! Living Christmas trees are a great way to build traditions and memories. The most popular holiday trees are the Fraser Fir and White Pine, both are known to give off a cheerful fragrance that everyone will enjoy.
Wreath Care
Tip #1: Pine, Fraser fir, and Cedar wreaths last the longest.
Tip #2: Soak your wreath in water overnight to allow it to absorb as much moisture as possible before decorating. Spritzing the back of your wreath with water every couple of days or when it looks dry will help keep it fresh longer.
Tip #3: Keep your wreath out of direct sunlight and heat, this will lead it to dry out very quickly. If you are planning to line your wreath with lights try using LED lights, which are much cooler.
Garland Care
Tip #1: Like the wreaths, soak it in cool, fresh water to rehydrate the stems before decorating your Garland. If you plan to add lights, LEDs are recommended.
Tip #2: Using anti-desiccant spray to seal in the moisture is recommended to prolong the life of your fresh garland. This should be done in addition to the daily misting.
Tip #3: When choosing garland go for the white pine, it's soft needles are the perfect choice for both indoor and outdoor decoration for your home.
Swag Care
Tip #1: Consider using non-traditional alternatives such as rosemary, boxwood, fern or magnolia leaves for swags, garlands, and wreaths. These substitutes tend to last longer than traditional greenery
Tip #2: Fresh evergreen arrangements like it cool, opting to display your swags outside will keep them looking their best for weeks to come. If you want to use them indoors, keep them moist, away from drying sources (heating vents, fireplaces, or direct sunlight).
Holiday Houseplants
Tip #1: Before choosing the perfect houseplant to accentuate your home for the holidays, consider the amount of space you will have. During the holiday season, family and friends gather together so, being vigilant of the size of your houseplant is very important. If space is an issue for you consider getting a Christmas Cactus, Cyclamen, or Stephanotis Hoop.
Tip #2: If you plan on going away for the holidays, grab help from a friend or neighbor to water your plants while you are gone. Most holiday indoor plants can last in absence relatively long without suffering. With proper care, holiday houseplants can last for years to come!