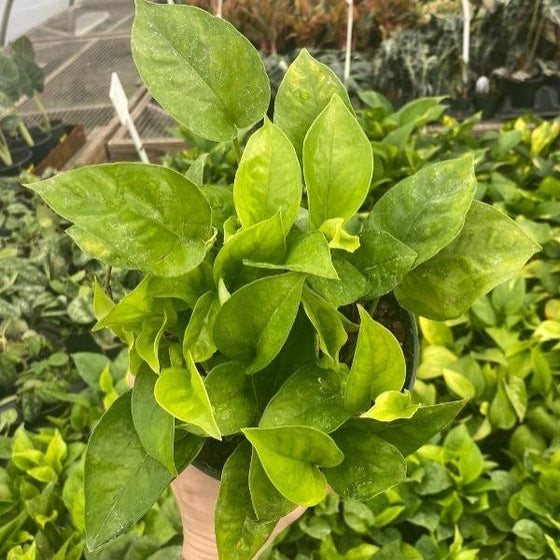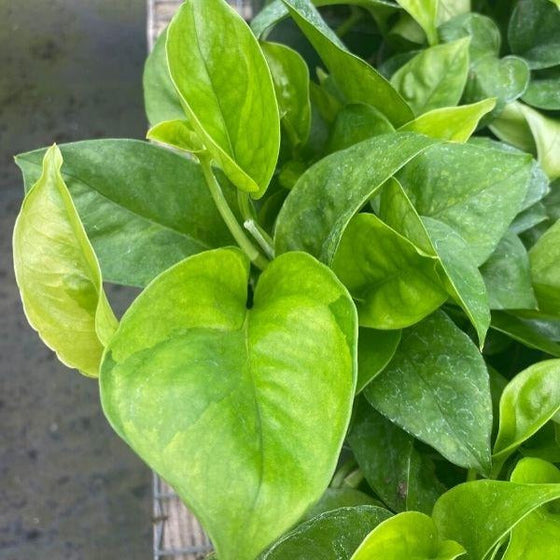 Images Depict Mature Plants
Emerald Pothos for Sale Online
Emerald Pothos (Epipremnum aureum 'Emerald') is one of the rarest, most hard-to-find Pothos variations. They are so rare because of their unique leaf shape and distinct green-on-green variegation. These houseplants are easy to care for and make for the perfect first-time plant owner. We recommend placing your Pothos in a hanging basket or on the edge of a shelf to allow it to cascade and trail downward as it grows. You can also place it near a north or east-facing window as long as it stays out of direct sunlight.
---
| | |
| --- | --- |
| Hardiness Zone: | 9-11 |
| Mature Height: | 6 to 8 Inches |
| Mature Width: | 18+ Inches |
| Classification: | Green and yellow foliage |
| Sunlight: | Fluorescent to bright, direct light |
| Habit: | Trailing |
| Flower Color: | Does not flower indoors (white spathe) |
| Foliage: | Green, shiny, variegated with green |
| Soil Condition: | Regular potting mix |
| Water Requirements: | Likes to stay slightly moist |
| Uses: | Best in hanging baskets or plant stands to cascade |
Growzone: 9-11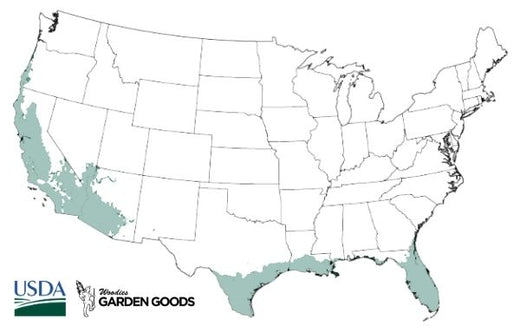 How to Care for Emerald Pothos
Be sure to read our planting instructions to ensure a healthy and happy plant for years to come!

What is the best light for Emerald Pothos?
Your Emerald Pothos plant performs well in fluorescent light like office buildings, atriums, or rooms in your home with small windows. These Pothos plants do well anywhere that they are away from direct sunlight. Emerald Pothos can handle bright, indirect light that comes from northern or partially shaded eastern windows. West or south window exposure would work as long as your plant is far enough away from the window or that particular spot is well shaded. If your plant receives too much direct sunlight, its leaves will burn and die.

How do I water Emerald Pothos?
Emerald Pothos likes to stay slightly moist, not too wet or too dry. If your plant starts to have yellow leaves or brown tips, this means your plant has been kept too dry. However, your Pothos will typically recover quickly even after drying out. It generally will take some time, but your houseplant will wilt if it does not receive enough water. Your Emerald Pothos will tell you when it needs water. However, wilting can also be because of soaked soil. It is crucial to check the soil moisture levels before watering your plant to ensure it is the right time. Overwatering your plant can also cause root rot disease. Be sure that your plant is also in well-draining soil and a pot with excellent drainage holes.

What is the best soil for Emerald Pothos?
Emerald Pothos plants thrive in soil that remains slightly moist at all times. Any regular potting mix works perfectly with your houseplant. Try your best to make sure your plant's soil does not dry out too much that it compacts, as it can be tricky to rehydrate compacted soil conditions. It is also crucial that your plant's soil is well-draining and your plant is in a container with excellent drainage holes. Doing so will ensure your plant does not soak up excess moisture when being watered. To add an extra level of protection from root rot disease, you can also add a layer of pebbles under the soil.

How do I fertilize Emerald Pothos?
In general, Emerald Pothos plants do not require fertilizer. Fertilizer is recommended only for plants potted in the same container for a long time to provide nutrients for new growth. You can use any all-purpose foliage fertilizer if you decide to feed your houseplant. Jack's Classic Indoor plant food works well as a powder, quick-release fertilizer mixed with water to quickly provide nutrients to a plant that has been in a container for an extended time. Osmocote Indoor/Outdoor is an option as a granular, slow-release fertilizer while potting and planting. Any fertilizer offers nutrients that help plants with the transition to a new environment.
---
Other Products you may be interested in
---
Customer Reviews