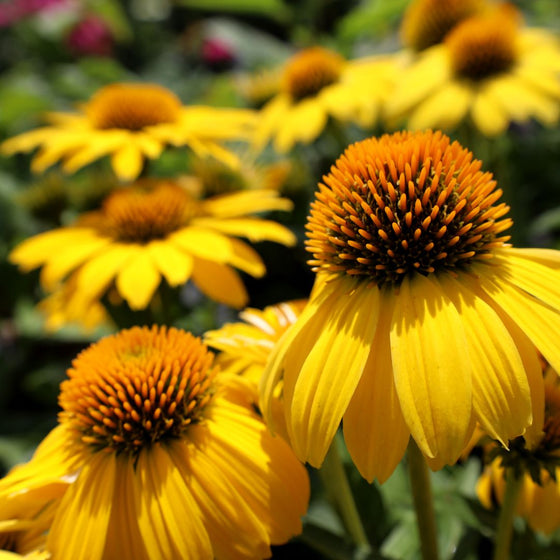 Images Depict Mature Plants
Echinacea Sombrero Lemon Yellow Improved for Sale Online
Echinacea Sombrero Lemon Yellow is a hybrid Coneflower that produces vibrant yellow flowers. Beyond the plant's magnificent yellow blooms, it is loved for its ever-so-hardy nature. The herbaceous perennial is tolerant of drought, heat, and humidity!
Their petals overlap, giving these eye-catching blooms an even more enticing, fuller look. Like most coneflowers, the Sombrero Lemon Yellows prefer full sun and tolerate a wide range of soils, winds, and water levels. Ideal conditions for optimal blooms include full sun and well-drained fertile soil.
Plant your Echinacea in early spring to enjoy the full-time span of these beautiful, long-blooming perennials! To prolong the flowering we recommend removing spent blooms and applying a well-balanced fertilizer in early summer. If you are looking for a low-maintenance plant that grows effortlessly, the Coneflower Sombrero Lemon is your plant!
The bright yellow flowers look exquisite when planted en masse or paired with other purple and red perennials. They are also the ideal plant to incorporate into summer borders.
---
Growzone: 4-9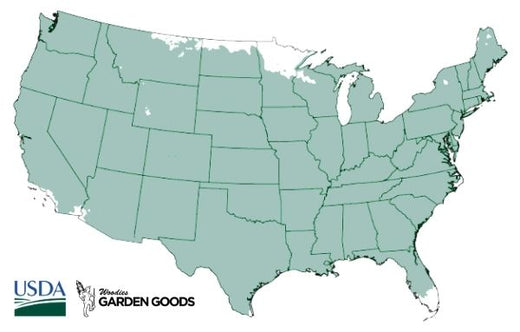 | | |
| --- | --- |
| Hardiness Zone: | 4-9 |
| Mature Height: | 2 to 3 Feet |
| Mature Width: | 20 to 26 Inches |
| Sunlight: | Full sun |
| Water Requirements: | Average |
| Bloom Time | Summer |
| Selling Points: | Long-blooming; fragrant; attracts butterflies and pollinators |
---
How to Care for Echinacea Sombrero Lemon Yellow
Be sure to read our planting instructions to ensure a healthy and happy plant for years to come!

What is the best light for Echinacea Sombrero Lemon Yellow?
This coneflower thrives in the hard-to-plant full sun areas of your garden. While it can tolerate a number of light conditions, plant in full sun for optimal blooms.

What soil should I plant my Coneflower Sombrero Lemon Yellow?
One of the reasons this hybrid coneflower is so beloved is that it is tolerant of a very wide range of soils. Ideally it should be planted in rich, well-draining soil. When planting, you may want to add some organic material such as compost or topsoil to the existing soil for added nutrients.

How often should I water my Echinacea Sombrero Lemon Yellow Plant?
Water weekly after planting but once the roots of your Sombrero Coneflower have established, the plant will be drought tolerant and can live off of low amounts of water. If you live in an especially sunny or warm area be sure to adjust accordingly.

Do I need to prune my Coneflower Plant?
As always, you can remove spent flowers (deadheading) or dead and dying stems, but coneflowers are able to thrive if left unpruned. However, if you would like, pruning in the early spring can improve the number and length of the yellow blooms.
---
General questions
What do the pot sizes mean?
---
---
Other Products you may be interested in
---
Customer Reviews