How to Care for Coneflower Plants

Plant Guide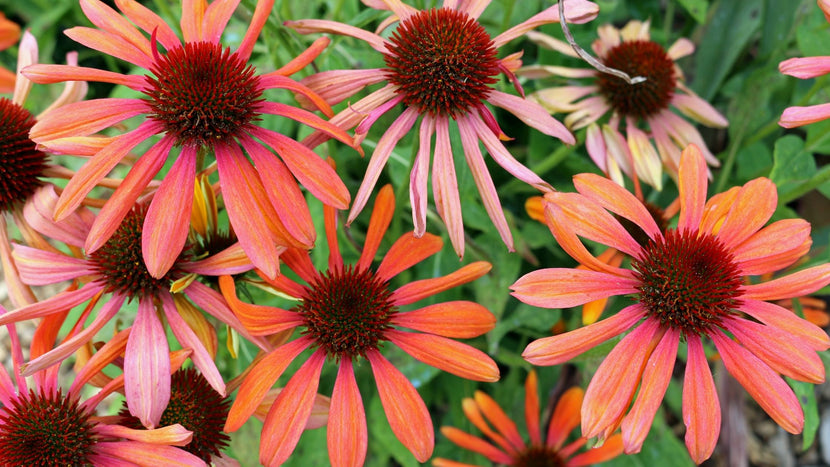 Echinacea plants are deer-resistant, which means they can find a lasting home in about any location in the country. Echinaceas are tolerant of a wide variety of soil conditions and are highly drought-tolerant once established. Coneflowers are a north American native plant that was seen on the prairies by the early settlers. Add these fuss-free jewels to your garden and watch the butterflies flock to your garden.
The most recognizable color of coneflower is purple, although some of our favorites are the more rich reds and oranges, such as the Echinacea 'Cheyenne Spirit' that has flowers unlike any other color in the garden.
Ground Rules
Light
Coneflowers thrive in areas of your garden that receive full sun. While they can tolerate a number of light conditions, plant in full sun for optimal blooms.
Water
Water weekly after planting but once the roots of your Coneflower have established, the plant will be drought tolerant and can live off of low amounts of water. If you live in an especially sunny or warm area be sure to adjust accordingly. Care should be taken not to over water. More plants die from over watering than under. Water smart, check the soil moisture by inserting your finger into the loose soil surrounding the root ball and feel for moisture.
Soil
One of the reasons coneflowers are so beloved is that they are tolerant of a very wide range of soils but ideally should be planted in rich, well-draining soil. When planting, it is recommended to add some organic material such as compost or topsoil to the existing soil for added nutrients.
Food
We recommend when planting your plants to use Bio-tone starter fertilizer which has a "good" fungus that colonizes on the growing roots of your newly planted plant and does not allow disease causing fungus to attack the new roots. It has also shown promise in stimulating the growth of the new roots which means quicker establishment for your plant. After the first season we recommend fertilizing your plants with a timed-release fertilizer such as Flower-tone which is specially formulated for flowering annual and perennial plants such as the Coneflower.
Toxicity
Echinaceas are not considered to be toxic plants but ingesting a large amount of echinacea can cause discomfort in animals.
Planting Process
Unbox your new Coneflower plant and remove the packaging. Water the plant thouroughly and place it in a shaded location to acclimate to its new environment. Never plant Echinacea Magnus deeper than originally planted in the pot. Doing so can cause rotting of the stem and death to the plant.
Dig a hole wider than the pot but not deeper. It is essential with Echinacea not to plant the root ball too deep. This can cause the base of the plant to rot.

Place the Echinacea plant in the hole, making sure the base of the plant is above the level of the existing soil. Backfill the rootball being careful not to leave any voids or air pockets. Mulch the plants with a thin layer of organic mulch.Newly planted perennials should be watered twice weekly (Minimum), and under hot conditions possibly more.


You can control the size and delay the blooming of the Echinacea by cutting the plants back in June to 24 inches tall. If you cut-back some of your plants, but not all of them, you'll have a nice, long, staggered season of color.
Do I need to Deadhead Coneflowers?
When should I plant Echinacea?
Types of Echinacea Plants
| Name: | Flower Color: |
| --- | --- |
| Magnus | Extra-Large Purple |
| Pow Wow Wild Berry | Purple |
| Pow Wow White | White |
| Cheyenne Spirit | Shades of orange, scarlet, rosy red, purple, cream, tomato red, and golden yellow |
| Sombrero Sangrita | Red |
| Sombrero Granada Gold | Golden Orange |
| Sombrero Adobe Orange | Reddish Orange |
| Sombrero Lemon Yellow | Golden Yellow |
| Sombrero Salsa | Fire-Engine Red |
| Solar Flare | Pink |
| Lakota Fire | Red and pink |
| Green Jewel | Lime Green |
| Kim's Knee High | Dwarf Purple |