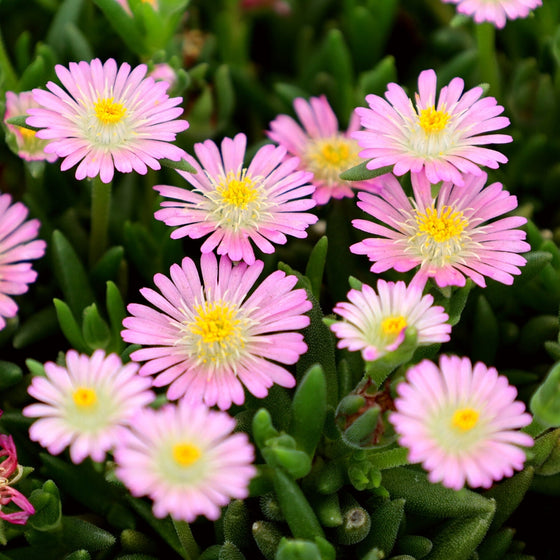 Images Depict Mature Plants
Delosperma 'Jewel of the Desert' Rose for Sale Online
Delosperma 'Jewel of the Desert' Rose Ice Plants, is a vigorous-growing, evergreen succulent that blooms beautiful lilac daisy-like flowers. Blooming from late spring to the first frost of winter, these flowers can grow upwards of 4 to 6 inches tall and spread 8 to 10 inches wide.
These flowers thrive in full sun and dry, well-drained soils. Good drainage is essential to the survival of these drought-resistant flowers. Easy to grow, Delosperma is an excellent choice for rock gardens, banks, slopes, or containers on your patio.
---
Growzone: 5-10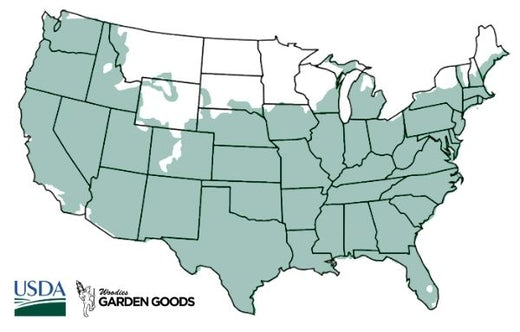 | | |
| --- | --- |
| Hardiness Zone: | 5-10 |
| Mature Height: | 4 to 6 Inches |
| Mature Width: | 18 to 24 Inches |
| Classification: | Perennial |
| Sunlight: | Full Sun |
| Habit: | Ground Cover |
| Flower Color: | Lilac and white |
| Flowering Season: | Late spring to early fall |
| Foliage: | Green succulent |
| Soil Condition: | Sandy soil, average soil, well-drained soil |
| Water Requirements: | Drought tolerant |
| Uses: | Attracts pollinators; deer resistant |
---
How to Care for Delosperma Jewel of the Desert Rose
Be sure to read our planting instructions to ensure a healthy and happy plant for years to come!

How do I plant Delosperma Jewel of the Desert Rose Ice Plant?
We suggest when planting your newly purchased Jewel of the Desert Ice plant, dig a hole twice as wide as the root, no deeper. Depending on your existing soil's quality, you may need to add a locally sourced compost or topsoil to the back-fill soil. A good way to ensure your perennial is planted properly is to be able to see the soil the plant was grown in after back-filling the hole. The most common cause of plant death after transplanting is planting the new plant to deep.

What Kind of Soil Should I Give My Delosperma Jewel of the Desert Rose?
We recommend any average soil that is well-draining and on the grittier side. When overwatered, Jewel of the Desert Rose Quartz will run into the risk of root rot and this can be easily avoided with a soil that does not retain water. Your new plant is drought-resistant, keep this in mind when planting. If there is a spot of your garden that gets too much sun and stays too dry for most plants, odds are it will be the best spot for your Rose Ice plant.

How often should I water Jewel of the Desert Ice Plants?
When it comes to watering, this plant is extremely drought-tolerant. Water sparingly once established only during the growing seasons of late spring to early fall. In the winter season do not water your plant, this will avoid any possibility of root rot. Basically, the dryer the soil, the happier your plant will be. We suggest allowing the top 1 to 2 inches to be fully dry before watering you plant thoroughly.

How much sun do Delosperma Jewel of the Desert plants need?
These perennial plants love to bask in the sun and should be placed in an area of your garden where they will receive full sun; meaning at least 8 to 12 hours a day. You flower will do fine in partial shade for a few hours a day, but to ensure they bloom bright and spread wide, keep these perennials in the sun for the majority of the day.
---
Other Products you may be interested in
---
Customer Reviews