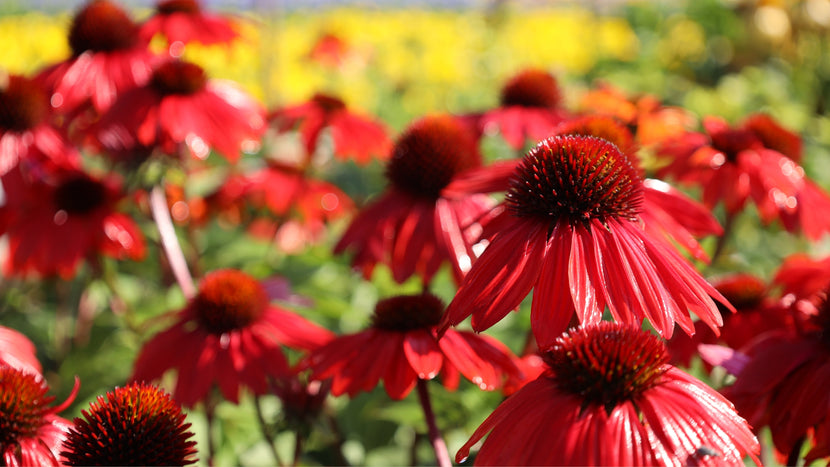 8 Heat-Tolerant Perennials For Your Summer Garden
Are you ready for the heat? The US is projected to have record-high temperatures this summer. In addition to umbrellas and sunscreen, Invest in some heat-tolerant perennials for the garden this year! This will certainly help you prepare for a summer full of beauty and color.
Now, it is crucial that the plants you choose are not only tolerant of high temps, but can also go extended periods without water. Beyond that, it is important that the foliage is strong enough to withstand long hours in the sun without burning. Lucky for you, we have a wide variety of drought-tolerant perennials that can certainly take the heat! 
If you have a sunny spot in the yard that is just begging for blooms, we've got everything you need to make that dry barren space a blooming haven of beauty! 
Sun-Loving Achillea (Yarrow) Plants For Summer
The first heat-tolerant plant that we would recommend for your steamy summer garden is a long-time classic used in warm-season landscaping: Achillea. Achillea, or more commonly referred to as Yarrow, is a gorgeous perennial that comes in a wide range of colors! Some fan-favorite achillea include the Achillea Pink Grapefruit, Achillea Moonshine, and Achillea Paprika. 
Beyond its love for the summer heat and conditions of full sun, Achillea plants are loved for their ease of care and ability to draw in a range of pollinators!
Decadent Delosperma For Your Sunny Garden
Next on the list of heat-handling summer perennials is Delosperma. This early summer bloomer is known for its semi-succulent foliage and brilliant daisy-like blooms,
Delosperma is a gorgeous ground cover plant that thrives in well-drained soils with a lot of sunshine and little precipitation. Pictured is the stunning and oh-so vibrant magenta Delosperma Cooperi.
Plant The Rainbow With Every Color Of Echinacea
In addition to Delosperma, no summer garden is complete without Echinacea! Also known as Coneflowers, Echinacea are long-blooming, deer-resistant, and tolerant of a wide range of growing conditions.
If you are looking for a wow factor in your flower bed this sunny season, Echinaceas are the way to go. Sporting unique cone-framed blooms and a range of colors from reds and oranges to yellows and pinks, there's really nothing this hardy perennial can't handle.
Shop the classic pink Echinacea Magnus, or go the road less traveled with the unique Echinacea Green Jewel!
Enjoy Hardy Blooms And Aroma of Lavender
Take your summer landscape to the next level and elevate the senses with the irresistible scent of lavender! Lavender is known to handle the heat and produces stunning purple flower heads that add a unique flare to the garden.
As an added bonus, the lavender can be harvested and used for a host of different projects from soap, to potpourri, and so much more. Shop our best-selling Lavender Phenomenal online today!
Long-Blooming Rudbeckia-A Summer Favorite
Another drought-resistant, sun-loving perennial you will want to include in the yard this summer is the long-time hot climate favorite: Rudbeckia. More commonly referenced as 'Black Eyed Susan,' Rudbeckia is a hardy plant loved for its golden flowers.
With tall stems and blooms through the summer and into the early fall, Rudbeckia is a perennial you can count on. Shop 2023's perennial of the year: Rudbeckia American Gold Rush, or go classic with the original Black-Eyed Susan!
Summer Sedum For a Garden That Pops
On top of the classic Rudbeckia, is another fan favorite that you will surely want to incorporate into your sunny flower beds: Sedum!
Sedum plants are extremely hardy and thrive in USDA growing zones 4-11. Providing colorful blooms and vibrant interest to your landscape from late spring through to early fall, Sedum are long-lived and can handle the hottest of summers.
Pictured is the extremely popular Sedum Autumn Fire!
Hardy Hibiscus For A Summer Full of Color
Last but not least on the list of hardy heat-tolerant perennials for your summer garden is Hardy Hibiscus. Unlike tropical hibiscus plants, Hardy Hibiscus are perennials that, with proper care, will grow back year after year.
Giant bright-colored blooms in addition to showy green foliage will make a grand statement to wows onlookers and lights up an outdoor space.
Shop Drought Tolerant Plants Online
No matter your garden style, design plan, or climate restrictions, we've got everything you need to create a sturdy garden that can take the heat!
Shop our drought tolerant perennials collection, along with our drought-tolerant trees and drought-tolerant shrubs collection to build a landscape that thrives in every temperature!