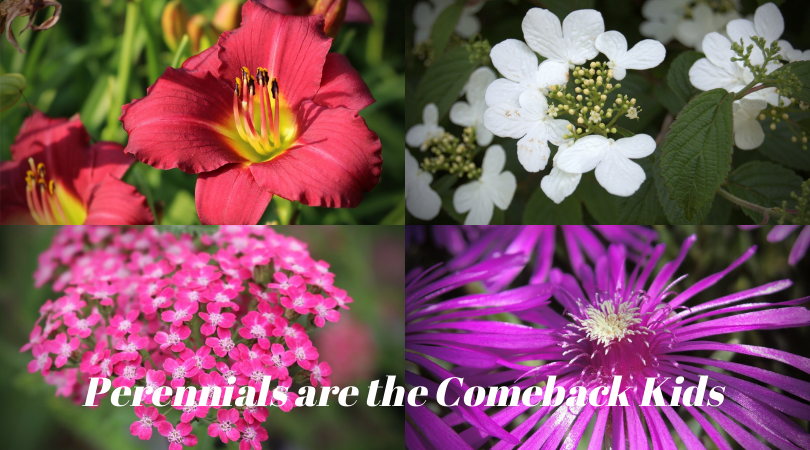 Summer Perennials for Full Sun, Shade, and in Between
Who doesn't love a comeback! Perennials' summer flowers bloom all season long, year after year, so there's no need to replant. With a wide range of colors and varieties to choose from, perennials are a great addition to any garden or landscape. 
July is National Outdoor Month which is an excellent time to do just that while beautifying your outdoor space. Whether you're planting perennials in a garden, landscape bed, or alongside a pathway, these flowers are sure to grab everyone's attention! 
Choosing the right perennial for your outdoor space lighting is key, and the plant experts are here to help you. Learn more about our Garden Goods Direct full sun, shade, and in-between Perennial favorites.
Full Sun Perennials
These perennials require daily exposure to the sun, usually between six and eight hours per day. Though sun perennials tend to vary widely in their physical characteristics and appearances, almost all are relatively hardy and drought-resistant. Overall, these sun loving perennials make them a good choice for first-time gardeners.
Compact and bushy, Apricot Delight or Tutti Frutti is a long blooming perennial. This sun-loving plant has large clusters of flowers varying from soft apricot to rich rose pink. While this plant can grow in partial shade, full-sun exposure increases the vibrancy of its blooms. Excellent for cutting and creating a wedding bouquet!
Sedum Angelina is a vigorous, mat-forming, evergreen perennial with vibrant colors including electric golden-yellow foliage. This hardy plant's foliage tips sometimes develop an orangey hue. No need to worry, Sedum Angelina is heat-tolerant and holds its color through the heat of summer!
Leucanthemum Becky is an upright flowering perennial with lovely white flower petals and a warm yellow center. This particular daisy grows larger than other Shasta cultivars reaching heights of 4 feet tall.
This fragrant perennial is a glowing bush of color in the mid-fall with short, bushy foliage and periwinkle summer blooms. This adaptable North American flower attracts wildlife and grows well in all grow zones!
Pardon Me Daylily is a vigorous cultivar that features fragrant bright red flowers with yellow-green throats. Its stems typically rise to 24 inches tall above a clump of arching, linear, blade-like green leaves.
Daylily blooms in late spring with a possible repeat bloom time in autumn. The foliage provides great color and texture even after the lily is done blooming. This hardy perennial is a great choice for borders, edging, mass plantings or containers.
Shade Perennials
Although most perennials love full sunlight, there's a few that are a bit shy. If your outdoor space is shaded for most of the day, we recommend planting shade perennials for the best results. 
Amsonia hubrichtii or Threadleaf Blue Star is a graceful plant with very fine foliage, clusters of steel blue flowers. This perennial has year round interest; its bright green foliage grows upright and bushy during the spring. Vibrant blue flowers emerge in the mid summer, and golden fall colors shine throughout the early fall and winter. This shade loving perennial attracts a range of wildlife including butterflies and pollinators.
Pink Muhly Grass is a show stopping and carefree landscaping plant. With its blue-green foliage in the spring and pink-purple flowers in the fall, this perennial dazzles like a fluffy pink cloud at sunset. Pink Muhly grass maintains its shape throughout winter, adding year-round interest to your landscape.
Somewhere in Between Perennials
While Perennials don't need to be planted, they do need the proper soil acidity, sunlight, and watering to produce optimal blooms. We understand that not every landscape or garden has the means, so here's few perennials that do quite well in drought conditions!
Shasta Viburnum produces pretty white flower clusters that blanket the plant in mid to late spring, bringing along an aromatic perfume. Birds love the scarlet berries, which also provide an ornamental touch after the flowers fade. The foliage starts bright green and slowly turns to plum-purple in fall. This deer-resistant variety performs well as a low maintenance hedge or accent.
Echinacea "Cheyenne Spirit" Coneflower:
The Echinacea Cheyenne Spirit is a one of a kind plant. The rich, robust color pallet reminds us of the spirit of the North American plains, where this plant originates from. To add more of a prairie look to your garden, plant this coneflower amongst ornamental grasses, or tuck into rock gardens.
Delosperma Cooperi, also known as Cooper's Hardy Ice Plant, is a fast spreading, mat-forming perennial with bright, neon colored flowers. The purple flowers are daisy-like in shape and bloom in multiple, sometimes hundreds at a time. This deer resistant, drought tolerant plant is stunning when planted en masse. Did we mention it also attracts butterflies?
Black-Eyed Susan Rudbeckia plants are long blooming perennials with beautiful golden bright yellow flowers. Their long lasting blooms, strong stems, and deep green leaves make them ideal for cut flowers. Rudbeckia fulgida Goldsturm is an easy-to-grow, low maintenance beauty that attracts butterflies and songbirds.
Plant a dazzling carpet of blue with Emerald Blue Creeping Phlox! Beautiful masses of deep blue flowers top creeping stems and create an attractive ground cover or accent in a rock garden. This heat-tolerant perennial looks excellent as a bank cover near bodies of water.