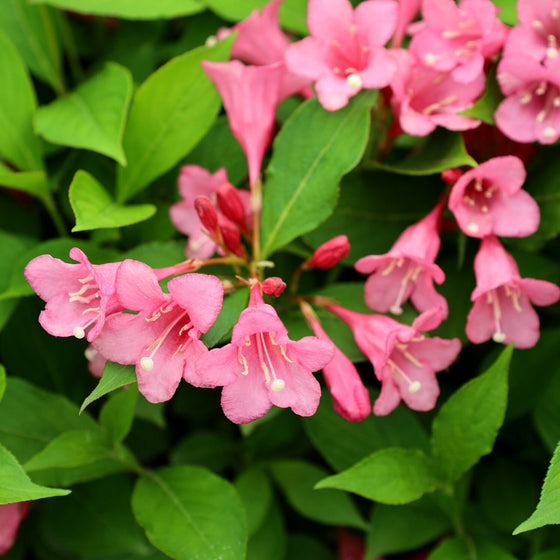 Images Depict Mature Plants
Czechmark Two Pink Weigela Shrubs for Sale Online
Czechmark Twopink® Weigela shrubs take first prize among Weigela for the most vibrant pink flowers all spring season. The contrast against the green leaves is especially striking and makes your garden's hot pink colors pop.
---
Growzone: 4-8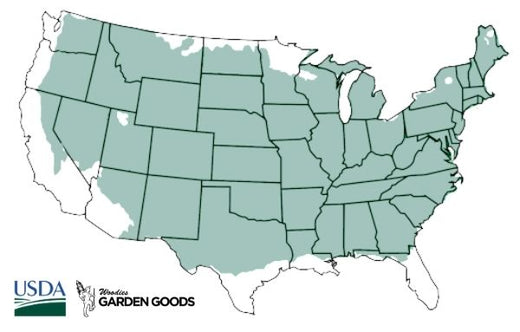 | | |
| --- | --- |
| Hardiness Zone: | 4-8 |
| Mature Height: | 3 to 4 feet |
| Mature Width: | 3 to 4 feet |
| Classification: | Broad Leaved deciduous shrub |
| Sunlight: | Full Sun to part sun |
| Habit: | Mounded, densely branched |
| Flower Color: | Deep pink |
| Bloom: | Late Spring |
| Foliage: | Dark green |
| Pruning Season: | Not needed (remove dead branches early summer after bloom cycle completes) |
| Soil Condition: | Any well drained, alkaline to average soil |
| Water Requirements: | Water well until established |
| Uses: | Borders, mass planting, specimen; great for under windows or around your yard |
---
How to Care for Czechmark Twopink® Weigela
Before bringing home your Czechmark Twopink Weigela Shrubs, make sure to read the recommended care instructions to ensure your new plants will thrive in their new home.

How do I plant my Czechmark Twopink Weigelia Shrubs?
The Czechmark Twopink Weigelas are considered very easy-going landscaping shrubs, but planting them with ideal conditions will help their root systems establish more successfully, ensuring a long and happy life for this resilient plant. Dig a hole the same depth and twice as wide as the root ball. Position your plant so that it will not be too deep, and then backfill the hole with an even mix of topsoil and native soil. Too much organic matter like topsoil could cause too much water retention. Adding some coarse sand or pink bark can help create more drainage to a thicker soil like clay. This is the time to add a starter fertilizer such as Espoma Biotone Starter plus. Once the hole is completely backfilled, you should still be able to see some of the soil that it originally arrived in at the top of the hole. Cover with a donut of mulch under the branches and water well.

Do I need to Prune Weigela Czechmark Twopink?
You will rarely need to prune Weigela Czechmark Twopink, since they have a naturally mounded growth habit and bloom from old wood as well as new growth. In late summer, after the bloom cycle is completed, it is a good idea to check for any dead, broken or diseased branches and remove them with sanitized pruning shears. You certainly can prune more branches to help shape the weigela to your liking, but we recommend that you wait to do this kind of shaping after it has had a year or two for the root system to become nice and strong - that way any accidental over-pruning is less likely to negatively affect the health of your Czechmark Two Pink Weigela Shrubs.

How do I mulch a Pink Weigela Shrub?
Czechmark Two Pink Weigela shrubs will benefit greatly from a layer of mulch. This will help regulate the temperature of the soil around the roots (especially in very cold or very hot seasons), and it will prevent weeds from stealing local resources. About 2 to 3 inches of organic hardwood chips or cedar mulch is ideal - these materials will add nutrients to the soil as they break down. Make sure to keep the mulch about an inch or so away from the main stem of the plant, otherwise you could inhibit the outward growth of the stem.

How much sunlight does Pink Weigela need?
Czechmark Twopink Weigela prefers full sun. It will tolerate partial sun, especially in hotter weather, but full shade will not be idea for this shrub. This makes them perfect on south-facing walls and as a border along a sunny walkway or front lawn. Typically, full sun means at least 6 to 8 hours of direct sun exposure, and partial sun means 4 to 6 hours of direct sun exposure.
---
Additional Information
Czechmark Twopink Weigela shrubs are sun-loving and perfect for cleaning up a south-facing wall under your windows, or for lining a walkway with a border on either side. They are considered long-blooming shrubs, so you can enjoy these vibrant pink flowers for more time than other shrubs. You will not need to dead head these, either. Weigela Czechmark Twopink are versatile shrubs and will attract bees and butterflies while resisting boh deer and rabbits.
If you are looking for complimentary flowering shrubs in your spring garden, you could double down on pinks and plant these near some bright azaleas or Sweet Talker viburnums. Or, for a handsome contrast, you could plant these near yellow rudbeckia or blue nepeta. If you think about a color wheel, it's always best to either stay within the colors alongside what you are looking to pair with, or to draw a peace sign where the long tail lands on the color you are matching two, and the other three prongs will hit colors that will create a handsome contrast for your garden.
---
Frequently Asked questions
How much water do Czechmark Weigelas need?
Are Czechmark Twopink Weigelas resistant to deer?
How do I fertilize Two Pink Weigelia?
---
Other Products you may be interested in
---
Customer Reviews