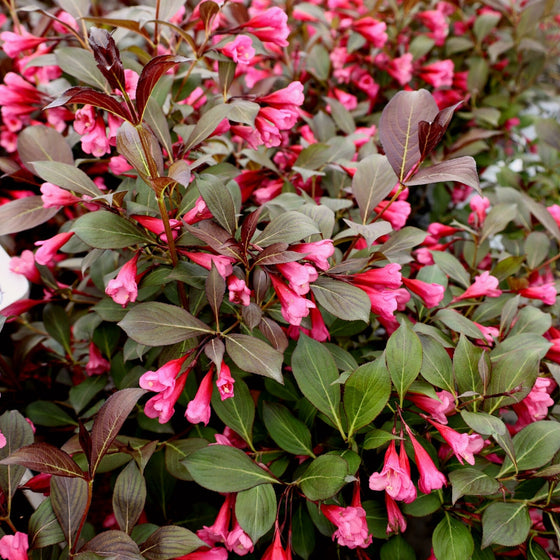 Images Depict Mature Plants
Weigela Wine and Roses Shrubs for Sale Online
Weigela Wine and Roses shrubs cover themselves in an abundance of rosy pink flowers that appear in late spring and often reblooms in summer. Dark purple foliage stays clean all summer.
Pollinators such as hummingbirds are attracted to this shrub's trumpet-shaped flowers. Your Wine and Roses shrub can be planted as an accent plant or used for a dramatic mass planting, depending on your garden's aesthetic.
You can even cut the flowers and colorful branches off the shrub and create a beautiful flower arrangement. Plant your shrub in full to partial sunshine, well-draining soil, and water seldomly. 
---
Growzone: 4-8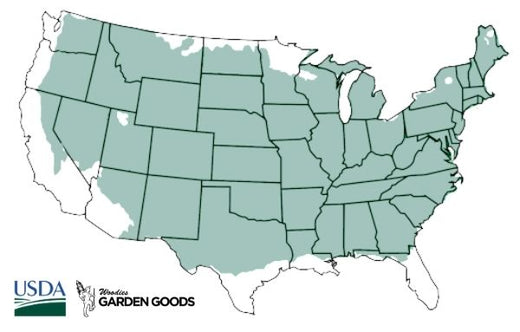 | | |
| --- | --- |
| Hardiness Zone: | 4-8 |
| Mature Height: | 4 to 5 feet |
| Mature Width: | 4 to 5 feet |
| Classification: | Broad Leaved deciduous shrub |
| Sunlight: | Full Sun to part sun |
| Habit: | Upright, densely branched |
| Flower Color: | Pink |
| Foliage: | Dark purple |
| Pruning Season: | Not Needed |
| Soil Condition: | Any well drained soil |
| Water Requirements: | Water well until established |
| Uses: | Extremely attractive when used as a focal point in the mixed border, mass planting, or a specimen planting. Provides nectar sources for pollinators |
---
How to Care for Proven Winners® Color Choice® Wine & Roses® Weigela
Before you purchase your Weigela Wine and Roses Shrub, be sure to read the recommended care instructions to ensure your plant remains happy and healthy for years to come!

How do I water Weigela Wine and Roses?
After backfilling and lightly compacting the 50/50 mix of existing soil and compost, give the Weigela Wine and Roses a deep watering. Most of the water you put on the plant at first will run away from the plant until the soil is soaked. A general rule of thumb is to count to 5 for every one gallon of pot size. For example, you will count to 5 seconds for a one-gallon pot, and you would count to 15 seconds for a three-gallon, and so on. Check the plant daily for the first week or so and then every other day. Water your plants using the counting method for the first few weeks. It is crucial to water them regularly to ensure they become well established and grow for many years.

How do I fertilize Weigela Wine and Roses?
We recommend fertilizing your Wine and Roses shrubs 10 to 14 days after you initially planted them. You can use granular, slow-release fertilizer and follow the instructions on the label. However, dilute the strength by half before applying to ensure you do not over-fertilize your plant and burn the roots. Make sure to water thoroughly after you fertilize the shrub to evenly distribute the nutrients throughout the soil. Once your plant becomes well-established you will only need to fertilize once or twice a year. However, do not fertilize your plant during its growth dormancy seasons of late fall and winter.

How do I mulch Weigela Wine and Roses?
We highly recommend that you mulch your Weigela Wine and Roses with either a ground hardwood mulch or a ground cypress mulch depending on your local availability. Any mulch will do, but cypress or hardwood mulch will be of a higher quality and provide better nutrition overall as they break down. Mulching helps to keep weeds away, which will compete with your new investment in water and nutrients. A 2 to 3-inch layer of mulch is sufficient but remember to take care not to cover any part of the stem with mulch. It is better to leave a one-inch gap of space between the mulch and the stem or trunk of the plant.

How do I prune Weigela Wine and Roses?
The best time to prune your Weigela Wine and Roses shrubs is in the late spring after they have finished blooming. Trimming your bushes right after they bloom will keep you from accidentally pruning off next year's flowers because these shrubs rebloom on old wood. The wood that grows this year will bloom beautiful flowers next year. You can do regular maintenance pruning of your shrub throughout its growing season to get rid of any dead or dying branches or foliage. Be careful you do not trim any branches that look like they could blossom again, or this will hurt the growth of the following year's flowers.
---
Frequently Asked questions
Why Do My Wine and Roses Weigelas Look Dead?
Why are the Leaves on my Wine and Roses Weigela Turning Brown?
What Can I Plant Next to My Weigela Wine and Roses Shrub?
---
Other Products you may be interested in
---
Customer Reviews