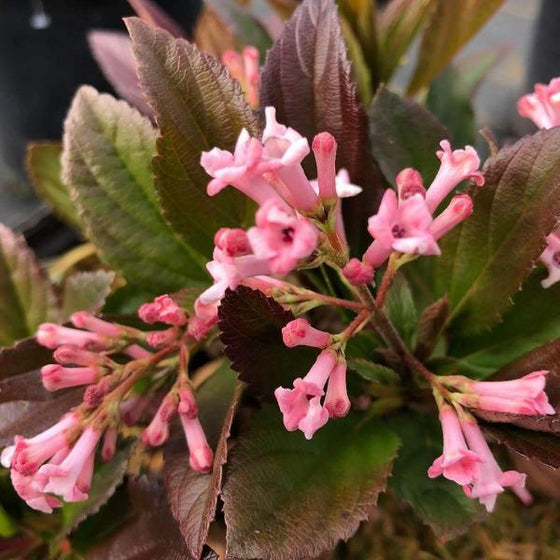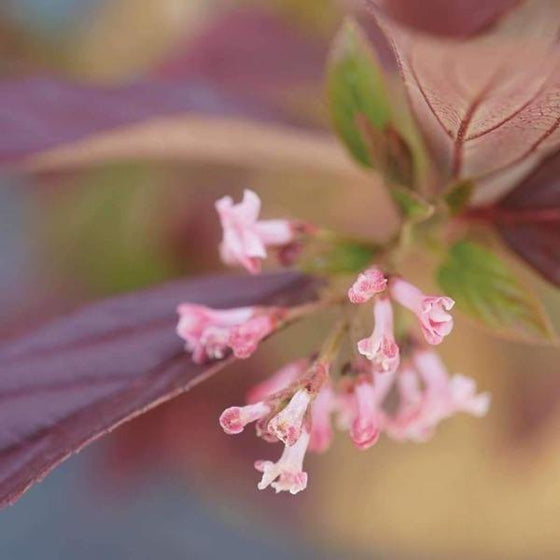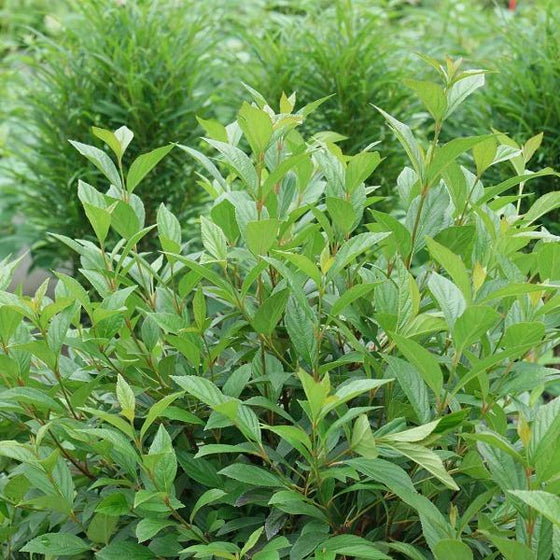 Images Depict Mature Plants
Sweet Talker® Viburnum Shrubs for Sale Online
New on the scene for 2021, we have fallen in love with this versatile and heat-tolerant new viburnum shrub. Sweet talker is one of the earliest bloomers of the season, with pink trumpet-shaped flowers that give off the most heavenly spiced honey scent. This viburnum is also a very fast grower, reaching heights up to 12 feet high, perfect for a handsome and fragrant privacy hedge. In cooler weather, the bright green leathery leaves change and take on a wonderful burgundy color, so your hedge will retain interest throughout the fall. Whether you choose to display your Sweet Talker Viburnum shrubs in a mass planting or as a specimen focal point, make sure to position them so you can enjoy this extraordinarily fragrant harbinger of spring.
Sweet Talker® Viburnum was bred by Dr. Tom Ranney in North Carolina. It was developed from V. x bodnantense x V.suspensum and has an interesting blend of qualities. It is viburnum beetle resistant, deer resistant, salt-tolerant, and heat tolerant to zone 8.
This is a very tall and fast-growing viburnum, making it particularly well suited for privacy hedges. It is one of the earliest bloomers of the season, showing beautiful trumpet-shaped pink flowers in early spring and then reblooming throughout the season. The fragrance is notable as well, being described like a spiced honey scent. The semi-evergreen foliage is a crisp bright green for most of the year and a lovely deep burgundy color in cold weather.
If you enjoy creating a private nook in your backyard that is relaxing to all five senses, then Sweet Talker Viburnum is a perfect fit for your plans. Plant them in a long hedge for a little river of fragrant pink in the spring, or plant them with space between for tall focal points within your garden landcape. These will also do well in gardens that are designed for multiple seasons of interest, because of the way the leaves change color with the fall. Sweet Talker Viburnum is truly remarkable addition to landscaping in 2021, versatile and breathtaking.
---
| | |
| --- | --- |
| Hardiness Zone: | 7-8 |
| Mature Height: | 8 to 12 feet |
| Mature Width: | 3 to 5 feet |
| Classification: | Broad leaved semi-evergreen shrub, early spring flowering |
| Sunlight: | Full sun to partial shade |
| Habit: | Upright, densely branched |
| Foliage: | Bright green, dark burgundy in fall |
| Flower Color: | Pink, very fragrant, earliest spring bloomer |
| Pruning Season: | Prune in summer after flowering if at all, little required |
| Soil Condition: | Any well drained soil |
| Water Requirements: | Water well until established |
| Uses: | Tall enough at mature height for privacy hedges, also good as a specimen shrub |
Growzone: 7-9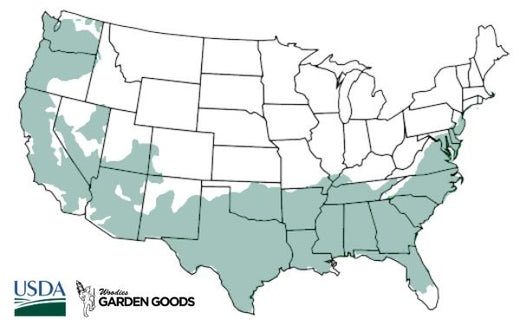 How to Care for Proven Winners® Color Choice® Sweet Talker® Viburnum
Be sure to read our planting instructions to ensure a healthy and happy plant for years to come!

How do I plant my Viburnum Sweet Talker?
Dig a hole the same depth as the container in which your viburnum arrived, and twice as wide. Replace half of the soil at the bottom of the hole with organic matter, such as vermiculite or peat moss. This is the time to add any starter fertilizers, such as Espoma Bio-tone, or any bark chips or coarse sand to improve drainage. Then, position your shrub in the hole and backfill with the same 50/50 native soil and organic matter mixture. Once the hole is completely filled, you should still be able to see some of the soil from the original container - this is a good indication that you did not plant your shrub too deeply. Add a layer of mulch over the area (about 2 to 3 inches), and water the new shrub well.

How much Sun is best for Viburnum Sweet Talker?
Viburnum Sweet Talker will thrive in full sun, so it is a perfect choice to go front and center in a sunny garden. It will also do just fine in partial to full shade - the flowers will not be as abundant without at least 6 hours of bright sunlight in a day, but the plant will still be perfectly healthy. This means you plant plant your Sweet Talker Viburnum in any of the cardinal directions, which is great for versatility of landscape design. If you want to get the full benefit of the brilliant fragrant pink flowers, than the south, southeast or southwest sunnier spots in your garden will be ideal.

How much water does Sweet Talker viburnum Need?
Sweet Talker Viburnum is a heat tolerant viburnum shrub, but a regular watering schedule will help it thrive even more in hotter climates. When first planting your viburnum, once you've patted the soil well and laid down a layer of mulch, give the new shrub a deep watering, longer than usual since much of the water will run off. In the days following, check how quickly or slowly water drains away from the roots. Once the top 2 to 3 inches are completely dry to the touch, it is time to water your shrub again. A good rule of thumb is the 5-count rule: for ever gallon size of the container you received your new shrub in, water for 5 seconds. A 1 gallon pot sized plant should receive 5 seconds of water from a regular garden hose, a 3 gallon pot 15 seconds of water, a 5 gallon pot 25 seconds of water, and so forth. Frequency of waterings will entirely depend on how quickly or slowly your native soil dries. Sometimes a water gator or other slow-drip water tool can help relieve the chore of watering. After about 6 months, your new Sweet Talker Viburnum will probably be well established, and only need this much water if the weather has been particularly hot or dry.

What's the best fertilizer for Viburnum Sweet Talker?
Viburnum Sweet Talker is a fast-growing woody flowering shrub. It will respond well to any well-balanced outdoor fertilizer, but one that is especially balanced for flowering shrubs is ideal, such as Espoma Rose-tone. That line of fertilizers have mycorrhizae, perfect little microorganisms that will help improve the overall quality of the soil while also feeding your shrubs. We recommend that you fertilize in late winter before the bloom cycle, and again in the early summer to encourage healthy growth. A slow release fertilizer will help prevent and suckers to grow too quickly and become susceptible to disease.
---
Other Products you may be interested in
---
Customer Reviews