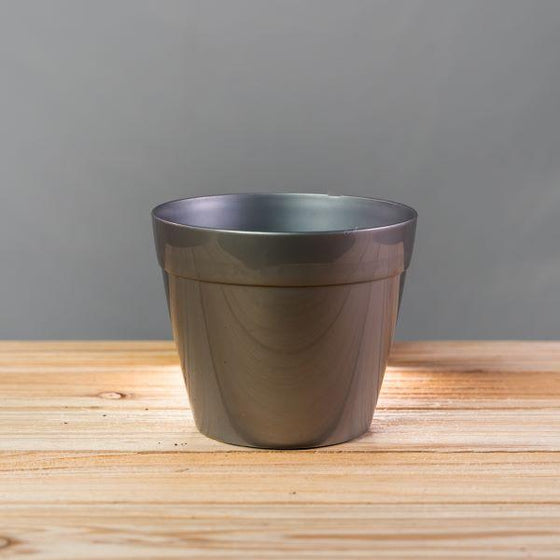 Round Resin Planters For Sale Online
The Anya style of round resin planters is part of the Crescent Gardens lightweight planter line. These round planters are weather-resistant and perfect for use indoors or out. Available in an array of festive and neutral colors, perfect for making a statement and framing your favorite plants.
Material: Durable Lightweight Resin
Available Colors: Black, Ivory, Silver, Bronze, Cranberry
Plant pot covers can be used to put potted plants in so you can change out your indoor potted plants with-out changing your color scheme. Or, you can change your color scheme without repotting your plants. The smooth urn shape of the round plant pots with a slight taper outward is aesthetically pleasing, making it perfect for a wide variety of design styles.
Crescent gardens has revolutionized the world of planters. Their planters are constructed of ultra weather-resistant resin. They are crack-proof and fade resistant. This means to you that you will be purchasing a product that will last for many years to come.
The lightweight double-walled containers are easy to move even when filled with soil. All top rims of planters are rolled deep to provide sturdiness and enhance the elegance of the container. Crescent planters can be left outside in the winter with no worry that the pot will crack due to freezing weather.
We recommend that you use a nursery pot inside of these resin plant pots since they do not come with any holes for drainage. Planting your houseplants into a growers pot and then placing that inside the Anya planter means that your plants will have easy drainage with a no-mess system. Round plant pot covers like these are less likely to spill than trays. This system is perfect for easy redecorating as well.
These planters are a simple and versatile style. You can use them in your kitchen or dining room or living room, and you can even swap colors to match each new seasonal color palette. Pair these with the Anya square resin planters for a chic mix and match style.
The double-wall construction provides numerous benefits. These include structural strength, enhanced appearance, and insulating properties for better thermal protection of the delicate root systems of your plants. The double-wall construction protects roots from both extreme heat and extreme frost. We are proud to offer Crescent planters to our customers.
Crescent ensures that their manufacturing facilities are efficient, environmentally responsible and run under the optimum conditions. crescents manufacturing processes are clean processes that do not contaminate the environment. Crescent always considers energy-efficient technology when investing in new manufacturing equipment. Crescent manages socially responsible plants and invests in the surrounding communities.
Garden Goods Direct is extremely proud to offer a product that is manufactured in a socially responsible and environmentally conscious way.
---
Frequently Asked questions
How Do I Use A Plant Pot When It Has No Drainage Holes?
Are Resin Planters Durable?
---
Other Products you may be interested in
---
Customer Reviews