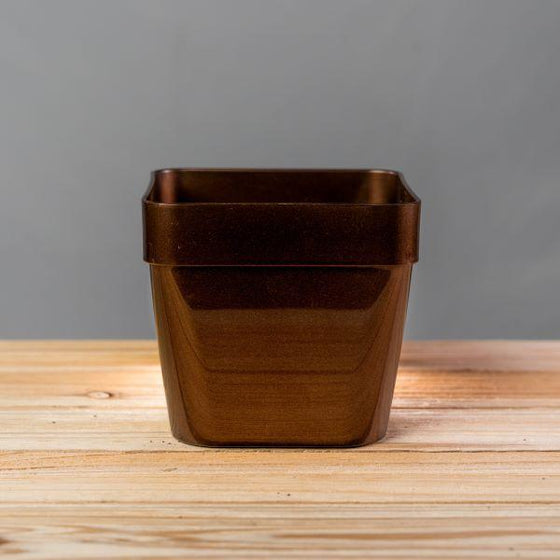 Crescent Anya Square Resin Planter for Sale Online
Part of the Crescent Gardens lightweight planter line. These square planters come in a variety of colors and are weather-resistant, perfect for use indoors or out. Available in an array of festive and neutral colors, sure to make a statement while framing your favorite plants.
Material: Durable Lightweight Resin
Available Colors: Black, Ivory, Bronze, Cranberry
Pot covers can be used to put potted plants in so you can change out your indoor potted plants without changing your color scheme. Or, you can change your color scheme without repotting your plants. The rounded corners of the square design flow smoothly, fitting into many different styles.
Crescent gardens has revolutionized the world of planters. Their planters are constructed of ultra weather-resistant resin. They are crack-proof and fade resistant. This means to you that you will be purchasing a product that will last for many years to come.
The lightweight double-walled containers are easy to move even when filled with soil. All top rims of planters are rolled deep to provide sturdiness and enhance the elegance of the container. Crescent planters can be left outside in the winter with no worry that the pot will crack due to freezing weather.
Crescent planters are more efficient to grow your plants in because the planters will require less watering due to the resin construction. Less moisture will evaporate from the container, meaning less time watering and more time enjoying your plants.
The double-wall construction provides numerous benefits including structural strength, enhanced appearance, and insulating properties for better thermal protection of the delicate root systems of your plants. The double-wall construction protects roots from both extreme heat and extreme frost. We are proud to offer Crescent planters to our customers.
Crescent ensures that their manufacturing facilities are efficient, environmentally responsible, and run under the optimum conditions. crescents manufacturing processes are clean processes that do not contaminate the environment. Crescent always considers energy-efficient technology when investing in new manufacturing equipment. Crescent manages socially responsible plants and invests in the surrounding communities.
Garden Goods Direct is extremely proud to offer a product that is manufactured in a socially responsible and environmentally conscious way.
---
Additional Information
10 Year Limited Warranty
Crescent Trading Group LLC will replace any Crescent polyethylene rotational molded item if it cracks or fades due to defective workmanship and materials during the first 10 years from the date of purchase. Customer is responsible for all Shipping and Handling charges. Should any product fail to comply with this warranty within 10 years Crescent shall, upon written notification, replace the defective planter with its then closest current model, FOB Crescent's closest distribution facility Crescent Anya 6 inch Square Resin Planter
---
Frequently Asked questions
How do I use a plant pot when it has no drainage holes?
---
---
Customer Reviews