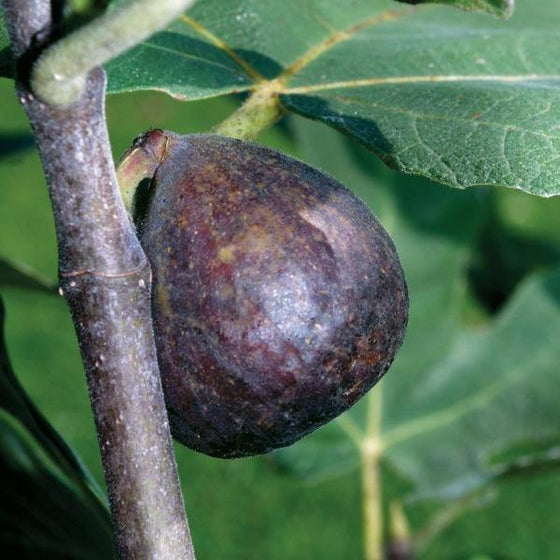 Images Depict Mature Plants
Brown Turkey Fig Trees for Sale Online
Brown Turkey Fig is the top choice for American figs. This variety is very popular due in large part to its exceptional winter hardiness all the way north to USDA hardiness zone 6. This handsome spreading tree is compact enough for containers that can be brought indoors during the winter in zone 5 and 4 where it cannot withstand the winter cold.
The top reason for this American fig tree's popularity is that The Brown Turkey Fig Tree is an edible fig producing machine. Expect bumper crops of 4-inch fruit colored a deep bronze on the outside and a rich amber color on the inside. The flesh is sweet and tender. The Brown Turkey Fig is self-pollinating, so you need only one tree for fruit production.
The Brown Turkey Fig Tree is an older variety that is still one of the best tasting figs available. Brown Turkey is a very heavy producer of medium sized to large figs. The skin is brown with amber colored flesh. The flesh is very sweet and tender and great to eat right off the tree. The figs ripen in middle of the season, around the beginning of August, and will often produce a second crop during the late season as well.
---
Growzone: 6-10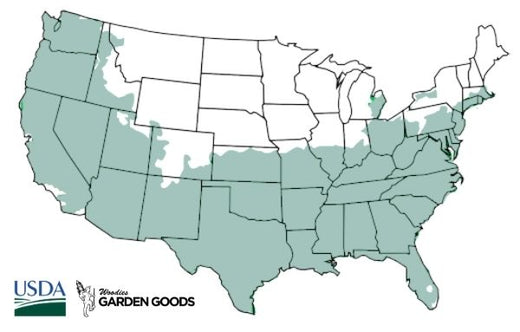 | | |
| --- | --- |
| Hardiness Zone: | 6-10 |
| Mature Height: | 10 to 15 feet |
| Mature width: | 10 to 15 feet |
| Classification: | Broad leaved deciduous tree, spring flowering |
| Sunlight: | Full sun to part shade |
| Habit: | Spreading, umbrella shaped canopy |
| Foliage: | Dark green |
| Fruit Color: | Brown |
| Pruning Season: | Late winter |
| Soil Condition: | Any well drained soil |
| Water Requirement: | Water well until established |
| Uses: | One of the best fig trees for the north |
---
How to Care for Brown Turkey Fig Tree
Before you plant your new Brown Turkey Fig Tree, make sure to read the recommended care instructions to keep this plant healthy and thriving.

How Do I Plant A Fig Tree?
Dig a hole twice as wide as the root ball of your new tree, and the same depth as the roots themselves. Make sure that you do not make the hole too deep to start, as burying a young tree too deep when planting is a frequent cause for transplanting failure. Position the tree how you want it to sit (ideally so that the original soil from the planters pot is still visible at the surface), then backfill underneath the roots with a 50/50 mix of local soil and compost material. You can also incorporate Espoma Bio-tone Starter to ensure your young fig tree has all of the nutrients it needs to thrive. Amending the soil will also make sure the roots have the space to establish themselves. Once the hole has been filled, gently pack in the soil around the tree so it is supported, and give the area a deep thorough watering, and water the tree weekly until established.

How much fertilizer does a fig tree require?
Trees such as Brown Turkey Fig Tree grow best if they are fertilized lightly in the spring once frost has passed with a well-balanced, extended-release, fertilizer such as Espoma Tree-tone. Brown Turkey Fig Tree again 6 to 8 weeks later to encourage denser foliage or faster growth of young trees. We recommend Bio-Tone fertilizer when planting.

What kind of mulch is best for a young tree?
We recommend that you use a 2 to 3 inch layer of mulch around the base of the tree, using organic wood shavings such as ground cypress or ground hardwoods - it will depend on what you have readily available in your area. This kind of organic mulch will help prevent resource-stealing weeds from growing nearby, and it will help regulate the temperature of the soil around the root system. Make sure to push the mulch slightly away from the base of the young tree trunk - this is to make sure nothing will inhibit your tree from growing healthy and strong.

Do I need to prune my Brown Turkey Fig Tree?
It's a good idea to prune fig trees, but make sure you do so during its dormant season when it is not actively trying to grow. We recommend late winter. Focus on removing dead branches, small sucker branches near the base, and then removing about 1/4 of the main branches. This will help your tree focus on creating bigger figs overall, as well as making sure light and air get through the branches adequately. You can also consider pruning away a few of the smallest fruits at the very beginning of the growing season (very early summer) so that the remaining fruits grow bigger as well.
---
Frequently Asked questions
Do I need a pollinator for Brown Turkey Fig Tree?
---
Other Products you may be interested in
---
Customer Reviews