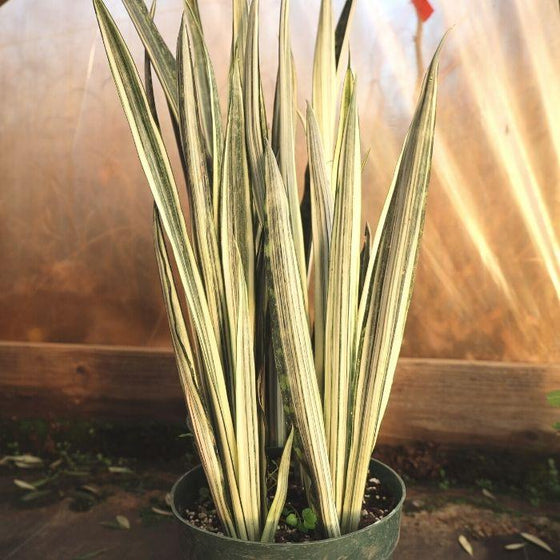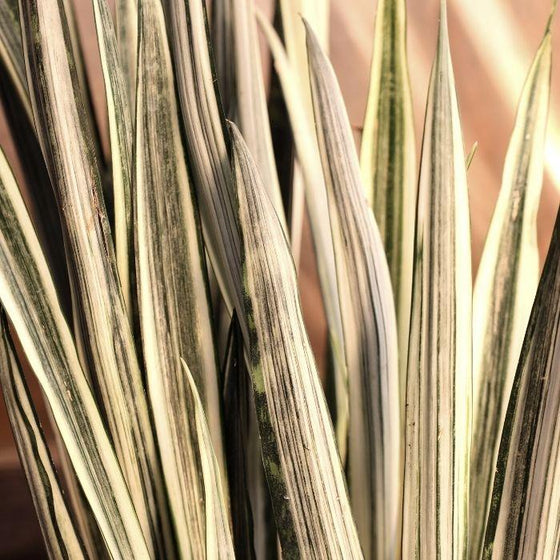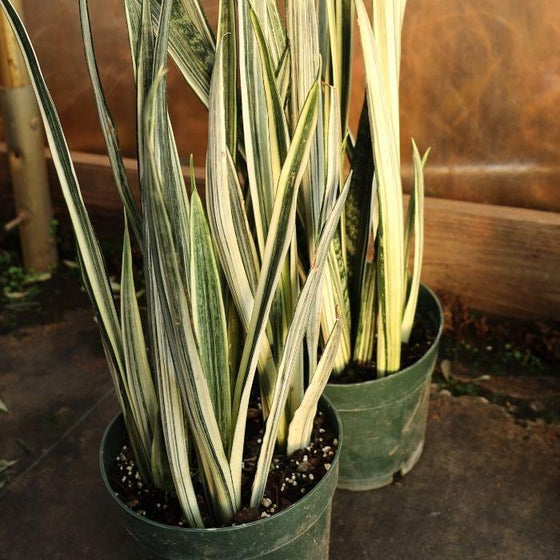 Images Depict Mature Plants
Bantel's Sensation Snake Plant for Sale Online
The Snake Plant Bantel's Sensation (Sansevieria trifasciata 'Bantel's Sensation') is a very low-maintenance plant. This houseplant originated in Western Africa and is so hardy that people often joke about them being almost impossible to kill. Its vertical, glossy foliage is variegated in shades of green and creamy white stripes.
The plant's greenish white foliage sets it apart from most Sansevieria that boast deep green blades of foliage. Named after its creator, Gustav Bantel, Sansevieria Bantel's Sensation is a gorgeous addition to a space that brings unique, contemporary vibes while adding height and depth.
Like most all Snake Plants, Bantel's is an extremely low maintenance, drought tolerant plant. Sansevieria, or 'Mother In Law's Tongue Plants,' are perfect for those of you who have not felt blessed with the green thumb gene, as they are tolerant of most conditions.
Ideal care conditions for these hardy houseplants includes bright indirect light conditions and a well-draining soil blend. We recommend using a chunky potting mix and planting in a pot with drainage holes to avoid issues of root rot. These plants originate from desert environments so they do not require large amounts of water, and can handle extended periods of drought.
For the most optimal growth, we would also recommend applying a slow release fertilizer in the Snake Plant's growing seasons of spring and summer. As a Snake Plant that deserves to be put on a pedestal, Bantel's Sensation is truly a unique statement piece to a home.
---
| | |
| --- | --- |
| Hardiness Zone: | 9-11 |
| Mature Height: | 30 to 36 Inches |
| Mature Width: | 10 to 18 Inches |
| Classification: | Colorful foliage |
| Sunlight: | Bright, indirect light |
| Habit: | Upright |
| Foliage: | Green and white, variegated |
| Soil Condition: | Well draining, cactus or succulent mix (part sand) |
| Water Requirement: | Likes to go dry |
| Uses: | Does well in narrow spaces |
Growzone: 9-11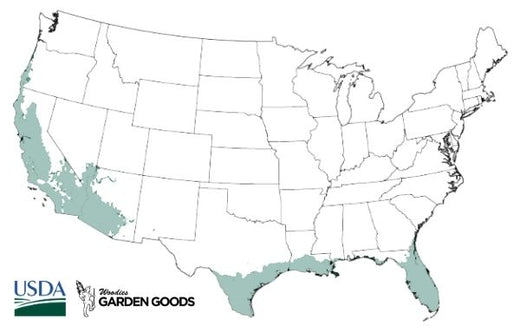 How to Care for Bantel's Sensation Snake Plant
Be sure to read our planting instructions to ensure a healthy and happy plant for years to come!

What Type of Light Does Bantel's Sensation Snake Plant Require?
Out of all Snake Plant options, Bantel's Sensation requires the most light due to its variegated foliage. This house plant can survive in full sun to partial shade. The best type of light for this particular snake plant would be bright, indirect light. Too much light will cause their variegation to fade and browning of their leaves. Placing your new house plant in an office, bathroom, or in your bedroom would be the perfect location to watch it thrive!

When Should I Water My Bantel's Sensation?
The biggest mistake made when buying a Bantel's Sensation is overwatering it. This house plant is extremely drought-tolerant, meaning it would rather be a little parched than left sitting in excess water. While in their growing period, we recommend you water this succulent every 10 days or so. In the winter months, water only once a month. Overwatering your house plant will cause root rot. Not sure if your plant needs water? If the first 2 inches of soil are dry, it's time to water!

What Type of Fertilizer Should I Use With My Snake Plant?
Fertilizing your Bantel's Sensation Snake Plant is not required, but if you choose to do so, the spring and summer months are best. Any all-purpose, foliage fertilizer will work perfectly to add some extra nutrients to your house plant.

What Soil Should I Use for My Bantel's Sensation Snake Plant?
A well-draining soil is recommended. If the soil holds too much moisture, this could cause root rot and hurt your plant. We recommend Espoma Organic Potting Mix. We found this soil retains the perfect amount of moisture needed for your new house plant to thrive.
---
Other Products you may be interested in
---
Customer Reviews