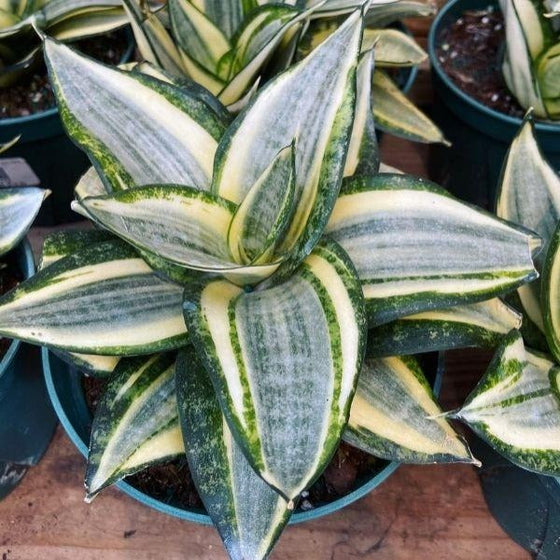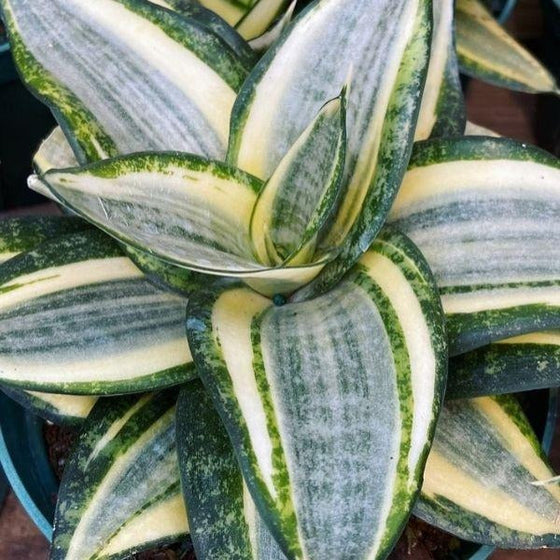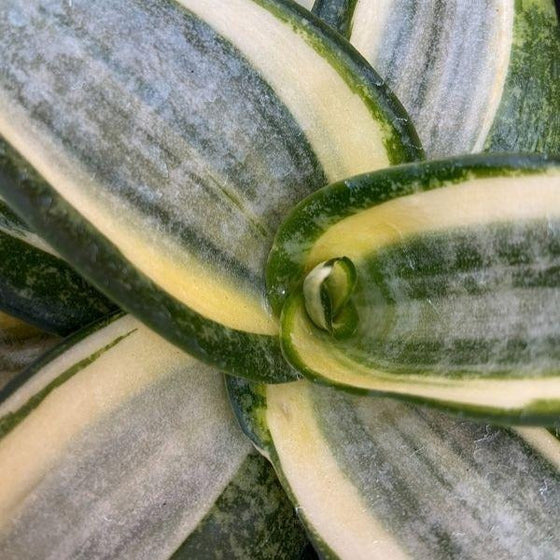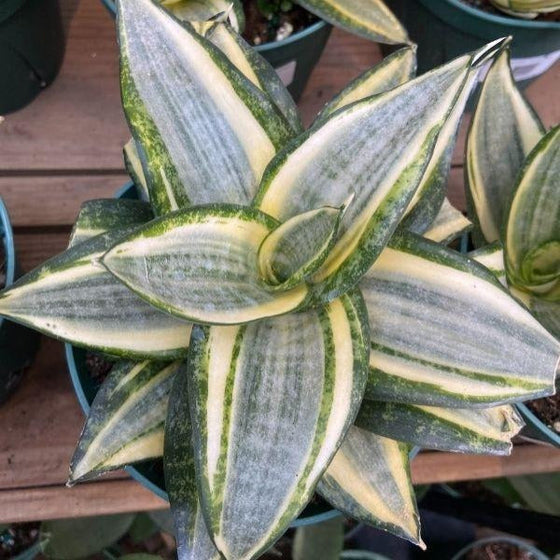 Images Depict Mature Plants
Futura Superba Snake Plants for Sale Online
Sansevieria Hahnii Plants are a small, compact Snake Plants with thin deep green cross-bands and creamy yellow margins. Nicknamed the Bird's Nest Snake Plant, the Hahnii is adored for its small size and low maintenance plant care regimen.
The Hahnii Snake Plant gets its nickname from its condensed spiral shape that resembles the size and shape of a bird's nest. This plant is perfect for someone looking to get a plant that won't take up too much space. The alternating green and gold striped pattern of the Hahnii makes for a fun contrasting addition to your home or office decor.
Sansevieria plants in general are considered some of the easiest plants to grow. The Golden Hahnii is no different. The ideal care guide for the Hahnii Snake Plant would include potting the plant in a well draining soil and keeping it in a medium to bright indirect light. However, snake plants are not too picky when it comes to the light conditions--in fact, they are one of the only few houseplants that can survive in a room with little-to-no sunlight whatsoever.
Because the Bird's Nest Sansevieria originate from dry desert environments, they only need infrequent watering and would prefer for their soil to dry out in between waterings. To avoid your plant retaining too much moisture and suffering from root rot, we recommend planting your snake in a pot with a drainage hole.
If you are a houseplant beginner, traveler, or want to add another Snake Plant variety to your houseplant collection, this is the plant for you. It is low maintenance, drought-resistant, and can survive very long without being watered. As an added bonus, this indoor plant removes toxins from the air, making it a good plant for bedrooms, offices, and living spaces.
---
| | |
| --- | --- |
| Hardiness Zone: | 9-11 |
| Mature Height: | 12 to 15 Inches |
| Mature Width: | 6 to 8 Inches |
| Classification: | Colorful foliage |
| Sunlight: | Fluorescent light to bright, indirect |
| Habit: | Compact habit, upright |
| Foliage: | Green center with yellow edges |
| Soil Condition: | Well draining, cactus or succulent mix (part sand) |
| Water Requirement: | Likes to go dry |
| Uses: | Does well in narrow spaces and in low light conditions |
Growzone: 9-11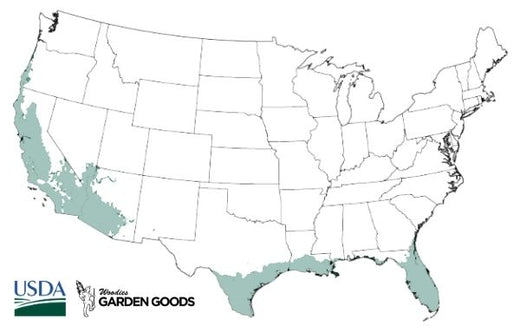 How to Care for Sansevieria Hahnii Snake Plant
Be sure to read our planting instructions to ensure a healthy and happy plant for years to come!

When should I fertilize my Snake Plant?
Overall, Snake Plants do not need fertilizer to grow and thrive. However, if you want to, you can fertilize your plant twice a year with any general fertilizer of your choice. It is best to fertilize your plant in early spring and late summer. We do not recommend fertilizing your Snake Plant in the winter because this is their growth dormancy period, and you do not want to disrupt that. Disrupting a plant's dormancy period could hinder their following growing season come springtime. Also, be cautious not to overfertilize your houseplant. Adding too much fertilizer at once, or fertilizing too often, could burn the roots of your plant and cause serious damage.

What type of soil should I use for Sansevieria Black and Gold Hahnii Plants?
Sansevieria Black and Gold plants need well-draining soil and prefer to have dry conditions. Regular potting mix with sand mixed in works well for plants potted in containers; otherwise, a cactus potting mix would work. The cactus potting mix already has sand and other ingredients to encourage drainage. Well-draining soil mixes are crucial for the success of your Snake Plant because you do not want them to be in too much water for too long. If your plant's roots sit in standing water for an extended period, they could get root rot disease.

When should I water Black and Gold Hahnii Snake Plants?
Black and Gold Hahnii Snake Plants like to dry out almost completely between watering. Be careful not to overwater your snake plant because this could cause root rot disease. This disease is caused by the plant's roots sitting in standing water for an extended period. On the other side, plants that receive too much water too often will not survive. If unsure, do not water. Snake Plants can go weeks before being watered again.

How Much Sunlight Does My Snake Plant Need?
Sansevieria Black and Gold Hahnii plants thrive best in bright to moderate indirect light. These snake plants can also grow great under fluorescent lamp lighting. Always make sure you keep your plant out of direct sunlight because it will burn your plant's leaves. In the summer, bring your plant on your porch or a balcony to enjoy bright and warm summer weather. Do this at a gradual speed to ensure you don't put your plant in shock.
---
Other Products you may be interested in
---
Customer Reviews