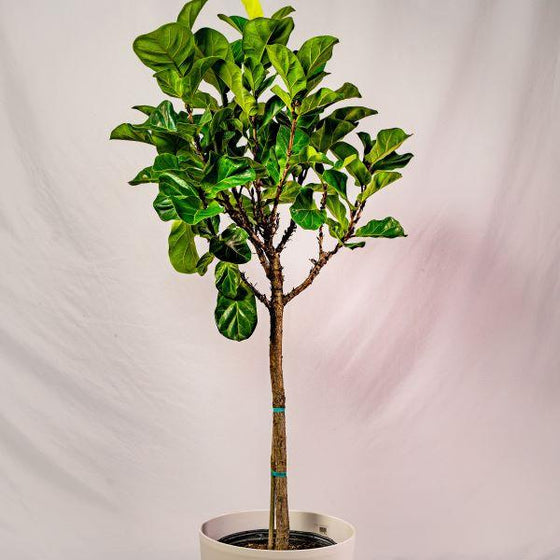 Images Depicted Range in Maturity & Container Size
Pots Not Included Unless Otherwise Stated
Little Leaf Fiddle Leaf Fig Trees for Sale Online
Bambino Fiddle Leaf Fig Tree, also known as Little Fiddle, is a smaller version of its cousin, the Fiddle Leaf Fig Tree. Its thick, textured leaves are about half the size but are densely clustered and just as beautiful. This popular house plant is hard to find and a must-have for apartment dwellers who want a more compact Fiddle Leaf Fig.
As one of the more forgiving members of the Ficus Tree family, Bambino Fiddle Leaf Fig Tree is a low-maintenance broadleaf tree easily grown in a soil-based potting mix. It prefers bright, indirect light or part shade with protection from the afternoon sun. Water weekly during the growing season and then reduce watering from fall to late winter. Despite its compact size, Little Leaved Fiddle Leaf Fig Trees can grow up to 10 feet tall if given proper care.
---
Growzone: 9-11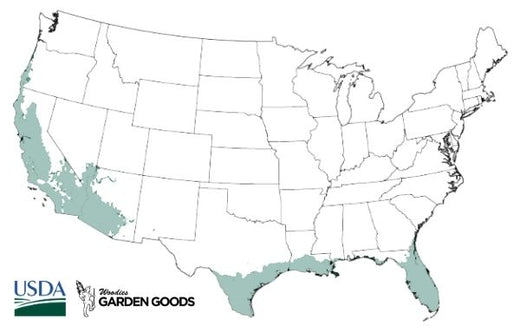 | | |
| --- | --- |
| Hardiness Zone: | 9-11 |
| Mature Height: | 10 Feet |
| Mature Width: | 3 Feet |
| Sunlight: | Moderately bright |
| Water Requirements: | Create a regular routine, allow soil to dry between waterings |
| Selling Points: | Attractive foliage, clean air, low maintenance |
---
How to Care for Bambino Fiddle Leaf Fig Tree
Be sure to read our planting instructions to ensure a healthy and happy plant for years to come!

How often do I water a Little Leaf Fiddle Fig?
The Little Leaf Fiddle Leaf Fig should be watered thoroughly but infrequently, as the plants like to dry out occasionally between watering. The easiest way to tell if a plant needs to be watered is by the weight of the container. If the container is very heavy and the foliage is upright, chances are good the plant doesn't need water, whereas a light container and limp foliage means the plant needs some water. Make sure there is ample drainage so that your Little Leaved Fiddle never sits in a pool of water for too long - that can cause root rot.

How do I plant a Little Fiddle Leaf Tree?
We suggest planting your newly purchased Fiddle Leaf Fig into a container that is slightly larger (a few inches wider and taller). Use a well draining potting mix, and be sure to disturb the roots when transplanting. The most common cause of plant death after transplanting is planting the new plant to deep. That is why we do not recommend planting in a hole any deeper than the soil line of the plant in the pot.

How much light does a Little Leaf Fig Tree require?
Fiddle Leaf Figs of all varieties thrive in bright indirect light. If kept outdoors in summer or grow zones 10 or 11, Fiddle Leaf Figs can handle dappled shade to full sun, but will need to be transitioned. Move them outside to give them a summer vacation or because they're hardy. Little Fiddle Leaf Figs should be moved into full shade outdoors initially, then put into a couple hours of morning light with shade the rest of the time for a few days. Gradually increase the amount of sun the plant receives every couple of days until the plant receives the maximum amount of light that it will receive in its new location. This process should take a few weeks, and the leaves will not turn brown or get sunburned if transitioned gradually. Repeat in the other direction to bring them back inside once the summer heat begins to cool off.

What type of fertilizer is best for a Little Fiddle Leaf Fig?
Indoor houseplant fertilizers fall into two groups: water soluble, liquid quick release, and granular, slow release fertilizers. Jack's Classic Indoor plant food works well as a powder, quick release fertilizer that is mixed with water to quickly provide nutrients to a plant that has been in a container for an extended time. On the other hand, Biotone Starter or Osmocote Indoor/Outdoor is an option as a granular, slow release fertilizer that can be applied while potting and planting. Any type of fertilizer offers nutrients that help plants with the transition to a new environment. Little leaf Fiddle Leaf Figs like consistency in watering, light, and fertilizing. They should be kept on a regular schedule to receive food routinely.
---
General questions
How do we measure heights on Houseplants?
---
---
Other Products you may be interested in
---
Customer Reviews