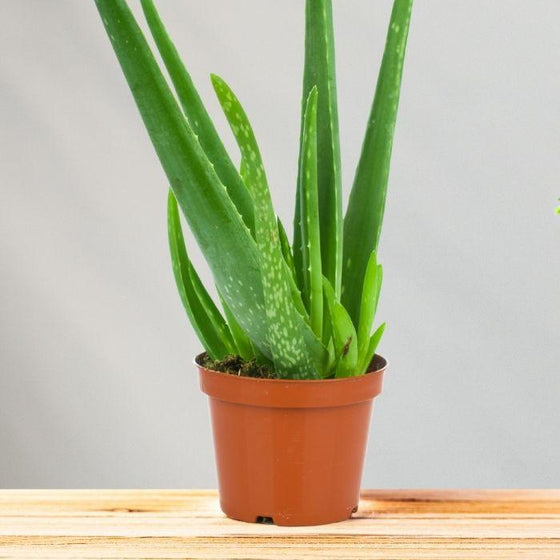 Images Depicted Range in Maturity & Container Size
Pots Not Included Unless Otherwise Stated
Buy Aloe Vera Plants for Sale Online
Aloe Vera Plants are a stemless, clump-forming "succulent plant" that produces thick, fleshy leaves with gray spots. It is straightforward to grow but does require well-drained soil and lots of bright sunlight. Aloe Vera is a drought-tolerant plant perfect for hot and dry areas. Although it is not hardy in zones below 9, it can be quickly grown indoors in any zone.
Aloe Vera has skin-saving properties that help heal burns, cuts, and other irritations. Anesthetic, antibacterial, and restorative tissue properties make this a 'must-have' healing herb for homes. It's not just a sunburn soother. Aloe vera is easy to grow at home and can provide a point of interest to your desk or windowsill. Aloe Vera is possibly the perfect succulent plant for beginners due to its ability to go for long periods without water.
Read our blog about using Aloe Vera Plants to create an indoor oasis.
*Decorative containers are shown for display purposes only. All plants are shipped in plastic nursery containers unless otherwise specified. 
---
Growzone: 10-11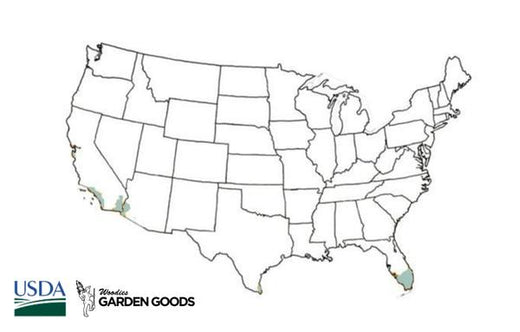 | | |
| --- | --- |
| Hardiness Zone: | 10-11 |
| Mature Height: | 1 to 2 Feet |
| Mature Width: | 12 to 20 Inches |
| Sunlight: | Indirect |
| Water Requirements: | Water irregularly |
| Flower Color: | yellow, red, orange |
| Usage: | Succulent |
| Soil: | Sandy, cactus mix |
---
How to Care for Aloe Vera Plants
After you purchase your Aloe Vera plant, be sure to read the recommended care instructions to ensure your plant will grow happy and healthy for years to come.

How Much Water Does My Aloe Vera Plant Need?
Watering Aloe Vera Plants is not hard as long as you follow these instructions. Keep the soil moist to slightly dry, and allow soil around roots to dry out before watering to encourage healthy growth. The best way to water an Aloe Vera plant is from the bottom with room temperature water. Do this by placing the pot in a small container of water and allowing the plant to absorb the water for no more than thirty minutes. After removing the container from water, allow excess liquid to drain from the pot for about 10 minutes. Avoid getting water on the leaves, as this can cause spotting damage.

How often should I fertilize my Aloe Vera Plant?
Aloe Vera Plants generally do not need to be fertilized very often. If you decide to fertilize your Aloe Vera plant, the plant should be fertilized once a year in the spring. You can use a high phosphorus water-based fertilizer at half strength, such as Jack's Classic Houseplant Special Fertilizer.

What Kind of Soil Does my Aloe Vera Plant Need?
Aloe Vera plants thrive best in well-draining soil conditions. To ensure your plant has proper drainage necessities, use a pot with drainage holes and a specific cactus potting soil. Or mix in some perlite or coarse sand to make your potting mix. In nature, Aloe typically grows on slopes. They grow here because it is a natural drainage area due to its downward slope.

Does My Aloe Require a Lot of Sunlight?
Aloe Vera plants must be placed in an area with bright, indirect sunlight. Be sure you do not use them in direct sunlight. Doing so could burn the plant's tender skin. Aloe Vera is a part of the succulent family, so it can withstand plenty of sun time as long as it is indirect or filtered. Also, try to rotate your plant every couple of days; so the sun reaches all parts of the plant and not just one side.
---
Frequently Asked questions
How do I re-pot my Aloe Vera Plants?
What is the History Behind Aloe Vera Plants?
How to propagate Aloe Vera plants?
---
Other Products you may be interested in
---
Customer Reviews