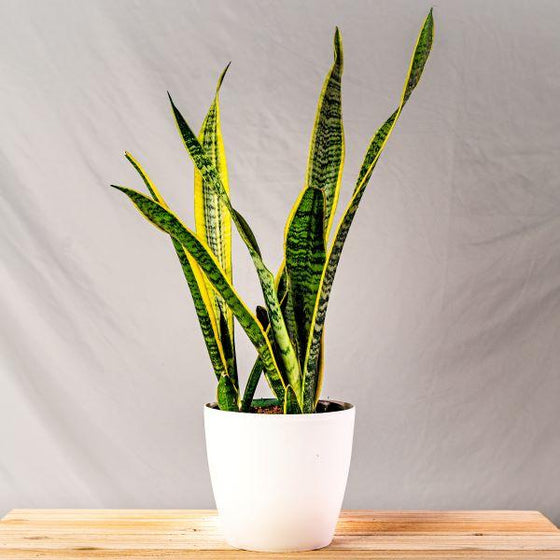 Images Depicted Range in Maturity & Container Size
Pots Not Included Unless Otherwise Stated
Snake Plant Laurentii for Sale Online
The Laurentii Snake Plant (Sansevieria trifasciata laurentii) is a very low-maintenance plant that is so hardy that people often joke about them being almost impossible to kill.
The indestructible houseplant sports stiff, vertical, glossy, striped foliage in different shades of green. The foliage of this snake plant stands out from its Sansevieria cultivar through bold yellow stripes that line the edge of each leaf.
Ideal care for the Laurentii plant includes a bright indirect light and infrequent watering. However, this low maintenance plant grows in less-than-ideal conditions without a sweat. The hardy Sansevieria will accept a wide range of light conditions including full sun or no sun conditions. As an added bonus, these succulent-like plants don't mind extended periods of drought.
We recommend planting your snake in a pot with drainage holes and allowing the soil to dry in between waterings for optimal growth. Additionally, be sure to pot your houseplant in a well draining potting mix! In the growing seasons of spring and summer, it is encouraged that you apply a well balanced fertilizer to your plant.
Also nicknamed the mother in law's tongue, Snake Plant Laurentiis are praised for their air purifying abilities. In addition to their low maintenance care regimen and air purifying abilities, Laurentiis are also a flowering plant! What's not to love? These indoor plants are perfect for those with a busy lifestyle or who frequently travel because they do not need constant attention.
---
Growzone: 9-11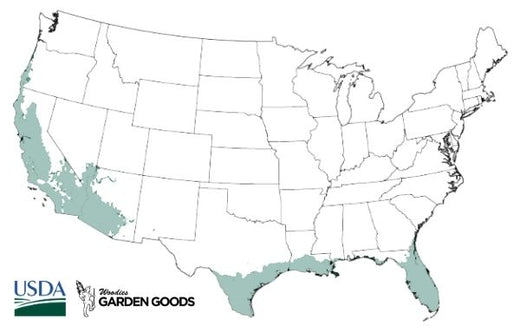 | | |
| --- | --- |
| Hardiness Zone: | 9-11 |
| Mature Height: | 30 to 36 Inches |
| Mature Width: | 10 to 18 Inches |
| Classification: | Colorful foliage |
| Sunlight: | Fluorescent light to bright, indirect |
| Habit: | Upright |
| Foliage: | Green, variegated |
| Soil Condition: | Well draining, cactus or succulent mix (part sand) |
| Water Requirement: | Likes to go dry |
| Uses: | Does well in narrow spaces and in low light conditions |
---
How to Care for Laurentii Snake Plant
After you purchase your Snake Plant, be sure to read the recommended care instructions to ensure your plant stays happy and healthy for years to come!

What type of light does Snake Plant require?
Snake Plants thrive in the lowest light conditions indoors, living with only fluorescent light. However, they can handle some bright, indirect light, but too much will cause their foliage to brown and variegation to fade. These light requirements make Snake Plants the perfect indoor plant to be used in an office, bathroom or an accent in a bedroom.

When should I water my Snake plant?
Snake Plants like to dry out almost completely between watering. Allowing their soil to dry out completely will help avoid any risk of root rot disease. Plants that receive too much water too often will become damaged because their roots will be sitting in too much water for too long. If unsure, do not water. Snake Plants can go weeks before being watered again. It is better to water snake plants from the bottom if possible.

What type of fertilizer should I use with my Snake plant?
Any all-purpose foliage fertilizer will work for Snake Plants. Indoor houseplant fertilizers fall into two groups: water-soluble, liquid quick release, and granular, slow-release fertilizers. When you are potting or planting your Snake Plant try Biotone Starter or Osmocote Indoor/Outdoor as a granular, slow-release fertilizer option. Any fertilizer offers nutrients that help plants transition to a new environment.

What Soil Should I Use for My Snake Plant?
Snake Plants thrive in well-draining soil conditions because if their soil holds too much moisture, their roots will be prone to rotting. We recommend using Espoma Organic Potting Mix when planting your new houseplant. We found this soil retains the perfect amount of moisture needed for Snake Plants to grow happy and healthy!
---
---
Other Products you may be interested in
---
Customer Reviews