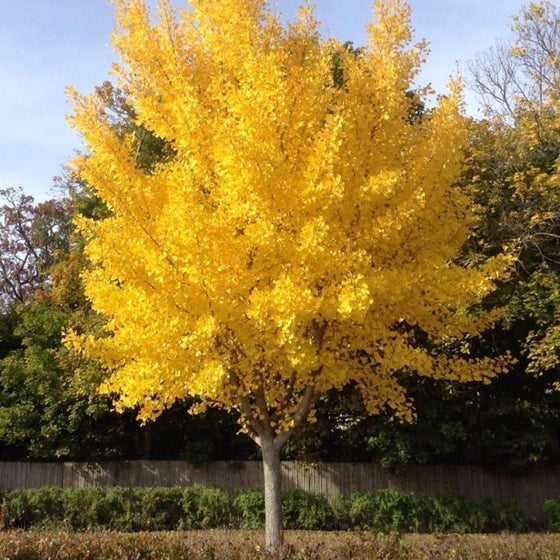 Images Depict Mature Plants
Autumn Gold Ginkgo Trees for Sale Online
The Autumn Gold Ginkgo Tree (Ginkgo biloba) is a male deciduous tree known for its unique broad-leaved foliage. In the spring, the leaves emerge bright green and transform to a vivid golden yellow in the fall. Symmetrical branching creates an exceptional upright landscape accent making the Ginkgo tree the ideal specimen tree, street tree, or shade tree with age as they grow up to 50 feet tall!
The Maidenhair Tree grows best when planted in full sun and medium well-drained soil. They are very easy to grow as they are tolerant of disease, pests, salt, air pollution, and excessive heat although they are ideally grown in USDA hardiness zones 4 through 9. Due to their tolerance to salt, Ginkgo Biloba trees are great for those who need to landscape salty areas, such as
---
Growzone: 4-9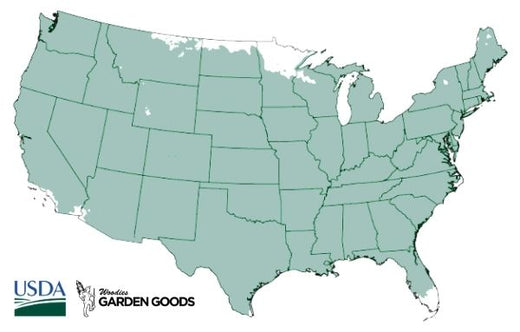 | | |
| --- | --- |
| Hardiness Zone: | 4-9 |
| Mature Height: | 35 to 45 feet |
| Mature Width: | 30 to 35 feet |
| Classification: | Broad Leaved deciduous tree, Shade Tree |
| Sunlight: | Full Sun |
| Habit: | Upright |
| Foliage: | Dark Green, brilliant yellow fall color. |
| Flower Color: | Male produces no fruit |
| Pruning Season: | No pruning needed |
| Soil Condition: | Any well drained soil |
| Water Requirements: | Water well until established |
| Uses: | Tolerates moist soil and full sun. Full sun brings out the best fall color. Will adapt to drier sites |
---
How to Care for Autumn Gold Ginkgo Tree
Be sure to read our planting instructions to ensure a healthy and happy plant for years to come!

How do I plant my Maidenhair Ginkgo Tree?
When planting your Ginkgo tree, dig a hole that is twice as wide, but no deeper than the container the tree came in. When it's time to plant, remove the tree from the pot and gently loosen the roots with your hands. Place your Ginkgo tree in the center of the hole and backfill with a mix of the original soil and topsoil/compost. This would also be a great time to apply a starter fertilizer. Give your tree a slow, deep water to encourage the roots to settle in their new home.

How Do I Water Ginkgo Autumn Gold?
As with all trees, Ginkgos need more watering after planting than they do once the tree has established. Maidenhair Trees like their soil moist without sitting in water. If the water is too wet for too long, your tree can suffer from root rot. Signs of this are if the tree begins to die from the center-out.

When should I Fertilize Ginkgo Trees?
Ginkgo bibloas enjoy a spring feeding of an all-purpose outdoor fertilizer. Fertilizing provides trees with additional but necessary nutrients. This is typically only necessary when the tree is young and establishing its roots. Once the tree is mature, they are extremely easy to care for and typically does not need fertilizer.

How Do I Mulch Ginkgo Autumn Gold?
We recommend adding a 2 to 3-inch layer of natural, organic mulch such as cedar around the base of the trunk. Be sure to leave a gap between the trunk and the mulch to reduce the risk of bacteria build-up.
---
Other Products you may be interested in
---
Customer Reviews