Images Depict Mature Plants
October Glory Maple Trees for Sale Online
October Glory Red Maple Trees are an outstanding shade tree within the Red Maple cultivar. The October Glory is a tall tree with a dense, rounded crown. This fast-growing tree will provide show-stopping fall color late into the season, longer than with most other maples. A superb choice as a high-branched shade tree for larger landscapes.
Branches form a nicely shaped, spreading crown of lustrous dark green leaves that turn from brilliant orange to reddish-purple as autumn progresses. While admiring the tree's changing color, be sure to keep your eye out for the tree's tiny red flowers that bloom in early spring! Ideal care for these leafy red majesties includes full sun and slightly acidic, well-drained soil. These trees also produce great results when planted in wet areas and kept moist.
While developed from a North American native red maple, Acer rubrum, the October Glory' Maple Tree was cultivated in 1961 by Princeton Nursery so it does not qualify as a true native. With that said, it is still a great addition to your local ecosystem. Birds and pollinators will enjoy the tiny red spring flowers that create small reddish helicopter seeds later in the year.
You too will benefit from the wonderful shade this large canopy provides. If you're going to plant a focal point shade tree in your yard, what better choice than one that will brighten your day with glorious red leaves throughout the fall and rich green color in the spring and summer.
---
Growzone: 3-9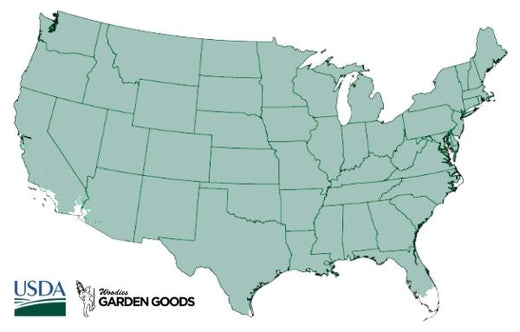 | | |
| --- | --- |
| Hardiness Zone: | 3-9 |
| Mature Height: | 35 to 40 Feet |
| Mature Width: | 25 to 30 Feet |
| Classification: | Broad leaved deciduous tree, shade tree |
| Sunlight: | Full sun |
| Habit: | Upright |
| Foliage: | Dark green, brilliant orange to deep red in fall |
| Flower Color: | Inconspicuous, red |
| Pruning Season: | No maintenance pruning needed |
| Soil Condition: | Any well drained soil, acidic |
| Water Requirements: | Water well until established, then drought tolerant |
| Uses: | Specimen, focal point, shade tree, fall interest. |
---
How to Care for October Glory Maple
Be sure to read our planting instructions to ensure a healthy and happy plant for years to come!

How do I plant an October Glory Maple?
We suggest when planting your newly purchased October Glory Maple Trees plants that you dig a hole twice as wide as the root system but not deeper. Mix the native soil with organic materials that add some acidity, nutrients, and drainage to the area - pine fines and peat moss are great options. Remove your tree's root ball and gently score the outside of the roots with a sharp, clean knife in order to loosen the roots. Position the tree in your hole only as deep as it was in the container - you should still be able to see the nursery soil when finished. Backfill the hole, compact very gently, and water the area well. Cover with mulch but leave a 2-inch space around the trunk. If you use a tree staking kit, be sure to protect the young trunk from any wires that could cut with a barrier material, like a cut piece of an old garden hose.

How do I water October Glory Maple Trees?
Established October Glory Maple Trees can be drought tolerant, but they prefer evenly moist, well-draining soil. When first planting a young tree, you'll want to water your tree a few times a week. Make sure you water for long enough each time - deep infrequent waterings are better for the young root system than frequent but shallow ones. A 5-count for each nursery gallon size it arrived in twizce a week should work, i.e. 15 seconds for a 3 gallon pot or 25 seconds for a 5 gallon pot. After the first 4 to 5 months, your tree should be well established in its new home and only need supplemental water in dry spells or heat waves.

How do I fertilize October Glory Maple Trees?
Trees such as October Glory Maple Trees grow best if they are fertilized lightly in the spring once frost has passed with a well-balanced, extended-release fertilizer such as Espoma Tree-tone. Fertilize October Glory Maple Trees again 6 to 8 weeks later to encourage denser foliage or faster growth of young trees. Slow-release, lighter fertilizers are better so that you do not burn the roots - a half-strength dose may do the trick until the tree is fully grown. Or, simply using natural organic matter for nutrients works as an excellent first line of attack - give a young tree what it needs by applying manure and/or compost around the roots when first planting. Do not fertilize after summer to avoid damage over the winter.

Where Should I Plant My October Glory Maple Tree?
October Glory Red Maple Trees are an excellent source of shade, which can help protect your home in hot summers while also providing a serene oasis in your yard. They provide shade so they don't like to grow in shade, but will tolerate partial shade if needed. The red fall color is much more magnificent in full sun. These trees work well as a focal point in a backyard landscape, or as a focal point drawing attention in your front yard. We recommend that you allow 15 to 20 feet of space in all directions from your home, fences, utility boxes, or other large trees. October Glory Maples can grow up to 35 feet wide, and their powerful roots will spread out just as far as the canopy does. They can grow 50 feet tall so be mindful of powerlines as well. Also, choose an area with a slightly acidic soil type with adequate drainage.
---
Frequently Asked questions
How Do I Prune October Glory Maple Trees?
How Fast Do October Glory Maples Grow?
---
General questions
How do we measure heights on Trees and Shrubs?
Why are trees sold in 1-Foot increments?
---
---
Other Products you may be interested in
---
Customer Reviews