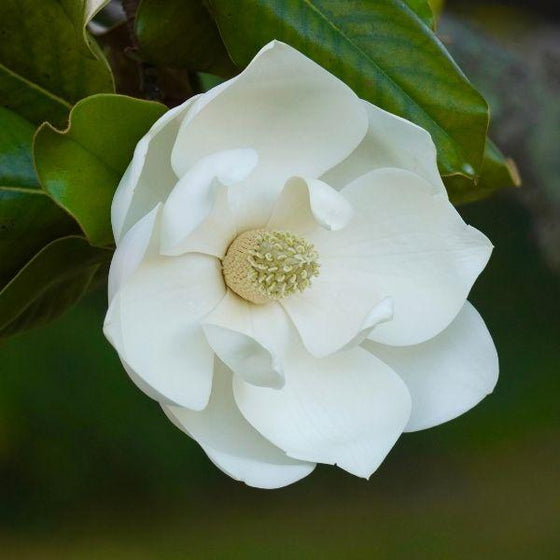 Images Depict Mature Plants
Claudia Wannamaker Southern Magnolia Trees for Sale Online
Southern Magnolia Claudia Wannamaker Trees (Magnolia Grandiflora 'Claudia Wannamaker') are notable for their fast growth rate and ability to bloom at an early age. Basically, the prodigy tree of the Magnolia cultivar, this stunning evergreen tree will constantly amaze onlookers with its beauty and growth.
Large dark green leathery foliage compliments the audacious 12-inch white flowers that bloom all summer. At a growth rate of around three feet per year, your little Magnolia will be towering over you before you know it! At maturity, this monstrous tree grows to heights up to 50 feet tall.
As a southern favorite, the Claudia Wannamaker grows best in USDA grow zones 7 to 9. Ideal conditions for these show-stopping trees include full sun and moist but well-draining soils. These trees are not selective on their soil medium and will grow in most soils from sandy to clay mediums.
The trees towering pyramidal form, shiny leaves, and fragrant flowers make this tree a top choice in landscape specimen planting. The trees also make for beautiful privacy screens and yard borders.
Some additional benefits of these beautiful yard trees include their high tolerance and resistance to various plant issues. The Magnolia Claudia Wannamaker is deer-resistant, pest-resistant, and drought-tolerant.
---
Growzone: 7-9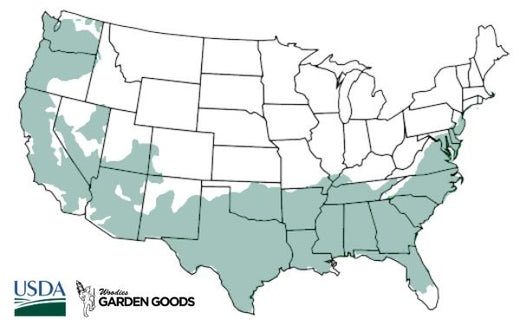 | | |
| --- | --- |
| Hardiness Zone: | 7-9 |
| Mature Height: | 50 to 60 Feet |
| Mature Width: | 25 to 30 Feet |
| Classification: | Flowering tree |
| Sunlight: | Full sun to partial shade |
| Habit: | Upright |
| Foliage: | Green |
| Flower Color: | Pure-white |
| Soil Condition: | Any well drained soil |
| Water Requirements: | Water well until established |
---
How to Care for Claudia Wannamaker Magnolia
Be sure to read our planting instructions to ensure a healthy and happy plant for years to come!

How do I plant a Southern Magnolia Claudia Wannamaker Tree?
When planting your newly purchased Claudia Wannamaker Southern Magnolia trees, we suggest that you dig a hole twice as large as the root system but not deeper. Be mindful that the most common cause of plant death after transplanting is planting your tree too deep. Depending on the quality of your soil, you may need to add locally sourced compost or topsoil to compost as a back-fill soil because the products will often retain too much moisture and cause the root system to rot. If you want to add compost or topsoil, that will help younger feeder roots spread through loose, nutrient-rich soil. This will be much easier than if you only used the existing soil, which could often be hard and compact once you get down in it.

How do I water My Claudia Wannamaker Magnolia Tree?
When you first plant your Claudia Wannamaker Magnolia tree, it is crucial to water frequently to help your plant become well-established in its new home. Once your plant becomes well-established, you can back off on the frequency of watering. Typically, rainfall will be enough water for your tree to survive. However, if you live in an area prone to droughts or have an unusually warm, dry summer, make sure to water your tree more frequently to ensure its soil does not dry out. This tree likes to have consistent moisture in its soil at all times, so it is crucial to make sure the soil stays moist.

How Much Sun Does My Claudia Wannamaker Southern Magnolia Tree Requlire?
Your Magnolia tree can survive in almost every kind of sunlight. Anywhere from full sun to partial shade works perfectly with your tree. We recommend growing your tree in a location that provides full sun in the morning and afternoon shade or morning shade with afternoon sun, preferably filtered afternoon sunlight. Either option will give your tree plenty of time in the sun with some break times during extremely warm parts of each day. Your plant can survive in full sunlight for about 4 to 6 hours throughout the day as long as it receives some shaded time to rest.

What Kind of Soil Does My Magnolia grandiflora 'Claudia Wannamaker' Tree Need?
Your Magnolia grandiflora 'Claudia' thrives best in rich, moist, well-draining soil conditions. If you have areas of your garden with more acidity to the soil, your tree would love to be planted there, but it is not a necessity if they are in neutral pH soil. Your Southern Magnolia tree, once well-established, can tolerate wet feet and likes moist soil conditions. On the flip side, your tree will also be drought-tolerant and can handle the hot summer heat in the southern parts of the United States.
---
Frequently Asked questions
How far apart should I plant my Claudia Wannamaker Southern Magnolia Tree?
---
General questions
How do we measure heights on Trees?
Why are trees sold in 1-foot increments?
---
---
Other Products you may be interested in
---
Customer Reviews