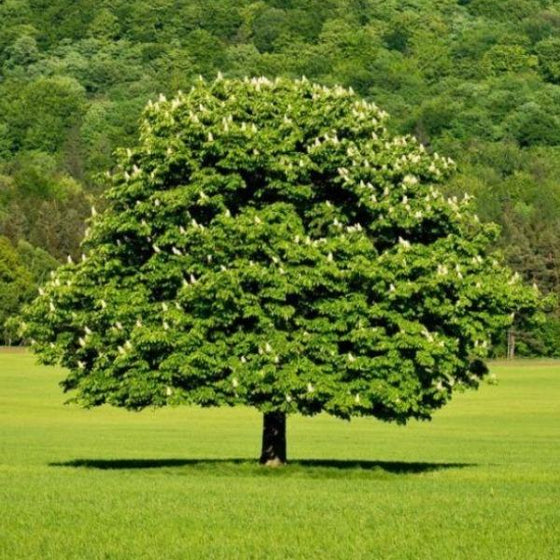 Images Depict Mature Plants
Dunstan Chestnut Trees for Sale Online
The Dunstan Chestnut Tree is the most popular chestnut tree in America and has been a top seller for many years.
These beautiful hybrid chestnut trees have the familiar nutty taste of the American Chestnut Tree but boast an impressive resistance to chestnut blight. Bearing nuts within 3 to 5 years of planting, the Dunstan chestnut tree is a spectacle to be seen. Beyond their heavy crop of sweet chestnuts, Dunstans are loved for their immense shade cover and the native benefits they bring to an ecosystem.
Reaching a mature height between 40 and 60 feet, Dunstan Chestnut trees are a standout addition to any property. Ideal conditions for these magnificent trees include full sun and a well-drained soil medium.
Chestnut Tree History
Once beautiful and abundant, the American Chestnut Tree (Castanea dentata) covered vast tracts of land across the eastern United States for thousands of years. That is until a fungus (blight) from Asia decimated virtually every tree standing on North American soil.
After nearly 70 years of absence, the American Chestnut is poised to make a comeback thanks to the Dunstan Chestnut.
Dr. Robert T. Dunstan cross-pollinated American grafts with USDA Chinese chestnut selections. The result is a blight-resistant Chestnut Tree.
This hardy tree is easy to grow and thrives in various areas. Chestnuts are the very best tree for wildlife. Their consistent yearly crop of large, sweet nuts (unlike oaks and other nuts that cycle between heavy and light-years) provides regular, high-quality food for deer, turkeys, squirrels, and bears. For a more in-depth history of the Chestnut Tree and a look into its future, be sure to check out our blog: What Happened To The Chestnut Tree?
---
Growzone: 5-9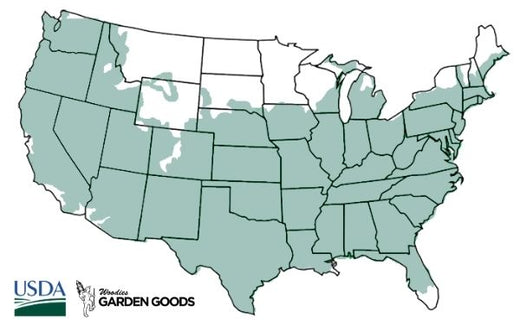 | | |
| --- | --- |
| Hardiness Zone: | 6-9 |
| Mature Height: | 40 to 60 feet |
| Mature Width: | 25 to 30 feet |
| Classification: | Broad leaved deciduous tree |
| Sunlight: | Full sun |
| Habit: | Upright, umbrella shaped canopy |
| Foliage: | Dark green |
| Flower Color: | Inconspicuous |
| Pruning Season: | No pruning needed |
| Soil Condition: | Any well drained soil |
| Water Requirements: | Water well until established |
| Uses: | Tolerates moist soil and full sun. Full sun brings out the best fall color. Will adapt to drier sites. |
---
How to Care for Dunstan Chestnut Tree
Before you buy a Hybrid American Chestnut Trees, make sure to read about the care instructions that are required and recommended to keep this plant healthy and flourishing.

How do I plant my Dunstan Chestnut Tree?
When planting your newly purchased Dunstan Chestnut Tree, dig a hole twice as wide as the root system but not deeper. Depending on the quality of your existing soil, you may need to add locally sourced compost or topsoil to the back-fill soil. Adding compost or topsoil will help the young feeder roots of Chestnut Tree to spread through the loose, nutrient-rich soil, much easier than if you used solely the existing soil, which more times than not will be hard and compacted. The most common cause of plant death after transplanting is planting the new plant too deep. A good rule is that you should still see the soil the plant was grown in after back-filling the hole.

How do I fertilize my Dunstan Chestnut Tree?
Trees such as Dunstan Chestnut Trees grow best if they are fertilized lightly in the spring once frost has passed with a well-balanced, extended-release fertilizer such as Espoma Tree-tone. Fertilize Chestnut Trees again 6 to 8 weeks later to encourage denser foliage or faster growth of young trees. Either chemical fertilizers or organic matter can be used successfully with Dunstan Chestnut Trees. Applying manure or compost around the roots produces excellent results and also improves the condition of the soil. You can also combine that with a shot of chemical fertilizer for maximum effect.

How often do I water my Chestnut Tree?
After backfilling and lightly compacting the 50/50 mix of existing soil and compost, give the Chestnut Tree a deep watering. Most of the water you put on the plant at first will run away from the plant until the soil is soaked. A general rule of thumb is to count to 5 for every one gallon of pot size. For example, a one-gallon pot would be watered until you count to 5, and a three-gallon container would be 15, and so on. Check the plant daily for the first week or so and then every other day. Water your plants using the counting method for the first few weeks.

What type of mulch do I use for a Chestnut Tree?
We highly recommend that you mulch your Chestnut Tree with either a ground hardwood mulch or a ground cypress mulch depending on your local availability. Any mulch will do, but cypress or hardwood mulch will be of a higher quality and provide better nutrition overall as they break down. Mulching helps to keep weeds away, which will compete with your new investment for water and nutrients. A 2 to 3-inch layer of mulch is sufficient but remember to take care not to cover any part of the stem with mulch. It's better to leave a one-inch gap of space between the mulch and the stem or trunk of the plant.
---
Additional Information
The Dunstan Chestnut trees (Castanea dentata x mollissima) provide tasty chestnuts for roasting and eating whole or to be used in many cooking recipes. This blight-resistant tree is one of the most high-demand fruit/nut trees in the U.S. Although Dunstan Chestnut Trees will bear chestnuts 3 to 5 years after planting, it needs at least two trees to produce nuts.
As long as you have two or more American Hybrid Chestnut Trees planted within 30 to 40 feet of each other, you will enjoy a full chestnut crop year after year. We recommend spacing your trees out no less than 25 to 30 feet apart so they will have adequate space at maturity. Dunstan Chestnuts bloom in the spring and ripen by mid fall.
---
Frequently Asked questions
Can you eat a raw chestnut?
How was the chestnut blight introduced?
How do you roast Chestnuts?
Are chestnuts good for you?
---
Other Products you may be interested in
---
Customer Reviews