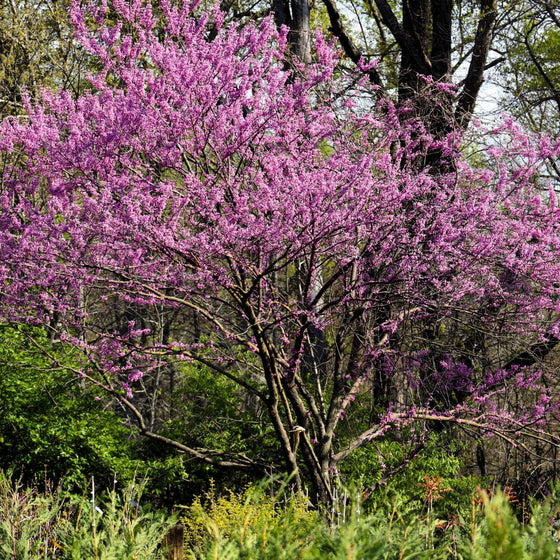 Images Depict Mature Plants
Eastern Redbud Trees for Sale Online
Bursting forth with delicate pink flowers in large clusters before the leaves emerge, The Redbud tree is an attention-grabbing tree. The Rosy-Pink blooms appear in late winter or early spring. Soon after, dark green, heart-shaped leaves begin to form a beautiful backdrop, which makes the rosy-pink flowers stand out even more.
Eastern Redbud or Cercis Canadensis tree is a North American Native Tree and can be seen growing on the wood lines all over the eastern United States. Also known as Forest Pansy, this drought-tolerant tree enjoys partial to full sun and has a moderate growth rate. This specimen tree has a year-round interest and grows in a variety of soils. Enjoy its lemon-lime-colored leaves in autumn and unique gray bark and bare branches in the winter.
---
Growzone: 4-8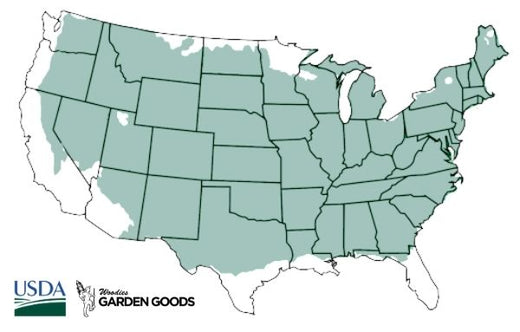 | | |
| --- | --- |
| Hardiness Zone: | 4-8 |
| Mature Height: | 25-30 feet |
| Mature width: | 12-15 feet |
| Sunlight: | Full sun to partial sun |
| Foliage: | Dark green |
| Flower Color: | Rosy-pink |
| Pruning Season: | Late spring after flowering |
| Soil Condition: | Any well drained soil |
| Water Require: | Water well until established |
| Uses: | Tolerates moist soil and full sun. Full sun brings out the best fall color. Will adapt to drier sites |
---
How to Care for Redbud Tree
Before you buy a Redbud Tree, make sure to read about the care instructions that are required and recommended to keep this plant healthy and thriving.

How should I water my Eastern Redbud?
We suggest watering your Redbud Tree once to twice a week, but avoid overwatering. Allow the soil to dry out 3 inches down before rewatering. Once your tree is established, Redbuds are pretty drought-tolerant and can survive off of rainfall alone. Gator Bags can be used to help aid in this process and also provide plants with a good soaking due to the slow release of the water into the root-zone of the plant. Soaker Hoses can also be used to water when planting a long row of trees.

Should I use mulch on my Redbud tree?
We highly recommend that you mulch your Redbud Tree with either a ground hardwood mulch or a ground cypress mulch depending on your local availability. A 2 to 3 inch layer of mulch is sufficient but remember to take care not to cover any part of the stem of the plant with mulch. It's better to leave a one inch gap of space between the mulch and the stem or trunk of the plant.

How and when should I fertilize my Eastern Redbud Tree?
Native trees such as Redbud Tree grow best if they are fertilized lightly in the spring once frost has passed with a well-balanced, extended-release, fertilizer such as Espoma Tree-tone. Fertilize Redbud Tree again 6 to 8 weeks later to encourage denser foliage or faster growth of young small trees. Don't fertilize Redbud Tree after August. Fall is the time for plants to begin preparing for dormancy. Fertilizing at this time may stimulate new growth that will be too tender to withstand the winter. In the South, a late May application and another in July would be about right. More northern areas may wish to fertilize only once in June or July.

How do I plant my Redbud Tree?
We suggest planting your Redbud Tree in an area with well-drained soil and ample lighting. Redbud Trees grow best with 4 to 6 hours of direct sunlight, but also enjoy partial shade throughout the day. Add backsoil, and give your plant a good watering to establish its roots. We do not recommend using straight topsoil or compost as a back-fill soil because more times than not these products will retain entirely too much moisture and will cause the root system to rot. The most common cause of plant death after transplanting is planting the new plant too deep. That is why we do not recommend planting in a hole any deeper than the soil line of the plant in the pot. A good rule is that you should still be able to see the soil the plant was grown in after back-filling the hole.
---
Frequently Asked questions
How should I prune my Redbud Tree?
---
Customer Reviews